Still searching for the perfect places to propose to your girlfriend but don't know where to start? Darry Ring has got some ideas about 10 best places to propose in the USA. Popping the question on such stunning places helps create an unforgettable moment that will be cherished for a lifetime.
1. Central Park (New York City)
Central Park in New York City is a classic and iconic proposal destination. The park offers numerous romantic settings, such as Bow Bridge, Bethesda Fountain, and the picturesque Conservatory Garden. Additionally, Central Park is a romantic place to propose, with many people choosing to pop the question in the park's scenic and charming surroundings.
In fact, the Central Park website has a dedicated section called "Central Park Proposals," which provides helpful tips on finding the perfect proposal location within the park, as well as contact information for photographers and musicians who can make the moment even more memorable. Therefore, Central Park is a beloved proposal place that offers unparalleled views and romantic ambiance all year round.
🌟 Creative proposal idea: Coordinate with a musician to play a special song when proposing with the iconic Bow Bridge in the background.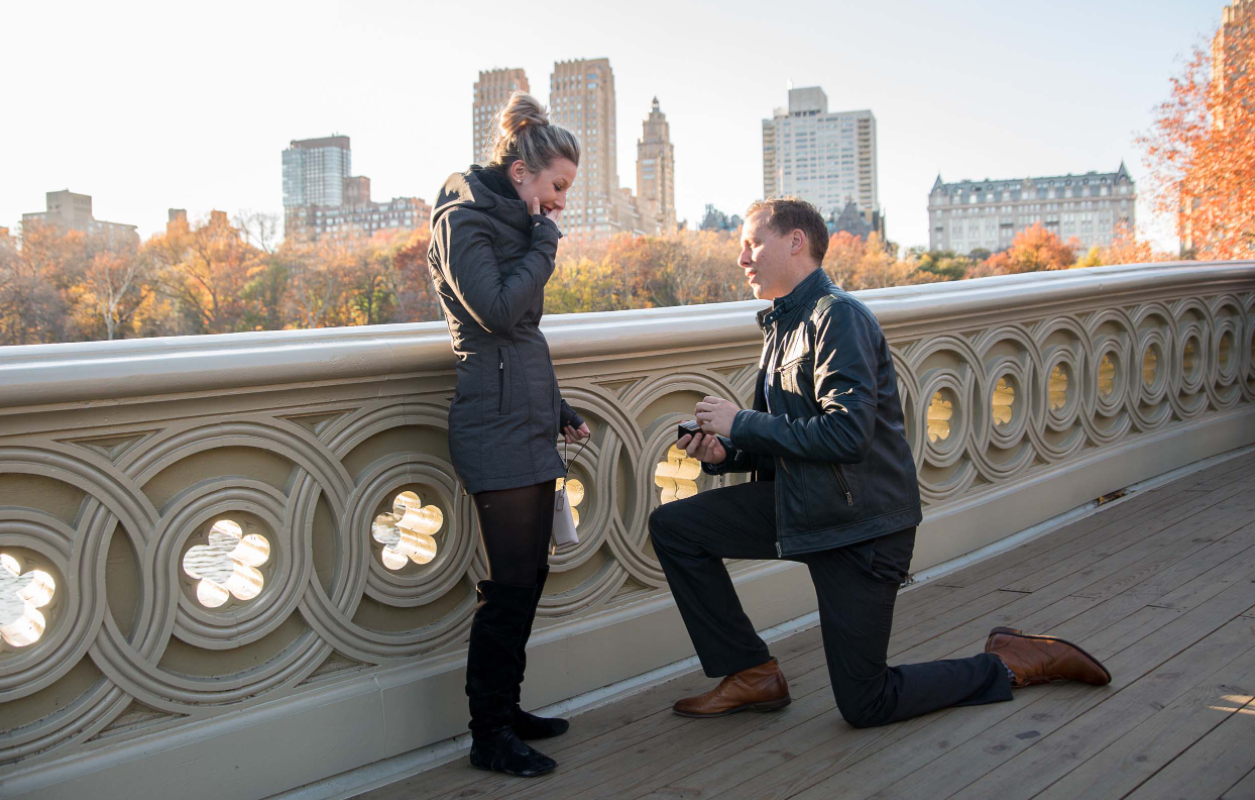 2. The Grand Canyon National Park (Arizona)
The Grand Canyon National Park in Arizona is a magnificent and unforgettable place to propose. The sweeping vistas and dramatic landscapes of the canyon provide a stunning backdrop for a proposal that will be remembered for a lifetime. The park offers many romantic viewpoints, such as Hopi Point and Mather Point, that are perfect for a proposal.
With so much natural beauty to marvel at, it's no surprise that the Grand Canyon is a popular destination for marriage proposals. A proposal at the Grand Canyon is sure to be a once-in-a-lifetime experience, a dream come true for you.
🌟 Creative proposal idea: Propose when you take a thrilling helicopter ride over the Grand Canyon and enjoy a breathtaking view of its majestic beauty from above.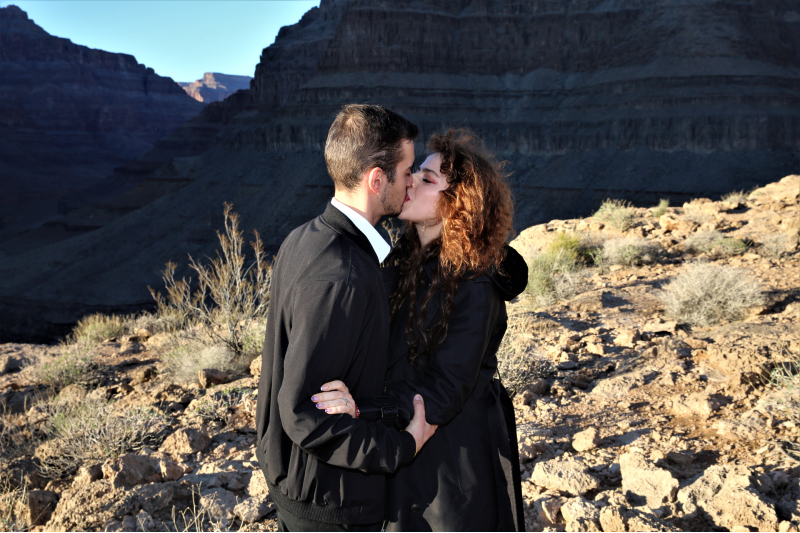 3. Las Vegas(Las Vegas, Nevada)
For those who want to live it up and go all out, Las Vegas, Nevada is definitely one of the best places to propose. The "Entertainment Capital of the World" has no shortage of extravagant and unique proposal ideas, such as taking a scenic helicopter ride over the city, or renting a private yacht on Lake Las Vegas.
One of the most famous and romantic spots to propose in Vegas is Bellagio's famous fountain, which puts on a spectacular water and light show every half-hour that adds a magical touch to a wedding proposal.
In addition to the many entertainment options, Las Vegas also has a variety of world-class restaurants that provide the perfect backdrop for a romantic dinner proposal. With so many exciting and memorable experiences to choose from, Las Vegas is an excellent place to pop the question for those who want to celebrate their love with a bang.
🌟 Creative proposal idea: Reserve a private gondola and propose to your loved one while enjoying the beauty of the fountain show in the background.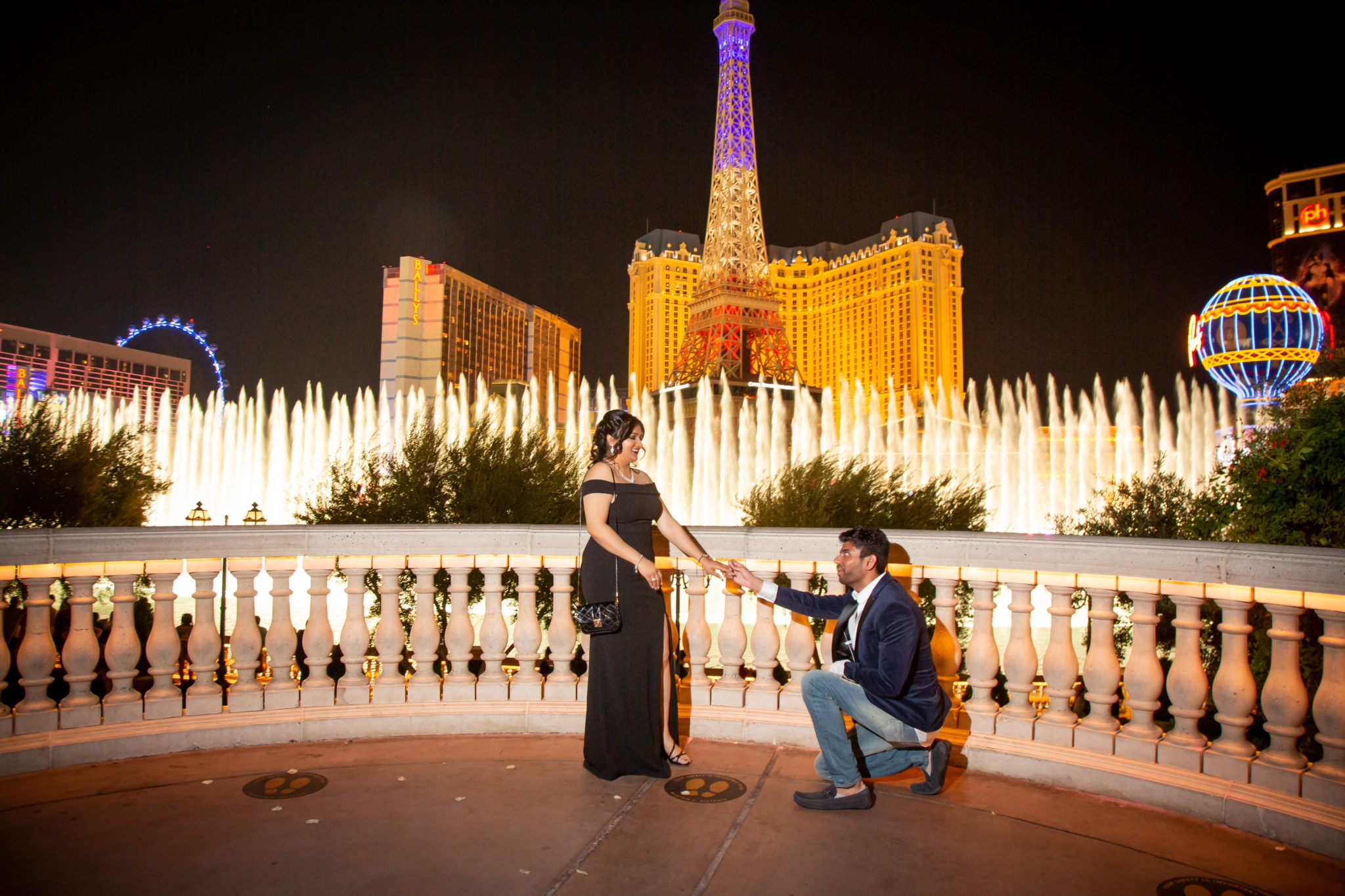 4. Disney World (Orlando, FL)
Disney is one of the best places to propose in the USA for couples who want to live out their fairy-tale fantasy. The iconic Disney Park offers a magical experience, with enchanting ambiance and a sense of wonder that make for an unforgettable proposal.
There are endless possibilities for proposing at Disney Park, from proposing during fireworks at Cinderella's Castle at Magic Kingdom, to taking a romantic ride in a gondola at the Epcot World Showcase, or strolling by the water at Disney's Boardwalk. Disney also offers a variety of customized proposal ideas to tailor the moment to your most memorable moments, such as their favorite characters, movies, songs, or resorts.
Check our blog 8 Creative Disney Proposal Ideas to Bring You Magic for more romantic places to propose in Disneyland.
🌟 Creative proposal idea: Arrange for a surprise Disney proposal during the nightly firework shows or while on a picturesque air balloon ride.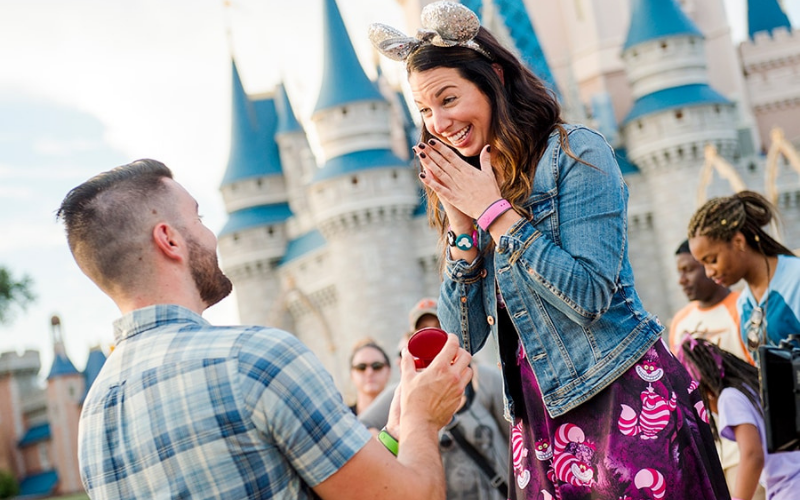 5. Lanikai Beach (Oahu, Hawaii)
Hawaii is famous for its beautiful beaches, making it one of the best places to propose in the USA. You can't go wrong with such a great beach proposal idea. An ideal way to propose in Hawaii is to do it at Lanikai Beach, amid the stunning views of palm trees, clear water, and warm sand.
After the proposal, you can celebrate their love with a delicious celebratory dinner at any of the seaside restaurants, where they can savor the breathtaking sunsets and indulge in Hawaiian cuisine. Hawaii is a perfect blend of natural beauty and laidback luxury, making it an idyllic place in the USA for a beachside proposal.
🌟 Creative proposal idea: A sunset beach proposal is amazing! Propose while watching a memorable Hawaiian sunset or during a moonlit beach picnic.
6. San Francisco ( San Francisco,CA)
San Francisco is a city full of romantic spots, making it the best place to propose in the USA. One of the most iconic landmarks in San Francisco, the Golden Gate Bridge, offers a breathtaking view, making it a popular spot for marriage proposals. In addition, the city's hilly streets and Victorian architecture offer numerous charming locations, such as the adorably iconic Nob Hill or the scenic Telegraph Hill.
San Francisco is famous for its dining scene, and there is no shortage of restaurants with a romantic ambiance, such as the French-inspired Cafe Jacqueline, or the popular Gary Danko, that provide the perfect backdrop for a romantic proposal. San Francisco proposal is sure to be a memorable and cherished moment for any couple.
🌟 Creative proposal idea: Proposing with the Golden Gate Bridge as the backdrop during a cozy dinner date is a great idea.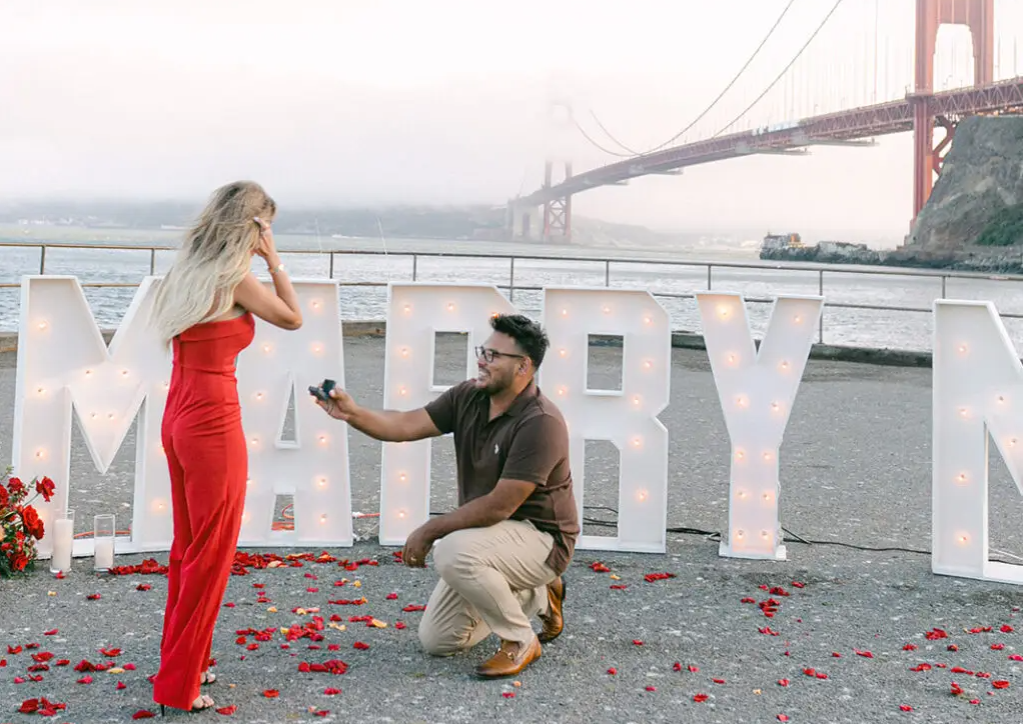 7. North Avenue Beach (Chicago, IL)
Chicago boasts a stunning beachfront along Lake Michigan, making it one of the best places to propose in the USA. The city's beaches offer breathtaking views of the water and the surrounding architecture, making for the perfect location to find a quiet and intimate spot to propose. The North Avenue Beach provides beautiful natural scenery for a romantic proposal.
In addition, Chicago's skyline offers an impressive backdrop, with the towering skyscrapers and distinctive architecture outlining the beautiful lake. Whether looking for a peaceful and intimate location or a vibrant urban environment, a Chicago beach proposal offers a perfect blend of natural beauty and city life.
🌟 Creative proposal idea: You can take a romantic stroll along the beachfront and celebrate their love at one of the many fine dining establishments.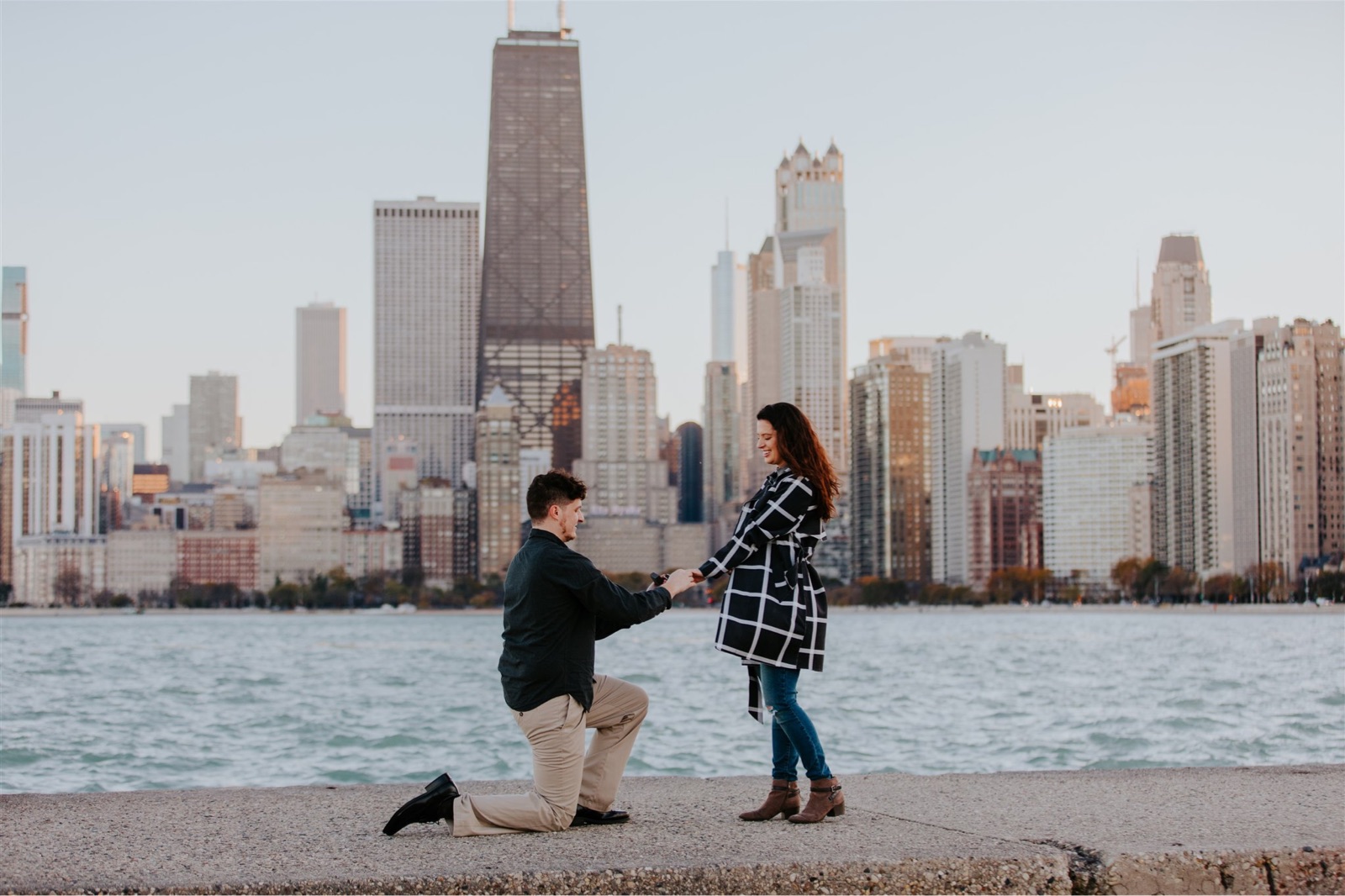 8. Griffith Observatory (Los Angeles, CA)
Griffith Observatory in Los Angeles is an iconic and romantic proposal destination in the USA. The observatory offers breathtaking views of the city skyline and provides a unique opportunity to propose under the stars.
Additionally, the grounds around the observatory provide numerous vantage points from which to enjoy the views, spanning from the city below to the mountains in the distance. Griffith Observatory offers a unique and enchanting engagement proposal experience for you with a love for the stars and romance.
🌟 Creative proposal idea: A nighttime proposal at the observatory adds an extra romantic touch, as there is a stunning evening light show.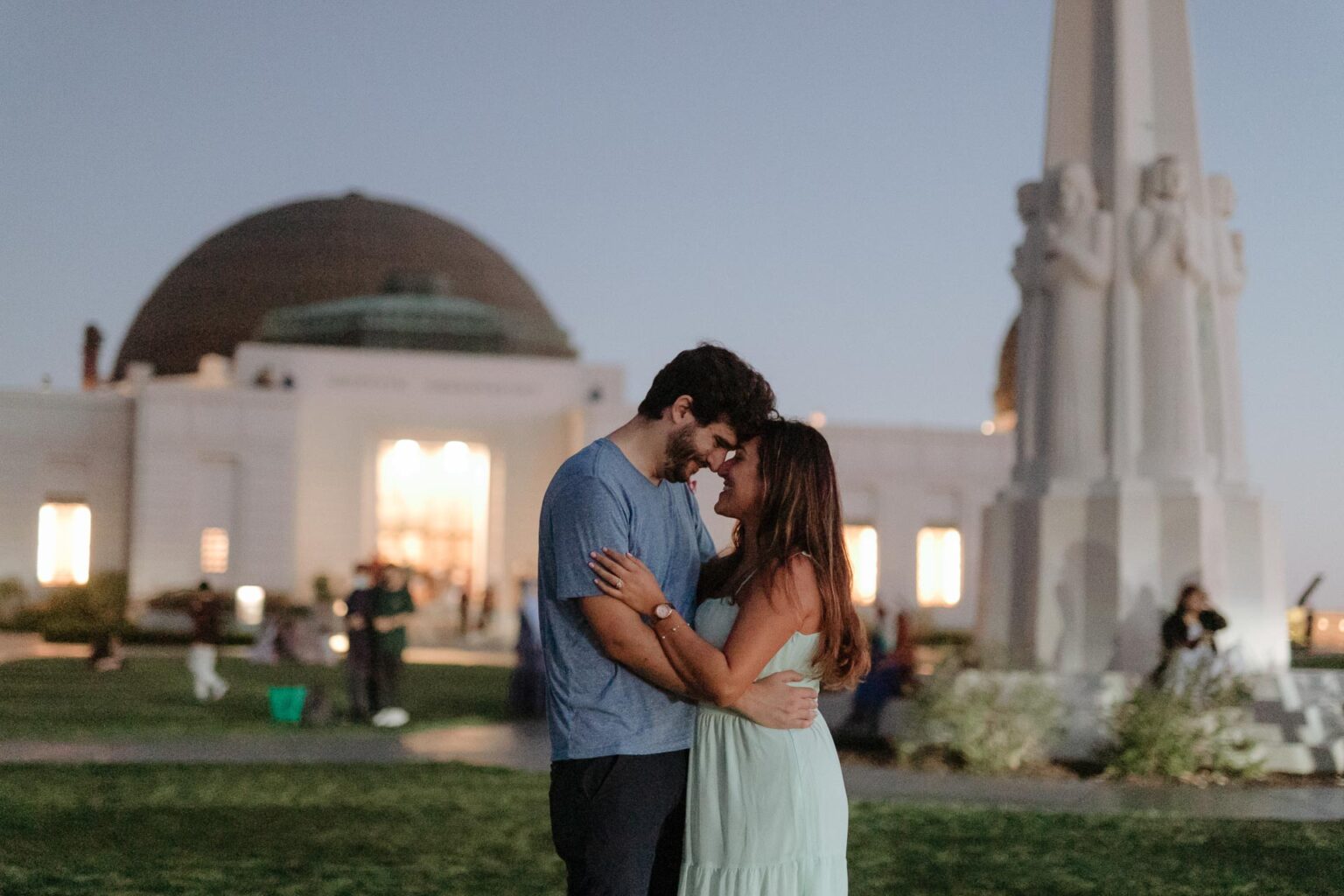 9. Big Sur (CA)
Big Sur, California is a breathtaking place to propose in the USA. Big Sur's natural beauty provides a dramatic backdrop for a romantic proposal, with views of the Pacific Ocean, towering cliffs, and sandy beaches. The beauty of the landscape makes it a perfect location for outdoor enthusiasts, who can hike and explore the region's natural beauty together. Popular spots for proposals spots include McWay Falls, Pfeiffer Beach, and the iconic Bixby Bridge.
Experiencing the splendor of Big Sur's beauty with a loved one is a lifetime memory, and proposing in such a beautiful place can make the moment even more unforgettable. Those who want the best places to propose that combine true natural splendor with a romantic atmosphere will find Big Sur an idyllic escape.
🌟 Creative proposal idea: With its stunning ocean views and dramatic coastline, it's a perfect location to propose on a steep cliff, where you can connect with each other and nature.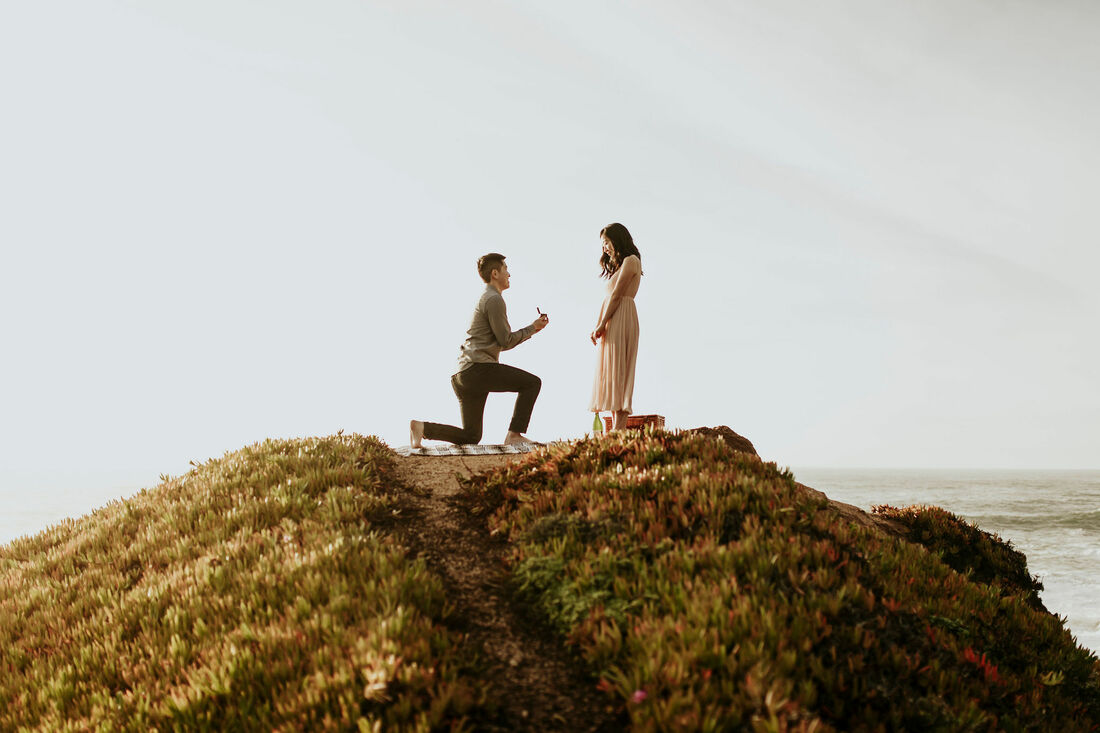 10. Aspen Ski Resort (Aspen, Colorado)
Unique and romantic, Aspen Ski Resort is one of the best places to propose in the USA. With its stunning mountain ranges and world-class winter sports facilities, it's a perfect place for adventure-seeking couples to propose. Skiing is the top winter activity in Aspen, and proposing on the snow can be a memorable way to pop the question.
Additionally, Aspen provides unique and romantic experiences beyond skiing, such as enjoying a private horse-drawn sleigh ride or snuggling by an open fire in a cozy cabin. The serene ambiance of the Rocky Mountains makes Aspen an ideal proposal destination for couples wishing to bask in the arms of nature while enjoying the fresh air and wintertime adventure.
🌟 Creative proposal idea: You can ski down a dreamy mountain together before finding a quiet proposal spot to propose, surrounded by snow-capped peaks and breathtaking natural beauty.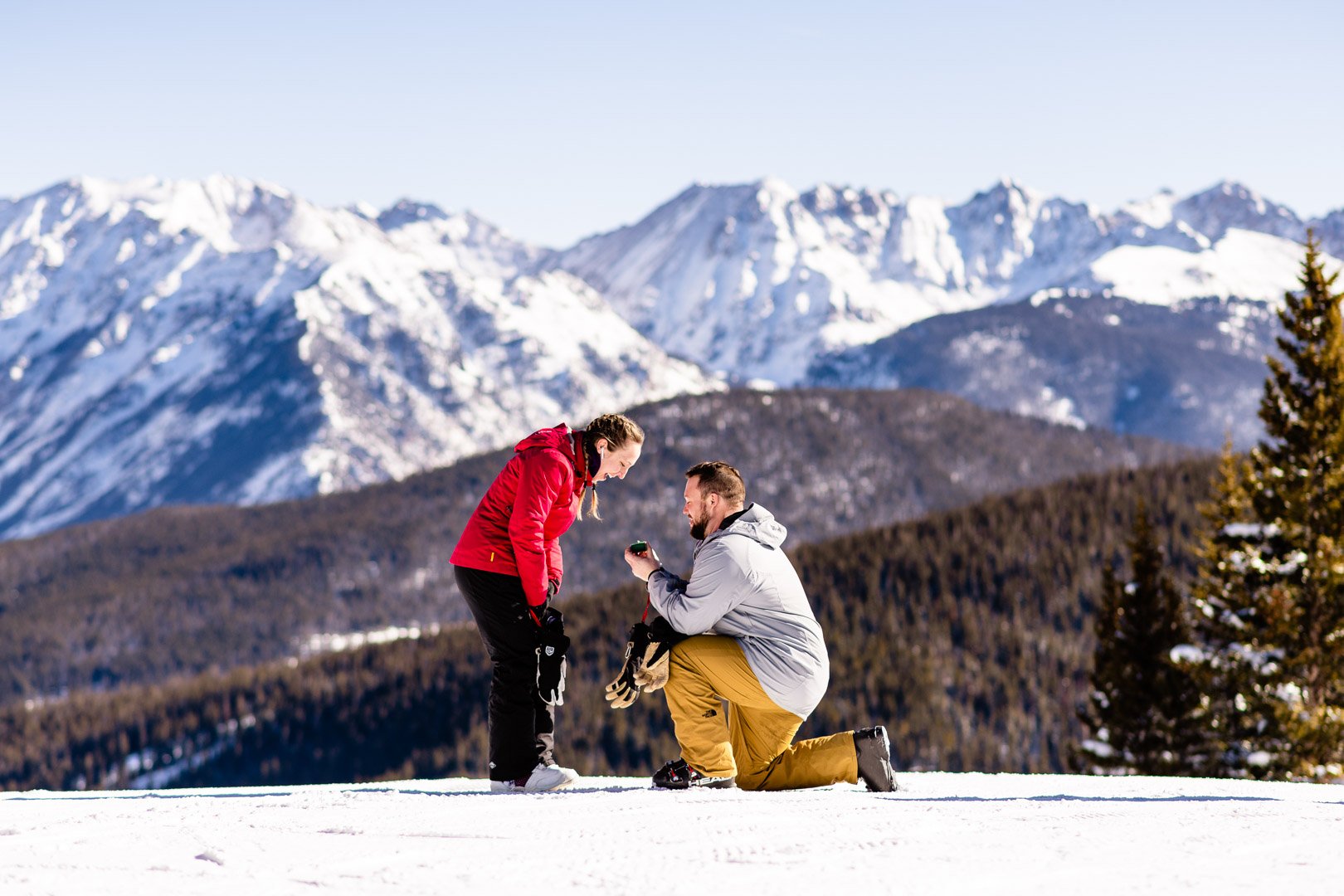 Proposal destinations are crucial in creating an unforgettable moment that you will treasure for a lifetime. These best places to propose provide a romantic ambiance and breathtaking scenic beauty.
Meanwhile, the diamond engagement ring also influences the unforgettable moment, as it symbolizes the love and commitment between you two. Since this piece of jewelry will be worn for years to come, it serves as a reminder of those wonderful memories for her.
By combining a well-planned proposal in a special location with a thoughtfully chosen diamond engagement ring, you could create a cherished memory that will last a lifetime.
Darry Ring is one of the best engagement ring brand that you can show your sincere promise of lifetime commitment to your love as it can be purchased once and given to the one and only in a life. By proposing with the DR engagement ring and signing Agreement of True Love with your love, you have made the strongest commitment ever.
There comes the moment when the world gets quiet and you pop the question to your only love with the once-in-a-lifetime DR ring at one best place to propose in the USA.