There is no disputing that a romantic beach proposal is a great way to ask your special one to spend the rest of time with you. A sunset dinner on the beach, a romantic walk along the shore, or playing a treasure hunt game are just a few ideas to create a memorable and special moment. The 10 romantic beach proposal ideas listed below can help you get started if you're going to propose on the beach.
1. Helicopter proposal
A special and romantic beach proposal idea is to pop the question while flying over the beach in a helicopter. You can pleasantly surprise your sweetheart with a memorable proposal while the helicopter flies over the beach.
Start by scheduling the helicopter ride while taking the weather and timetable into consideration. Be sure to reserve it for a time when the beach will be at its most beautiful, such as during sunset or sunrise.
Next, play some music to set the mood on your phone or a portable speaker. Take in the breathtaking views as you soar above the beach while sipping champagne.
Proposing on the beach with a helicopter tour is a wonderfully beautiful moment that you and your girlfriend will cherish for the rest of your lives because of the stunning views and feeling of being on top of the world.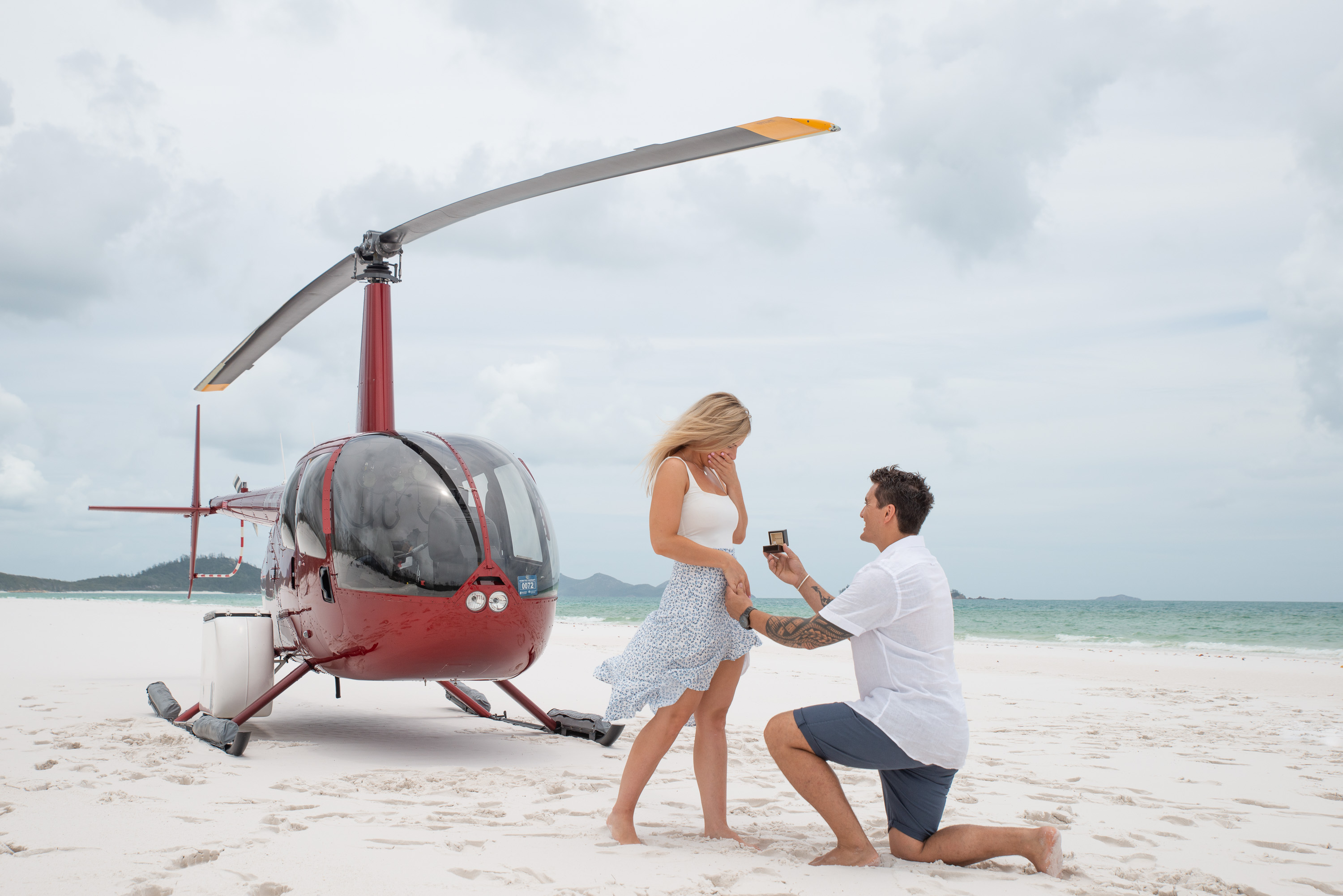 2. Underwater proposal
Proposing underwater might be a wonderful and heartfelt way to propose that requires careful planning and preparation. Asking your girlfriend to spend the rest of her life with you in the majestic majesty of the ocean is a once-in-a-lifetime occasion.
First, decide on a gorgeous and distinctive spot to go diving, such as a coral reef, an underwater cave, or a dolphin habitat. Next, to document the proposal moment, make sure to take professional underwater photography.
If you are looking for an unforgettable and unique way to pop the question, this marryme beach proposal is perfect for you!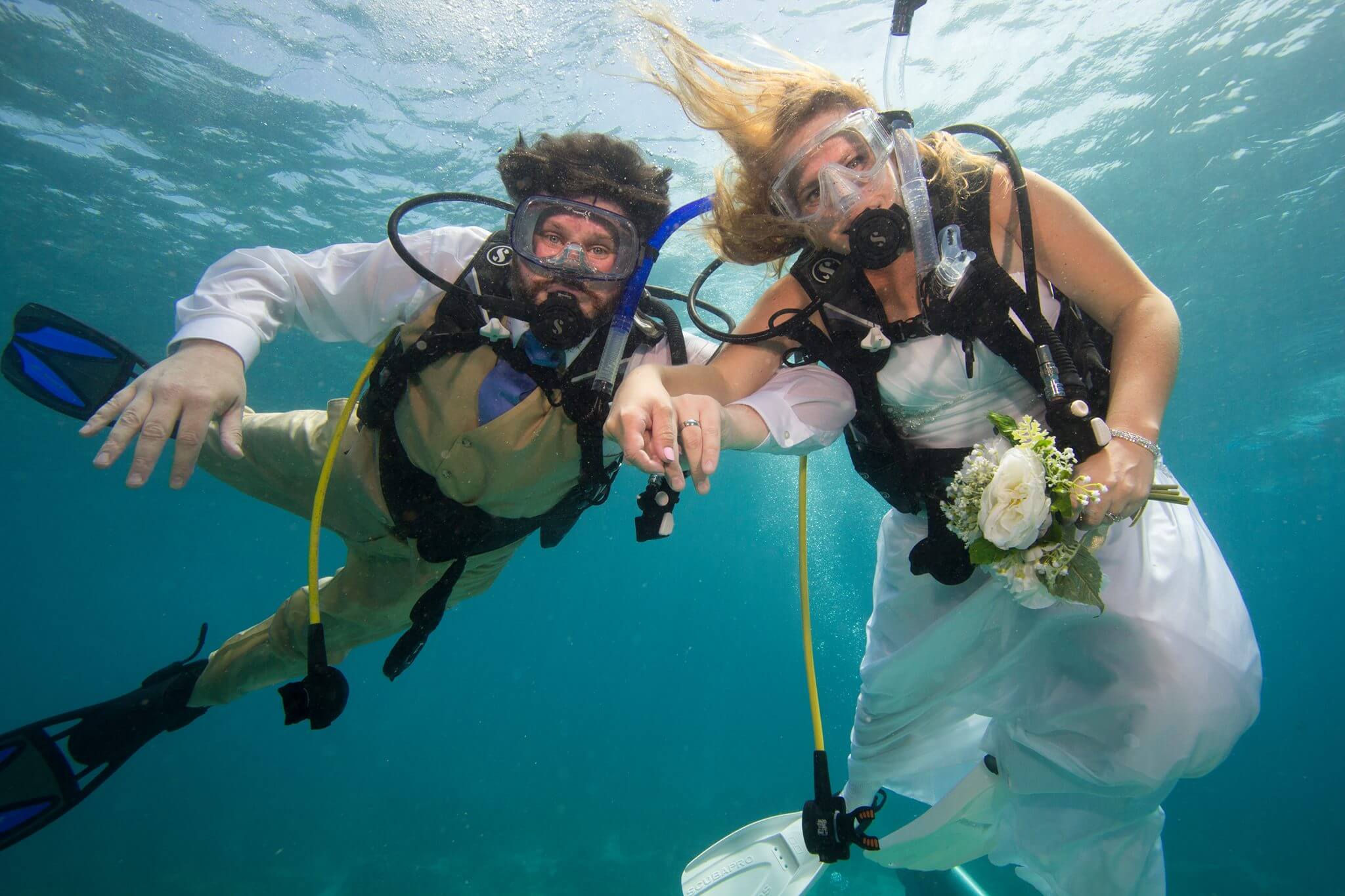 3. Sunset beach proposal
If you're looking for a timeless and romantic way to propose, a sunset beach proposal idea would be great. The golden hour of the evening, with the setting sun and the gentle sound of the waves, provides the perfect ambiance for such an important occasion.
To begin, choose a stunning and secluded beach where you will be all alone. Set up a small picnic with candles, blankets, or some wine to make the occasion more romantic.
As the sun starts to set, take a romantic stroll on the beach, holding hands and enjoying the breathtaking views of the sunset. As the sun dips into the horizon, get down on one knee and propose.
It can be simple yet extremely romantic to propose on the beach at sunset and is a classic way to create a lasting memory that will be cherished forever.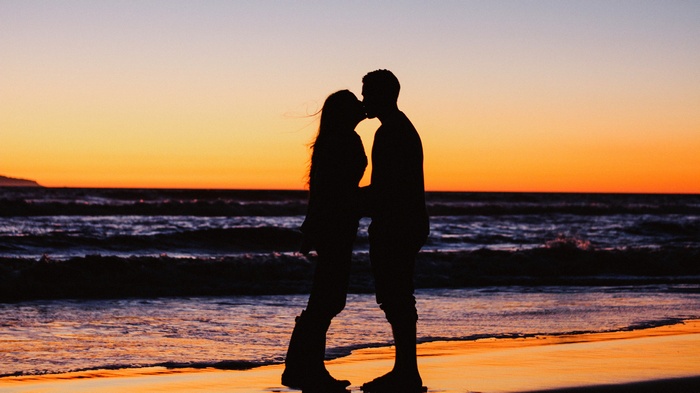 4. Exotic destination
An exotic beach proposal idea is sure to leave a lasting impression on your partner when you ask her to marry you in a stunning and unforgettable location.
If you're looking for exotic beach destinations, here are two fantastic options to consider. Maldives is a well-known luxury beach destination, with overwater villas, pristine beaches, and clear blue waters. It's a great place for snorkeling and diving, and you can also enjoy water sports like paddleboarding and canoeing. Maui, Hawaii offers plenty of outdoor activities like surfing, hiking, and snorkeling, along with beautiful road trips and scenic drives.

To plan the perfect exotic beach proposal, it is important to do your research and choose the right location for your partner. Consider her interests and preferences to ensure that the beach setting you choose will be perfect for her.
An exotic beach proposal offers a truly unforgettable experience to celebrate your love and commitment to each other.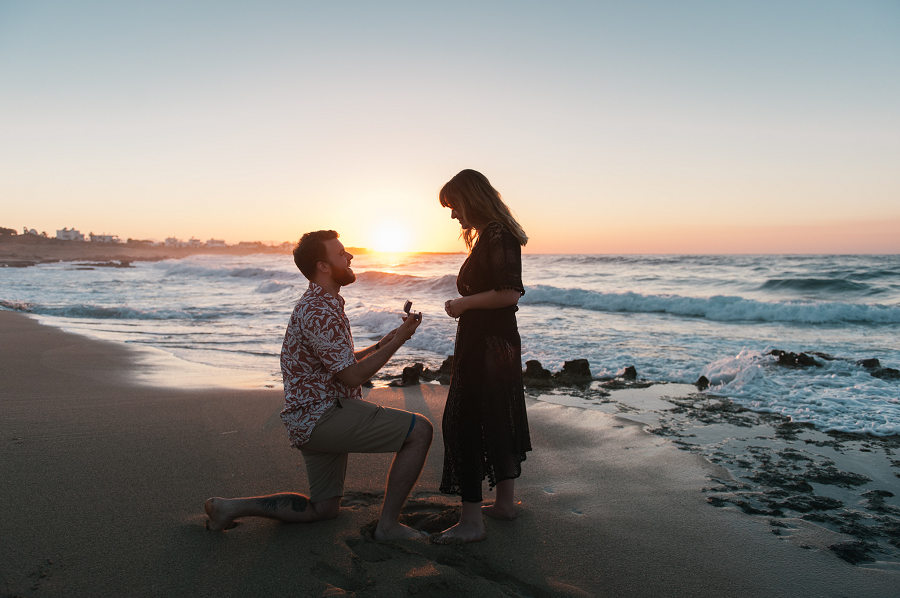 5. Message in a bottle
Using a message in a bottle as a beach proposal idea adds a unique and romantic touch to the moment, creating a lasting memory for you to cherish forever. This proposal idea involves writing a love letter or proposal message, and placing it in the bottle, and leaving it on the beach with a clue or map to its location.
The first thing you need to do is to write a heartfelt message in a bottle expressing your feelings towards your partner: why you love her, how much she means to you, and how excited you are to spend the rest of your life with her. Once you have written your message, place it in a bottle, and add some sand and shells to make it look authentic.

Then, take your partner for a romantic walk on the beach and find a secluded spot. As your partner discovers the bottle, ask her to read the message with you. As she reads the message, get down on one knee with a diamond ring in hand and express your love, and propose marriage to her.

Overall, a beach proposal idea by putting a message in a bottle and leaving it on the beach for an easy find is an adventurous and unique way to propose. It creates a romantic and intimate moment between the partners when you propose on the beach.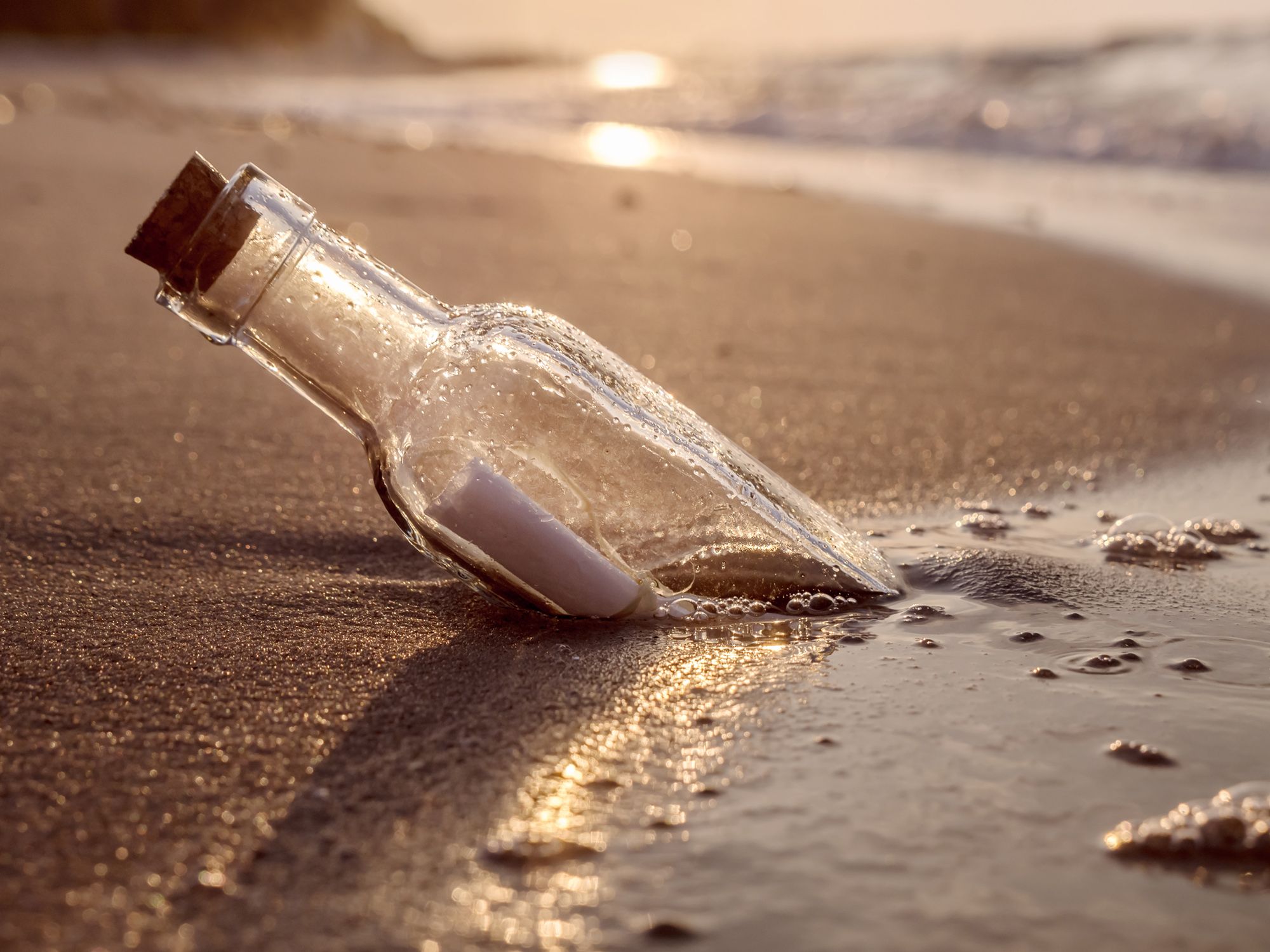 6. Beach dinner proposal
A beach dinner proposal can be the perfect way to propose to your partner. The combination of a beautiful beach setting and a private, intimate dinner can create a magical environment that sets the tone for a proposal.
Choose a secluded spot on the beach away from the crowd. Make sure to check with the local authorities to ensure there are no restrictions on beach dining.

Set up the mood with your partner's favorite music playing softly in the background. Wear a nice outfit that makes you feel confident and comfortable. After you've enjoyed your meal, take your partner for a stroll on the beach under the stars. Once you find the perfect spot, get down on one knee and pop the question. Say all the things you want to say from your heart.
Whether it's a private setup on a secluded beach or at a luxury beachfront restaurant, a beach dinner proposal can be a truly magical experience if you plan to propose on the beach.
7. Write it in the sand
A beach proposal idea of writing the words in the sand is a simple yet romantic way to pop the big question. If you expect to create an intimate moment between you while enjoying the beautiful setting of the beach, this proposal idea is an excellent choice.
You can create a message using seashells, rocks or other beach debris, and then take your partner for a stroll along the beach. When she comes upon the message, you can drop to one knee and ask the big question. It's not an over-the-top idea, yet the simplicity of the moment captures the magic of the emotion.

Overall, it is simple yet romantic to propose on the beach by writing the words in the sand, which provides a beautiful setting with endless possibilities. It offers a chance to create a special moment that will be remembered for years to come.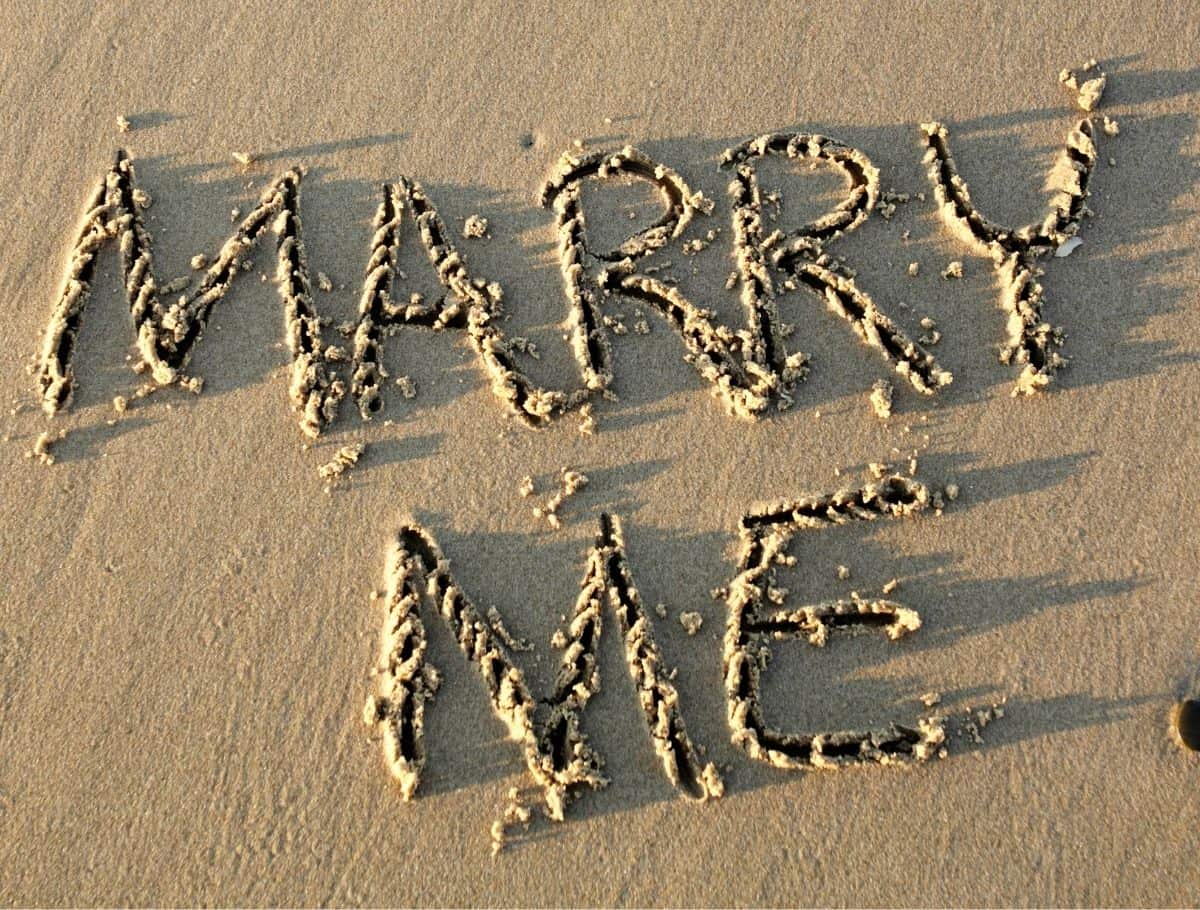 8. Beach bonfire
If you prefer an intimate, private setting away from the crowds, you would definitely love the beach proposal idea. The warmth of a beach bonfire combined with the peaceful sound of the ocean can create a romantic setting for a proposal.
You can take your partner for a walk on the beach, and when she comes to a quiet section, you can surprise her with a diamond engagement ring. The ambiance provided by the bonfire's warm and flickering light makes for a beautifully cozy and inviting proposal location. Sitting under the stars, enjoying the sound of the waves is the perfect way to pop the question.
During the cool evening, the bonfire can provide warmth and light, as you enjoy each other's company while gazing at the stars above. The natural ambiance and distant sounds of crashing waves can bring the mood of the moment to become truly magical.
To propose on the beach with a bonfire can be a beautiful and memorable way to create a special moment, that you and your partner will cherish forever.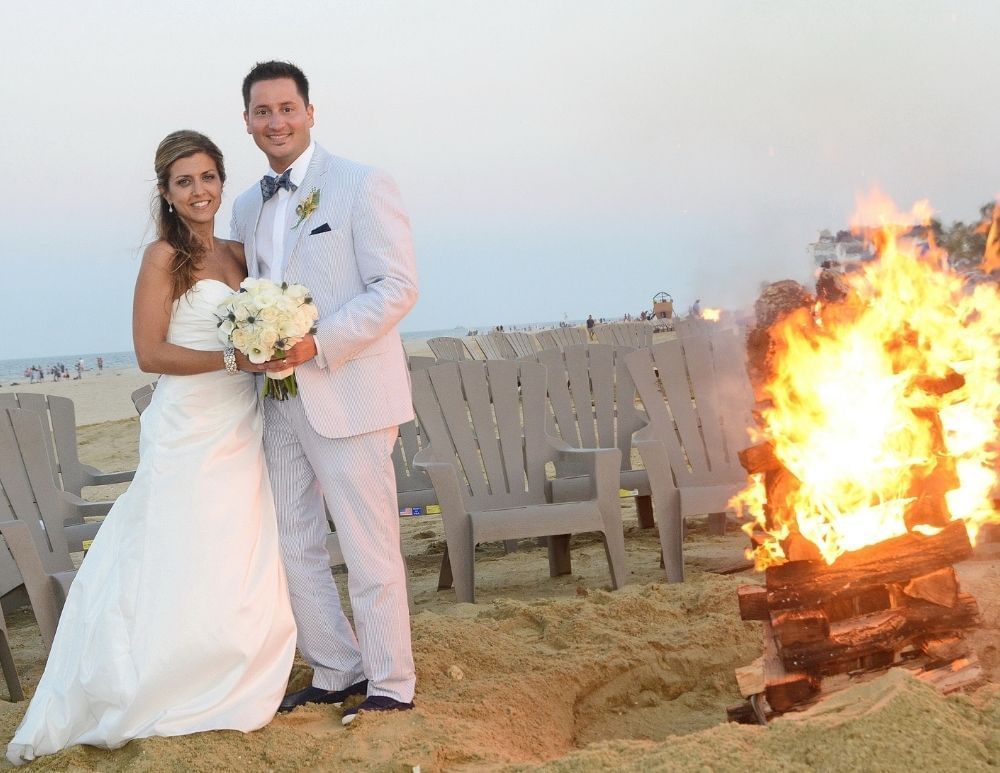 9. Buried Treasure
The diamond engagement ring can be concealed in a giant shell as part of a creative and exciting beach proposal idea. This beach proposal idea involves hiding the engagement ring in a big shell and leading your significant other on a treasure hunt to find it.
You could create a map or play a treasure hunt game to guide your partner to the location of the shell to make the proposal more exciting. She will be amazed to find the engagement ring hidden inside the shell once she has found the shell.
In general, making a beach proposal and burying the engagement ring as a treasure is thought to be special and romantic, creating an intimate encounter between you.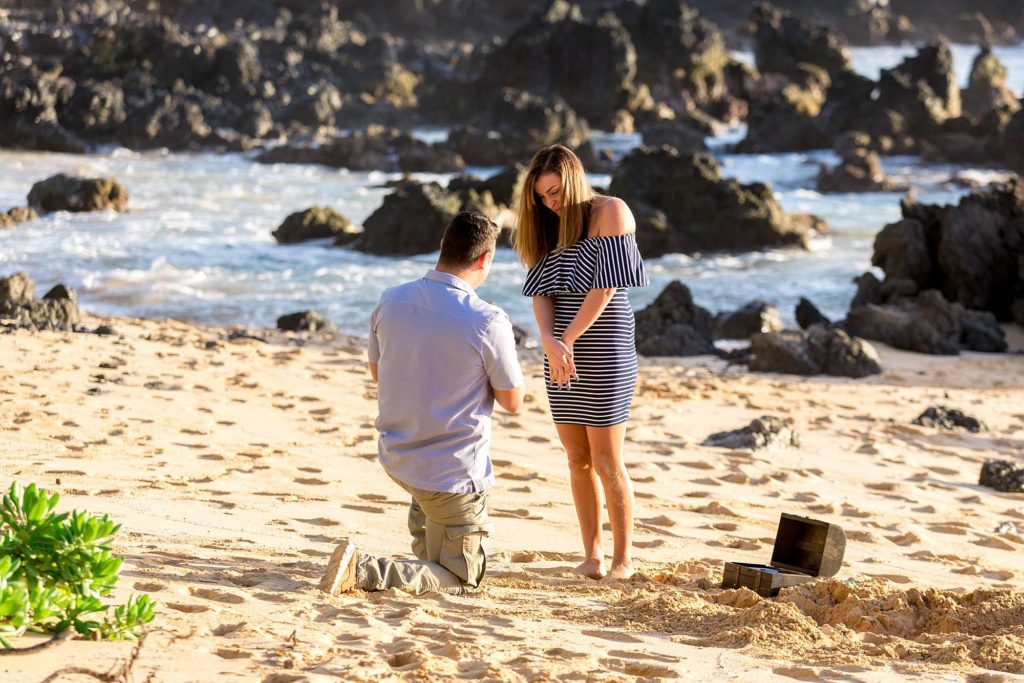 10. Take a boat trip
A boat trip proposal is not only a good idea but a great one. It offers an opportunity to curate a one-of-a-kind experience that will impress and delight. If you're adventure-seekers looking for a unique way to propose, you can't go wrong with this proposal idea.
First, choose a location that is meaningful to you and your partner, or somewhere you have always wanted to visit. Then, pick the ideal time of day to propose, such as at sunset, which offers the ideal backdrop and fosters a romantic mood.
Beautiful scenery, a soothing environment, and a variety of water sports are all provided on a boat trip, which may truly make the day special. Add fishing or snorkeling to your boat vacation proposal if your partner enjoys these activities to make it even more special and unforgettable.
Overall, if you have thought about proposing on the beach, a boat trip is special and suits your preferences.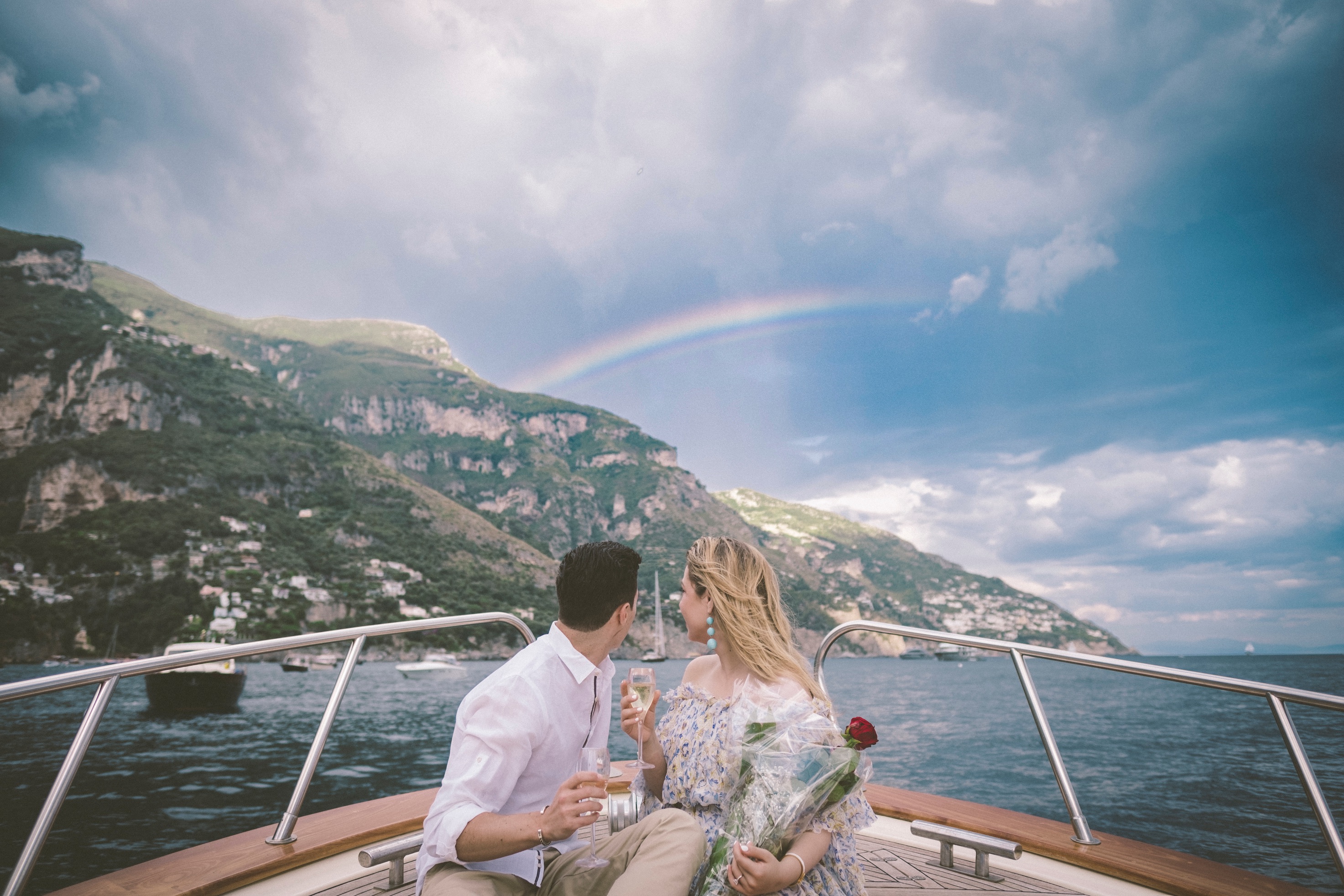 The beach proposal represents a significant moment, marking the start of your journey together. And a right diamond ring can capture the moment perfectly and is a symbol of eternal love and commitment.
Darry Ring is more than just a piece of jewelry; it represents a lifelong commitment to the only one you love. One can only customize one engagement ring for a life in Darry Ring. After careful consideration, choosing a DR engagement ring indicates that you are prepared to spend the rest of your life with your one and only.
The DR engagement ring serves as a constant reminder of your commitment to each other. Find out the Darry Ring perfect engagement ring style for the only one and then propose on the beach with it.