You will always have hundreds of ideas on how to propose to the love of your life, from classic restaurant proposals to unique outdoor proposals. It does take some work, though, to find the best ways to propose that truly capture your love story and relationship.
That is where this list of best proposal ideas comes in handy. Here we will give you 20 marriage proposal ideas that fit multiple styles, from which you may gain some inspiration for your ideal proposal.
Proposal Ideas at Home
If you want your marriage proposal ideas to be done in the place you feel most comfortable, why not propose at home? You will have more freedom of choice and private ideas on how to propose.
1. Family gathering
At a family gathering, enlist the support of your loved ones and close friends to hold aloft balloons and a sign that reads "Will You Marry Me?" When she notices, get down on one knee and pop the question. A happy proposal is one that is seen by family and friends.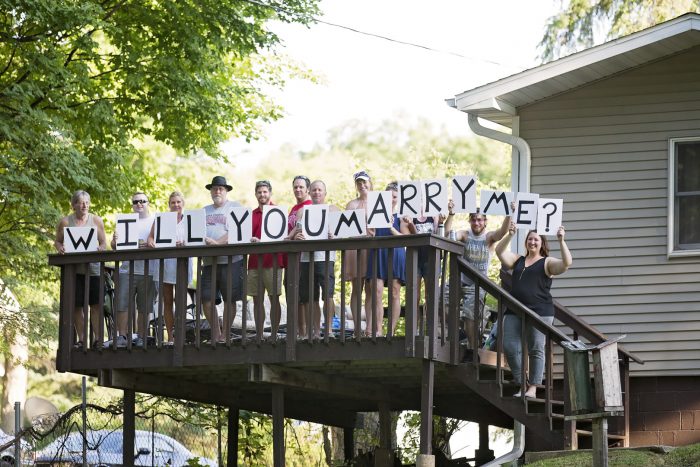 2. Get your pet involved
Get your cute pet involved such a cute proposal idea! Securely attach the "Will You Marry Me" sign to your pet's collars and subtly have your girlfriend check it out. Once she notices the indication, get down on one knee and show her the prepared diamond engagement ring.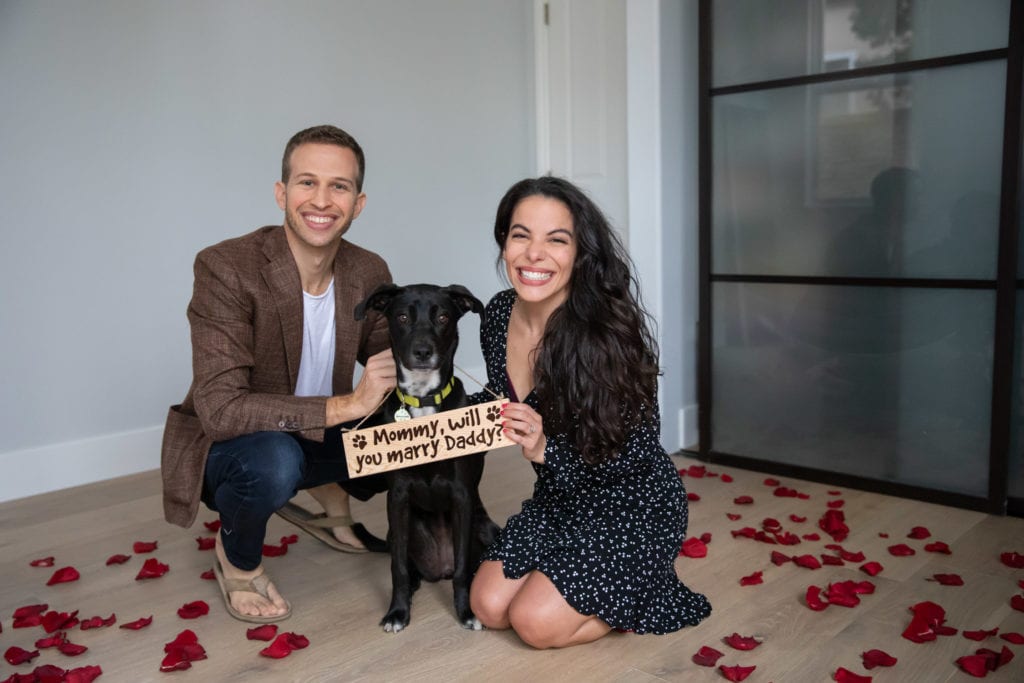 (source from HEIDI GARCIA)
3. On a game night
Create a scavenger hunt is perfect for the private proposal idea. Guide your girlfriend to the "Will You Marry Me" sign step by step, then kneel down behind her, raise the women engagement ring you have prepared. All you have to do now is to wait for her surprised expression.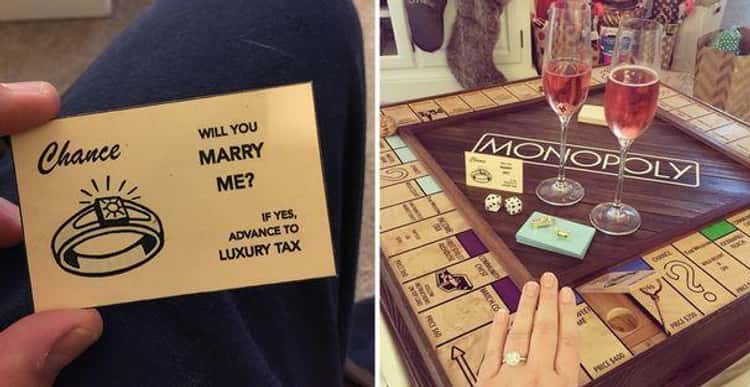 4. Candlelight dinner
Prepare a sumptuous candlelight dinner for your beloved one in person. Write "Marry Me" in chocolate on the dessert plate. When she sees the words next to the dessert, show your beautiful heart shaped engagement ring, get down on one knee in front of her and ask her to marry you.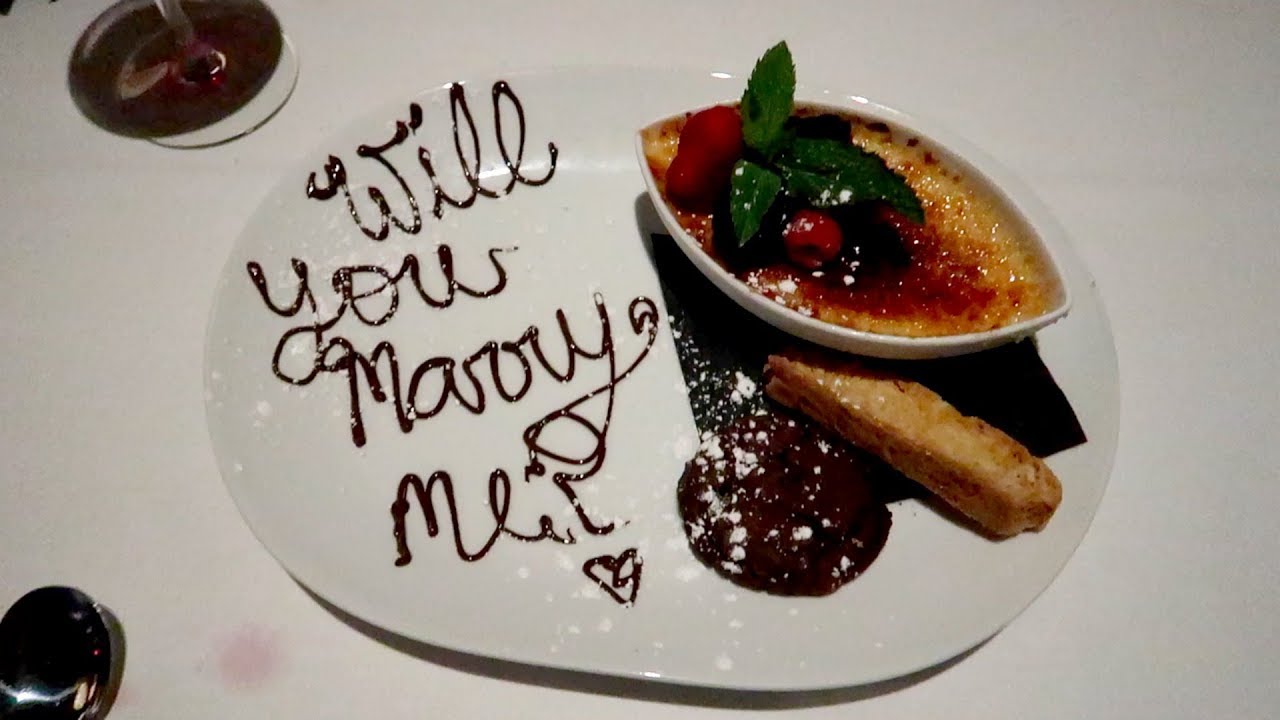 5. Decorate your room
The proposal idea at home is incomplete if without marry me decorations. Decorate your space with candles, ribbons, and marry me balloons and ask your close friends to bring her in. Once she enters, get down on one knee in front of her and pop the question.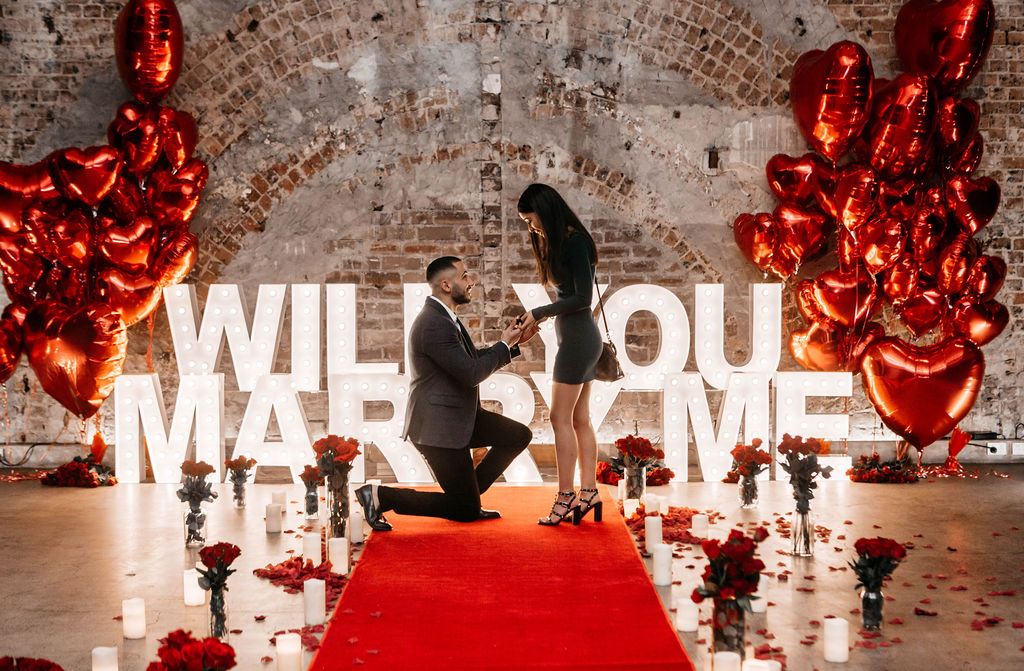 Beach Proposal Ideas
If you are both lovers of the ocean and the beach, why not proposing on the beach? The beach is also a perfect place to create more unique and unforgettable proposal ideas for you.
6. Build a sand castle
Build the stunning sandcastle of your dreams on the beach if you have a skill for construction. You could even dress it up with balloons and rose petals, write "Will You Marry Me" on the beach. Then invite her to walk with you along the beach. Surprise her once she discovers this lovely beach proposal background by getting down on one knee behind her and popping the question with the one-of-a-kind solitaire diamond engagement ring you have prepared.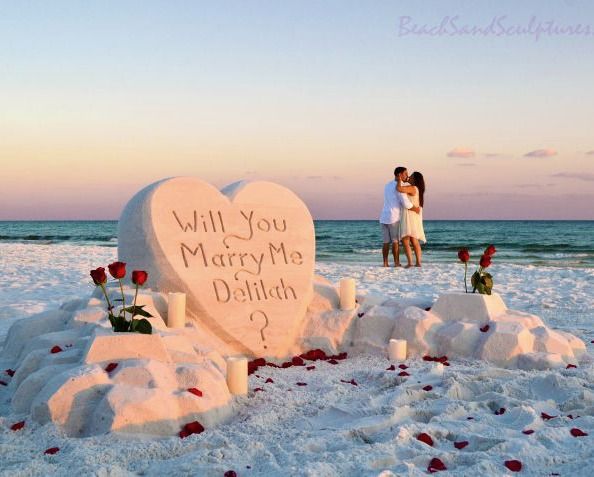 7. Hide the ring in a seashell
Invite her to collect seashells together at the beach when the tide is low. Most importantly you need to guide her to the area where you have hidden the shells with the ring in advance. When your girlfriend is overwhelmed by finding the diamond ring, get down on one knee and express your love! Of course, if you have your closest friends around to help you record this romantic moment, it couldn't be happier.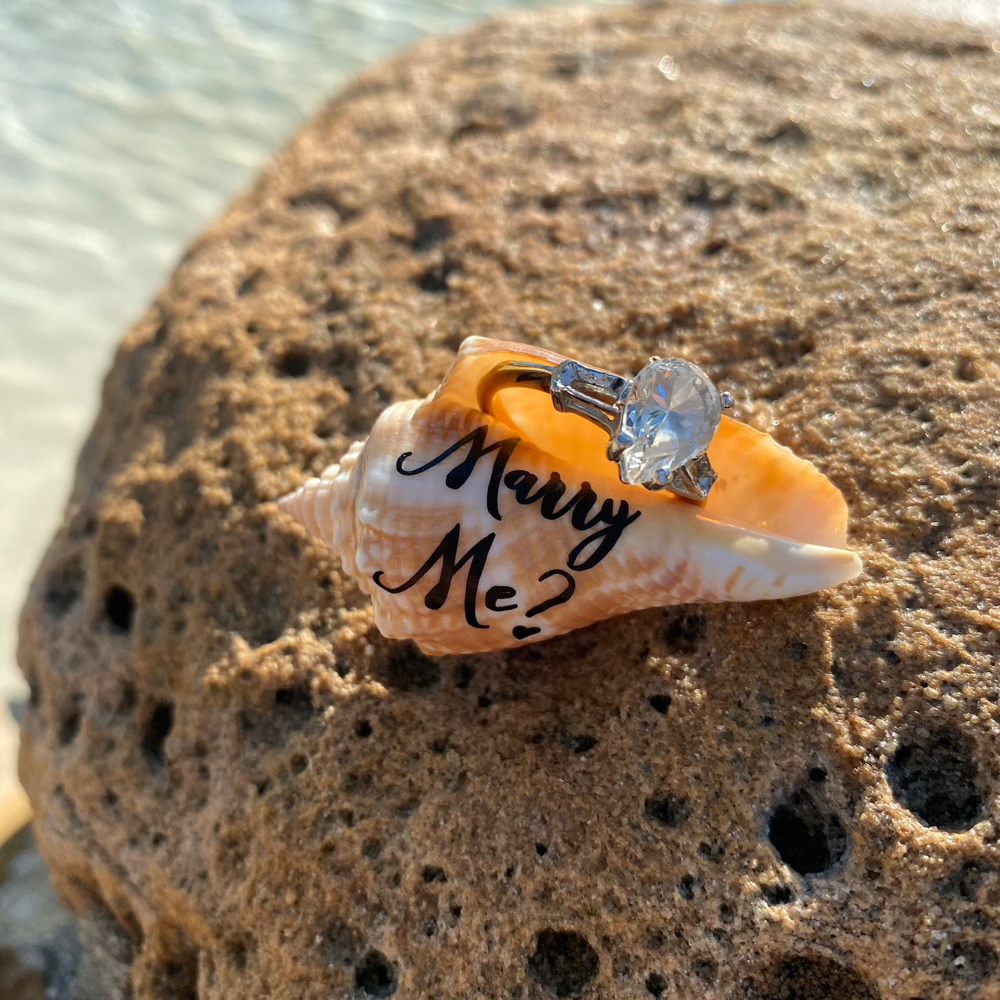 8. Propose on a boat
Rent a private boat and invite her to sail with you to achieve the best marriage proposal idea! The perfect time to pop the question is while she is enjoying the scenery on the waves. Do not forget to detail all the reasons why you are lucky enough to have her and why you want to spend the rest of your life with her.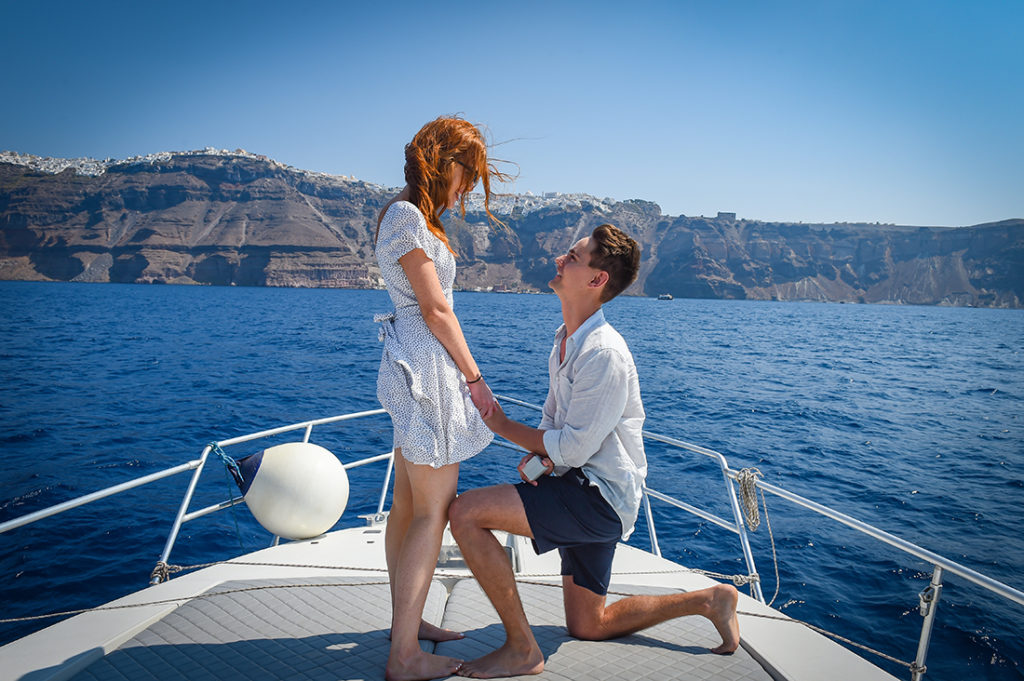 (source from SANTORINI WEDDINGS)
9. Underwater marriage proposal ideas
If both of you enjoy diving, there is no more private and unique way to propose than underwater. A "Will You Marry Me" sign should be placed on the ocean floor at a cool dive site you have chosen in advance (or you can ask a pro diver to do it for you). The two of you will create some incredibly special moments together as you propose against the backdrop of the magnificent ocean and marine life.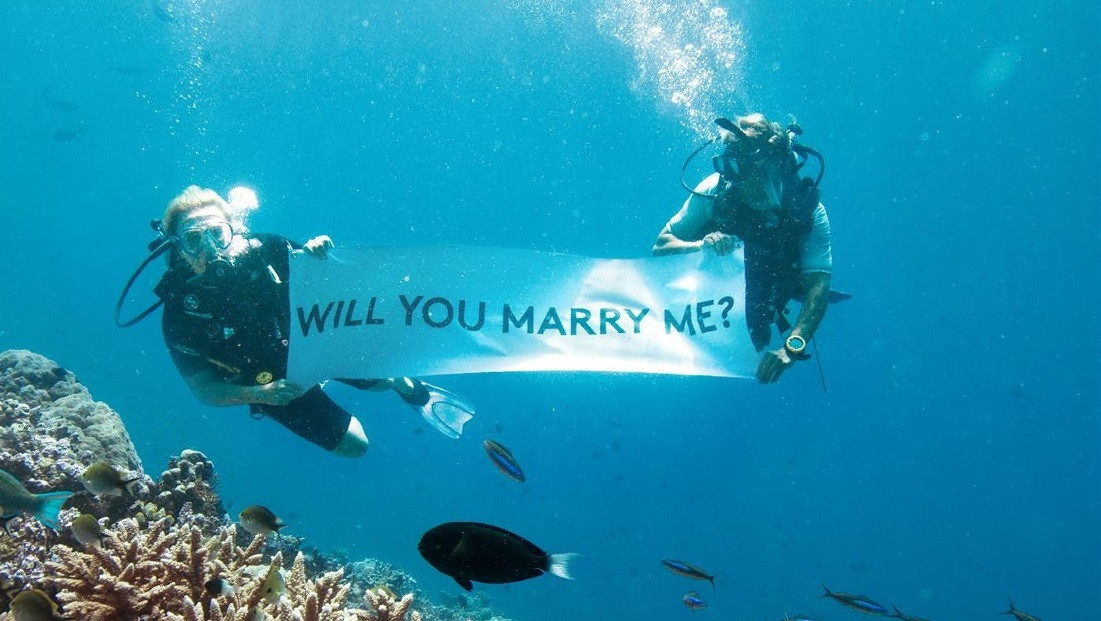 10. Drones hanging the banner
Although it will require some time and work, it is unique and unforgettable wedding proposal idea. Two drones are available for rent or purchase, and you should also get some banners or posters ready. When everything is prepared, enlist the aid of your buddies to control two drones with banners or posters that read "Will You Marry Me" flying in your direction. Take this as a backdrop to pop the question to your girlfriend when she notices the drones.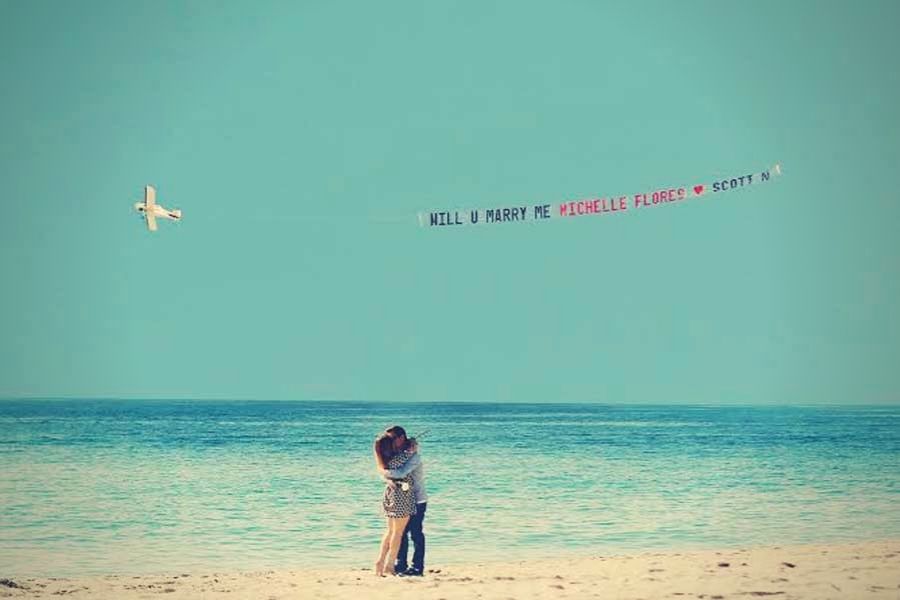 11. Sunset beach proposal
The beach is full of romance around sunset. The stunning sunset turns the surrounding atmosphere into a beautiful one, with the beach reflecting the colors of the sunset and the sea shimmering, making it the perfect time to propose on the beach. With such a beautiful sunset beach backdrop, we have many ideas on how to propose on the beach. Whether it is walking along the beach with your partner, collecting for shells, enjoying dinner together on the beach, or a boat ride together would be the best way to propose.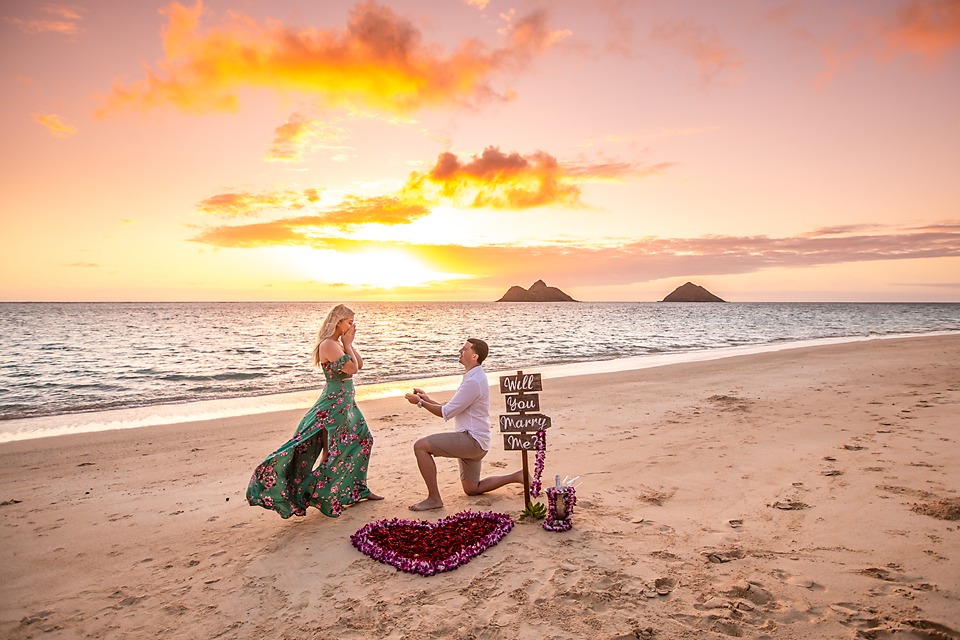 Outdoor Proposal Ideas
If you are seeking for ideas on how to propose outdoors to give your engagement proposal a more thrilling and adventurous touch, you might gain some advice from the following ways to propose.
12. Hot air balloon proposal ideas
A hot air balloon ride is one of those truly romantic marriage proposal ideas. Take your partner on a hot air balloon ride. As the balloon soars over the horizon at sunset, get down on one knee and propose to your girlfriend under the magical and magnificent scenery.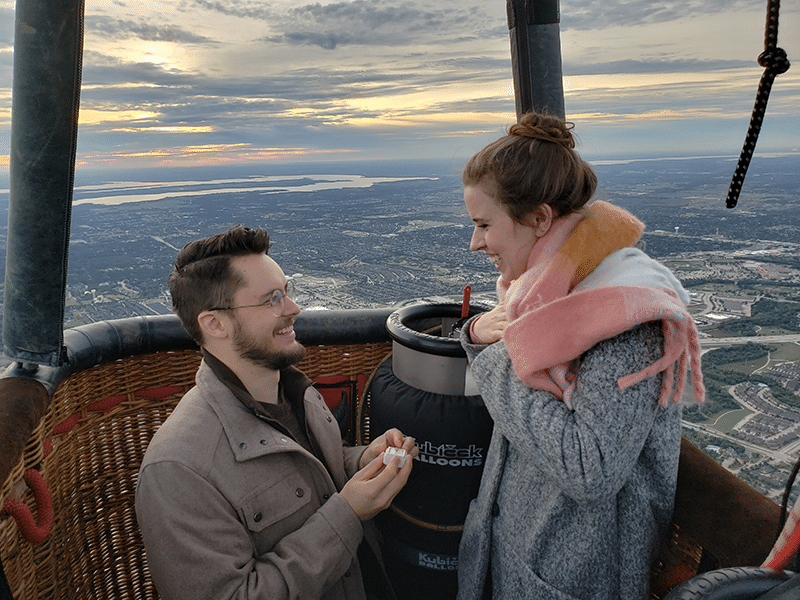 13. Disney proposal ideas
Take your partner on a trip to Disney and give her a fairy-tale romantic marriage proposal. Disney offers many romantic proposal locations, such as in front of Cinderella's castle, Snow White's wishing well, under the classic fireworks show, etc. Check out our blog 8 Creative Disney Proposal Ideas to Bring You Magic to get more ways to propose in Disneyland.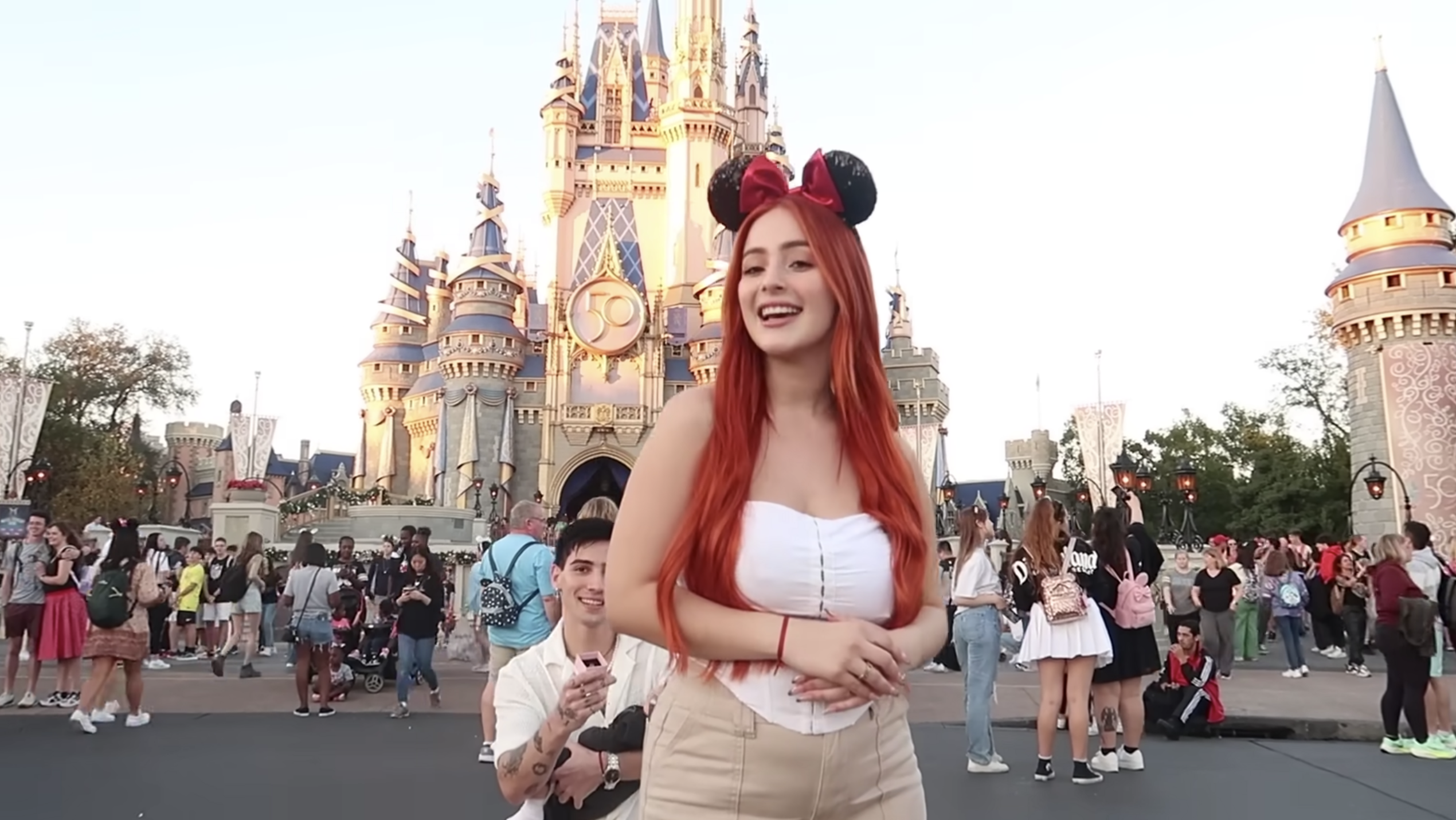 14. Propose at a concert
Take your partner to a concert of her favorite singer. The musician will be delighted to sing for you if you have the opportunity to let them know you are prepared to pop the question. After all, who doesn't want to witness this happy moment? When the song begins, slowly walk towards your partner, kneel in front of her, raise your shining round diamond engagement ring and ask her to marry you. This will go down as her most cherished and passionate memory because her favorite singer was there to witness it and sing a song for her proposal!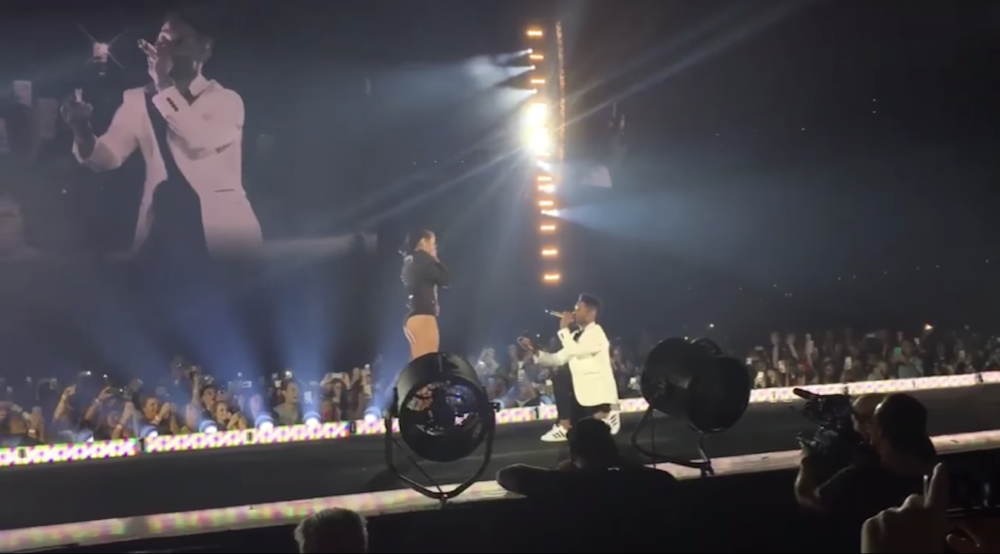 15. Stadium proposal ideas
For those sport fans, proposing at the stadium is the best way to propose. Get down on one knee and pop the question to your girlfriend as your preferred team win, whether it is the World Cup, the Olympics, MLB, or Super Bowl proposals. Your love story will not only be praised by the in-person audience but also by fans all over the world through online retweets. You can also get the kiss cam footage at halftime of the game if you want more live wishes.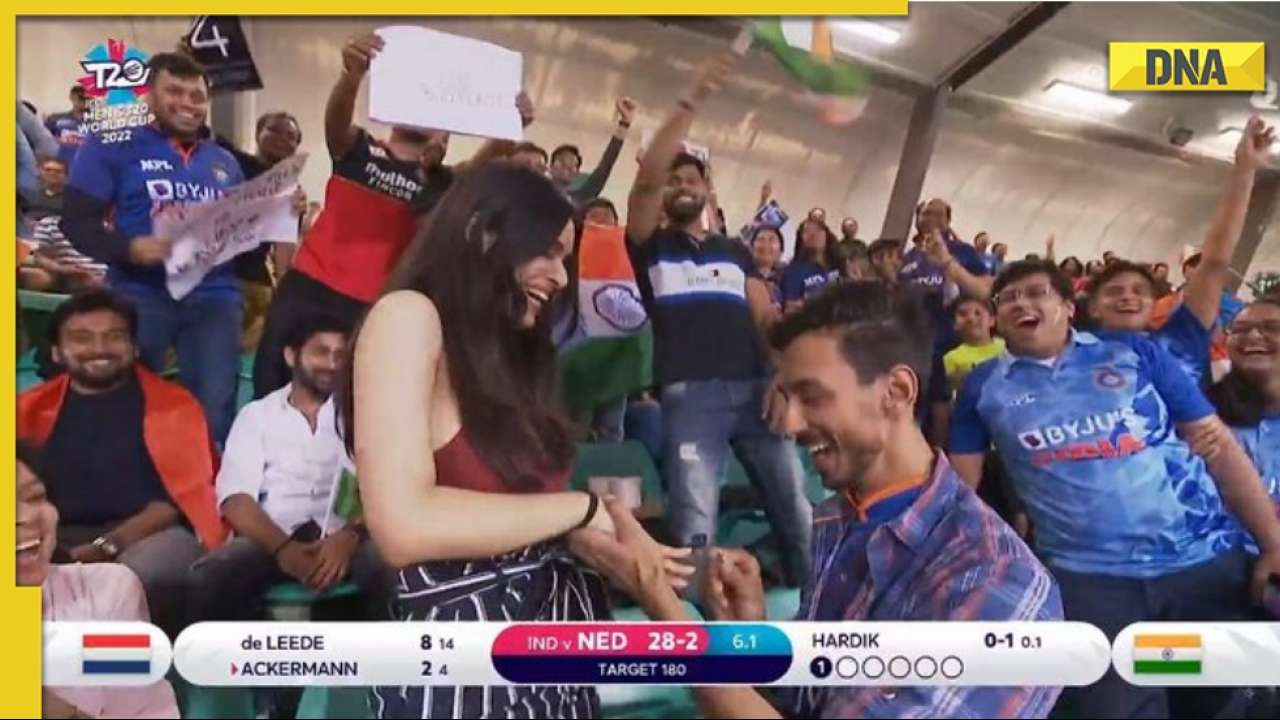 (source from DNAINDIA)
16. Drone marriage proposal ideas
Prepare a memorable wedding proposal for your loved one with drones. You should get in touch with wedding planners and ask them to create a special drone light show for your wedding proposal. "Will You Marry Me" is written out by hundreds of drones at the conclusion of the light show. This can serve as the background for your unique marriage proposal. The benefit of a drone marriage proposal is that everyone who passes by the area will be able to watch the romantic drone light show. Therefore, you will receive the sincerest blessings from countless passersby.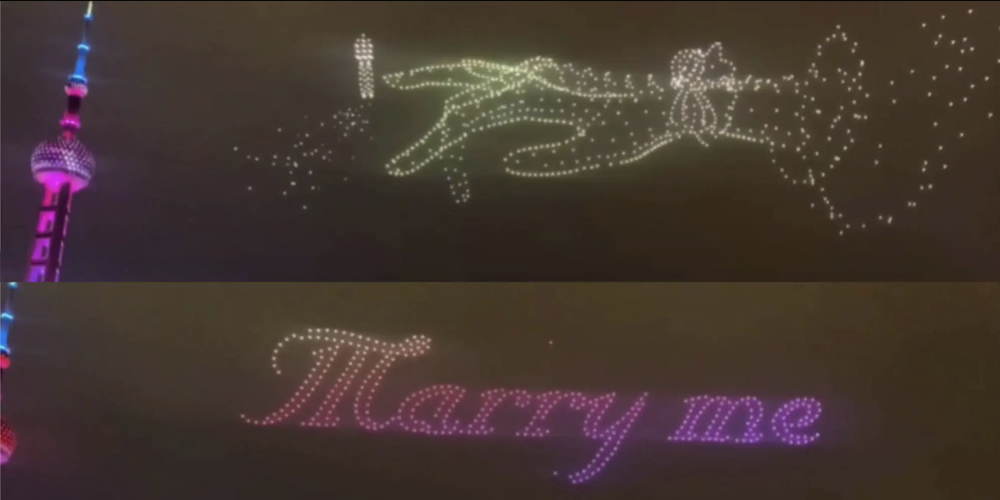 (source from DRONEDJ)
Holiday Proposal Ideas
Holiday proposal is a way to propose that can lead to a truly memorable surprise. Twinkling holiday lights, time spent with family and cozy gatherings will give you more options to plan an engagement proposal that is both romantic and personal.
17. Christmas proposal ideas
Christmas is the ideal time to make the marriage proposal because it is a significant day for gathering with family and friends so that they can share in your happy moment. Some ideas on how to propose on Christmas include hiding the dainty engagement ring as a present under the Christmas tree or on an advent calendar, proposing at a Christmas tree farm, proposing with marry me chocolates, etc. Either way your partner will be truly surprised by your romantic Christmas proposal.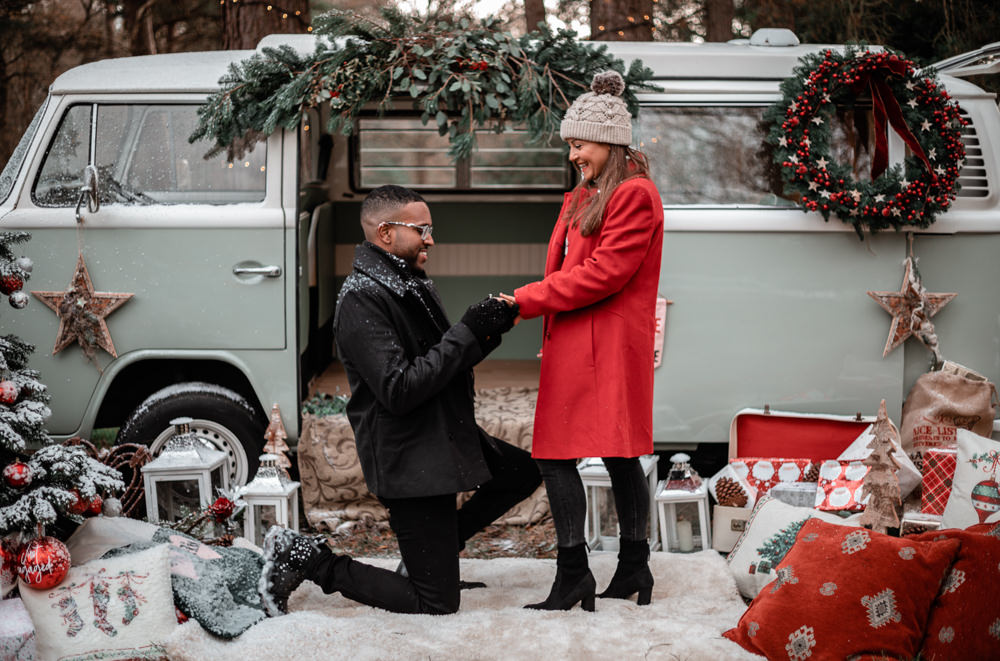 18. Propose on birthday
Different people will hold the opinion that you shouldn't ask her to marry you on her birthday. However, if you both want to upgrade your relationship, proposing on birthday is the greatest moment to surprise her since you are creating new and sweet memories for her birthday. Plan a birthday trip, take her to a private rooftop filled with candles and flowers, or bake her a special birthday cake with a carefully chosen engagement ring hidden inside. These are some of the most romantic birthday proposal ideas.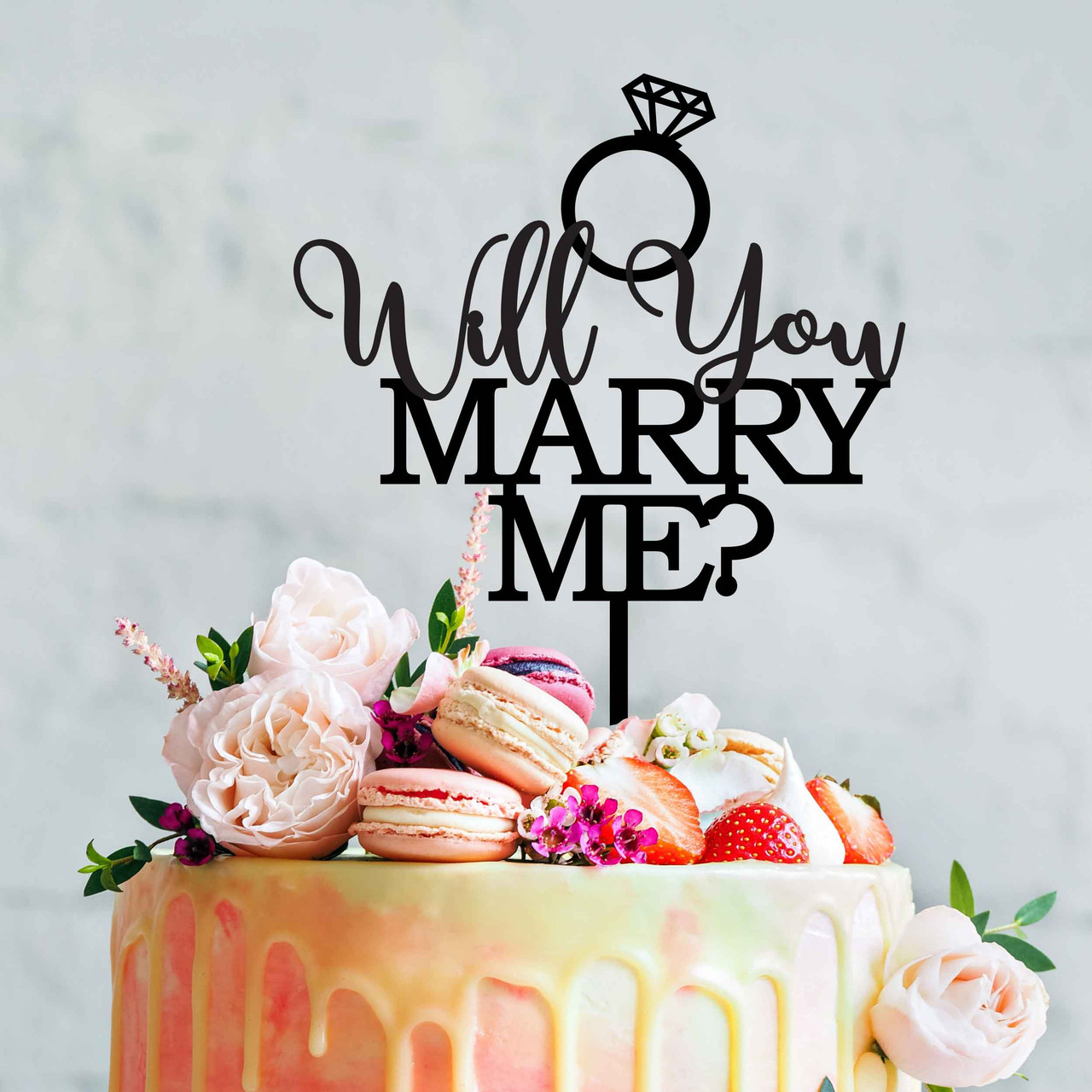 19. Propose on anniversary
There is no better moment to pop the question than on anniversary of when you first started dating. Either a nice dinner or a sparkling diamond engagement ring will also be the perfect gift for a surprise proposal on a festive night. Don't forget to get down on one knee and pop the question you've been preparing for so long as she opens her gift and discovers the diamond ring.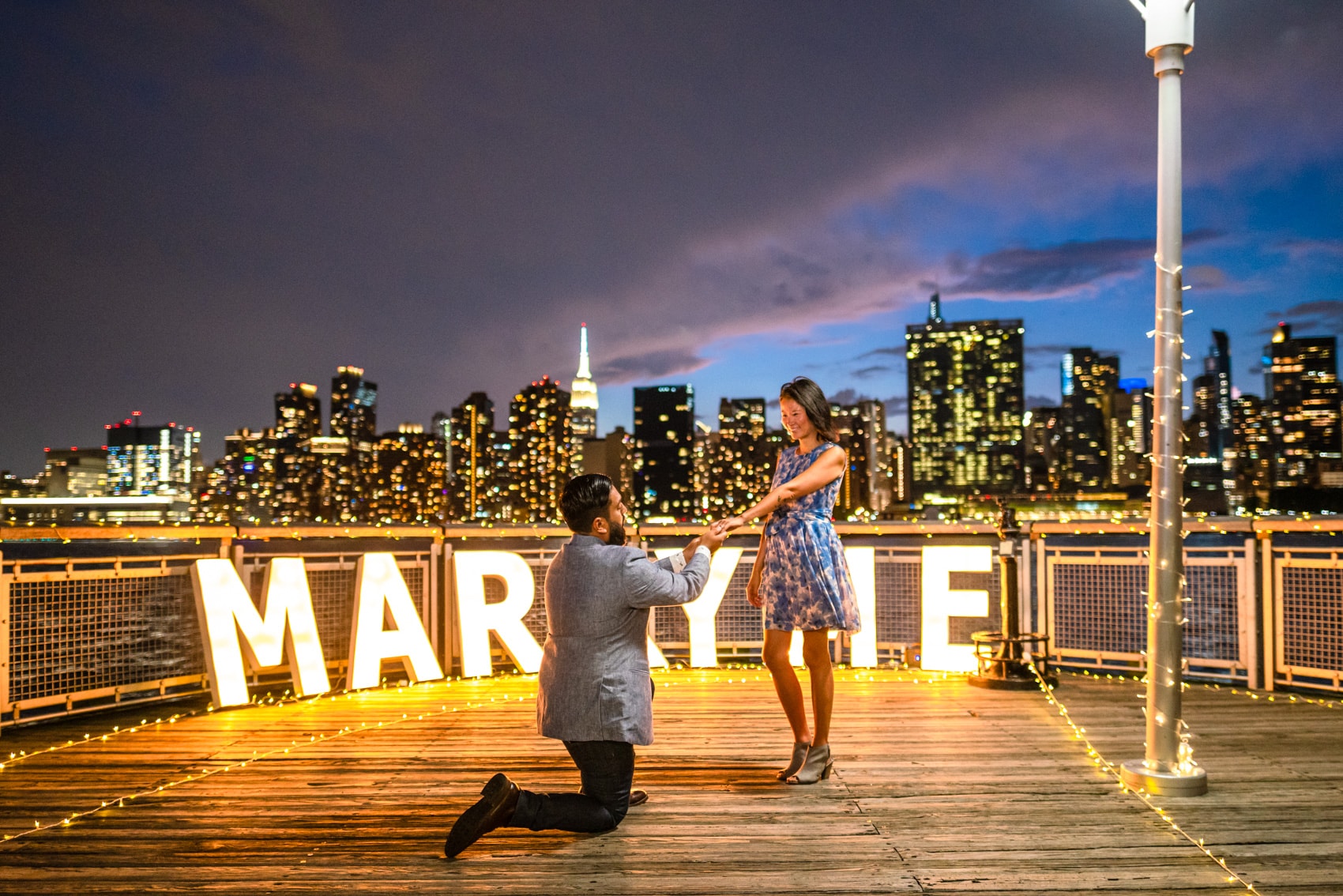 20. Propose on national proposal day
Why not try proposing on National Proposal Day on March 20th if you have no ideas about when to do so? National Proposal Day is a day set aside to inspire engaged couples worldwide to make the next step in their relationship. You can either practice the aforementioned proposal ideas at home, or take her outdoors to work on your proposal. In any case, you will always discover the best ways to propose if you are passionate about proposing on National Proposal Day.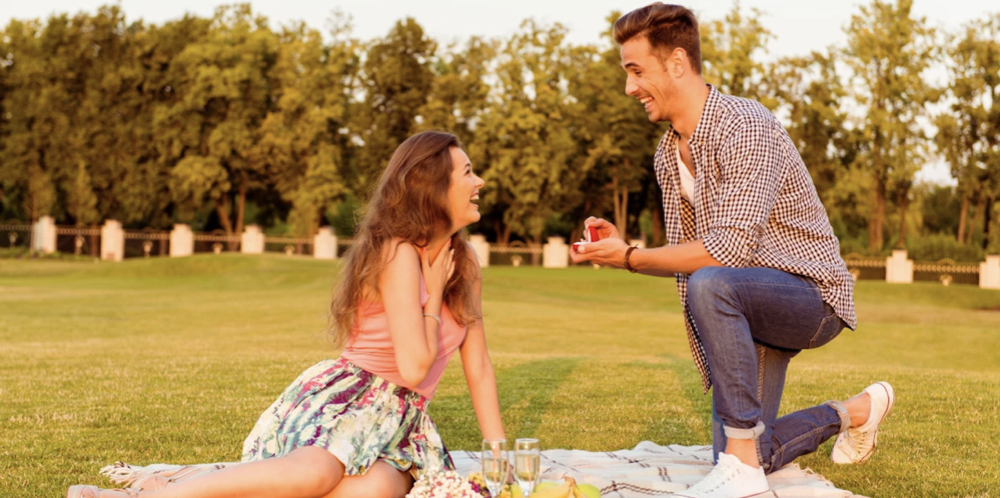 Choosing the ideal diamond engagement ring for your partner is the first step in any type of proposal. Darry Ring is an engagement ring company committed to assisting you in finding your true love with a distinctive ID Verification Ring. Finding the perfect diamond ring for your loved one is simple because we offer men and women engagement rings in a range of styles and metals. We provide distinctive diamond proposal rings for your unique proposal, ranging from traditional 6 prong engagement rings and heart-shaped engagement rings to modern paris engagement rings.