"

Disney, only with the girl you love the most.
Darry Ring, only for one person in your life.
If there's anything more romantic than that, it's him putting a Darry Ring on you at Disney.

"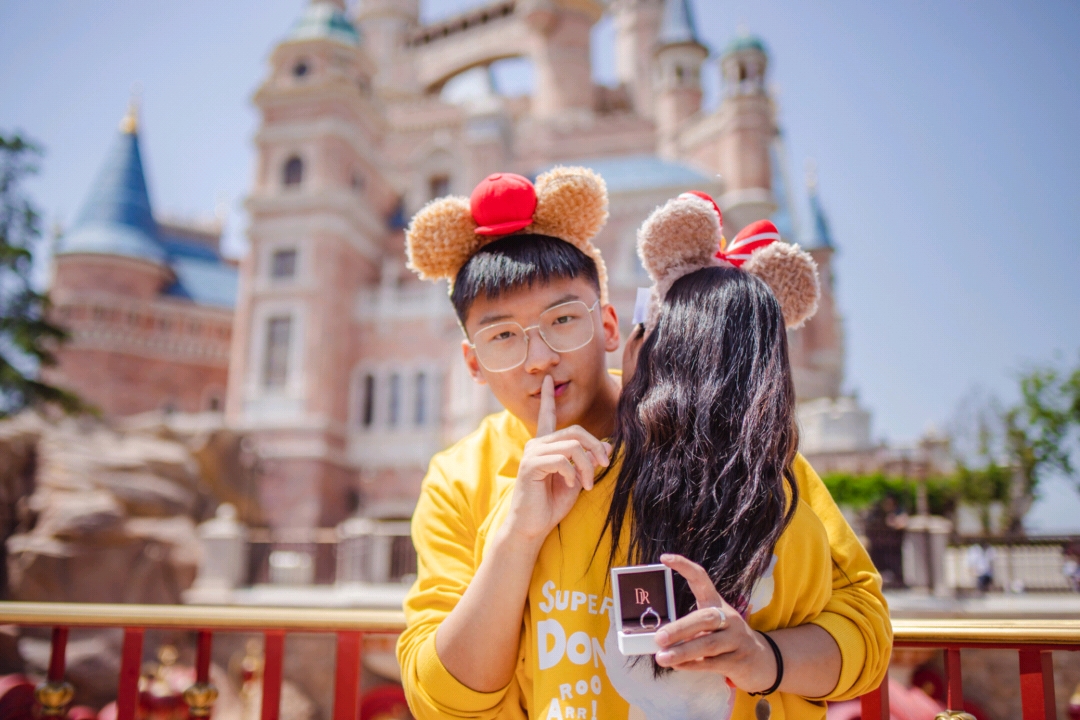 A fairy tale wedding is definitely what many brides with princess dreams dream of, but a magical proposal is what everyone aspires to. If you missed proposing on National Proposal Day, March 20, no matter, bring her to Disneyland.
After all, magic happens every day in this enchanted fairy tale world. One magical Disney proposal is enough to become one of the sweetest memories for the rest of her life. Is there a better way to propose than at the "happiest place on earth" - Disney?
Can You Propose at Disneyland?
You can totally propose at Disneyland and Disney World, as long as you enjoy celebrating this wonderful moment with all your Disney friends who believe in fairy tales. Disneyland in California and Walt Disney World in Florida are the best places to propose.
Once a couple was vandalized by staff for proposing on a stage in front of the Sleeping Beauty Castle. Disney officials eventually came out to respond to the incident and apologized to the couple. You do have the option of completing your creative idea at Disney, however, you need to make sure that your Disney marriage proposal plan does not break any rules - no trespassing into restricted areas or stopping the parade.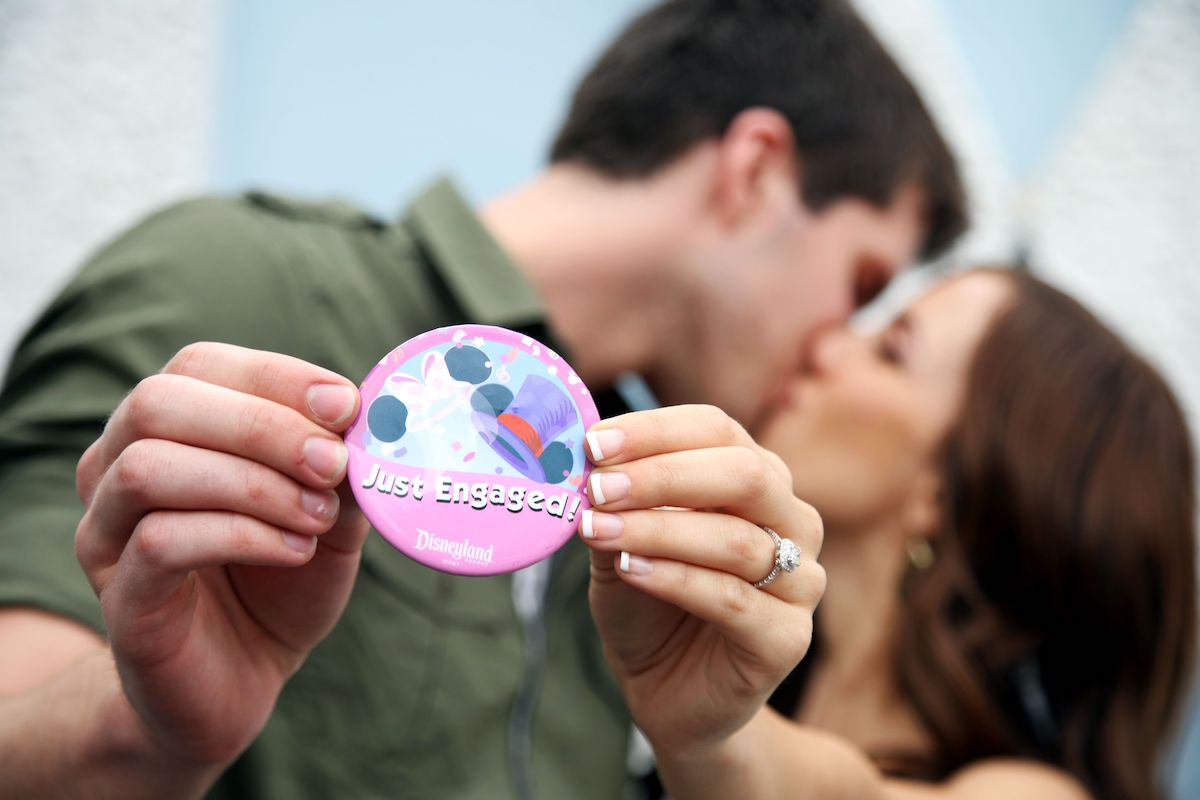 The Best Way to Propose in Disney
Disney offers many options for both your fairytale proposal and wedding. Here are some Disney proposal ideas to make your proposal romantic to the max. Each location offers great views, the perfect backdrop, and a fun experience that is a great place to create those lasting memories.
1. In Front of the Cinderella Castle
Main Street USA in front of Cinderella Castle is one of the most popular areas of Disneyland, and naturally the most preferred Disney World proposal location because of its breathtaking and recognizable Disney character.
If you don't mind proposing publicly and want to share this happy moment with the Disney guests around you, you can absolutely ask her to face the castle under the pretext of taking a picture of her and start your proposal plan. When she turns around and asks if you've taken the picture, she'll see you behind her on one knee, presenting your sparkling diamond engagement ring.
I'm sure she'll be pleasantly surprised at this moment and must be marveling at the magic Disney has brought her.
💞True Love Story – Disney Marriage Proposal with a Darry Ring
AUGUS from Spain brought his newborn baby to the Cinderella castle in Disneyland to propose to NIKKI using Darry Ring. Darry Ring is a diamond engagement ring brand that has become the choice of many true love couples by upholding the brand rule that a person can buy only one DR diamond ring with their ID card for a lifetime. After learning about the unique concept, AUGUS decided to use Darry Ring to give his one true love, NIKKI, a romantic Disney proposal.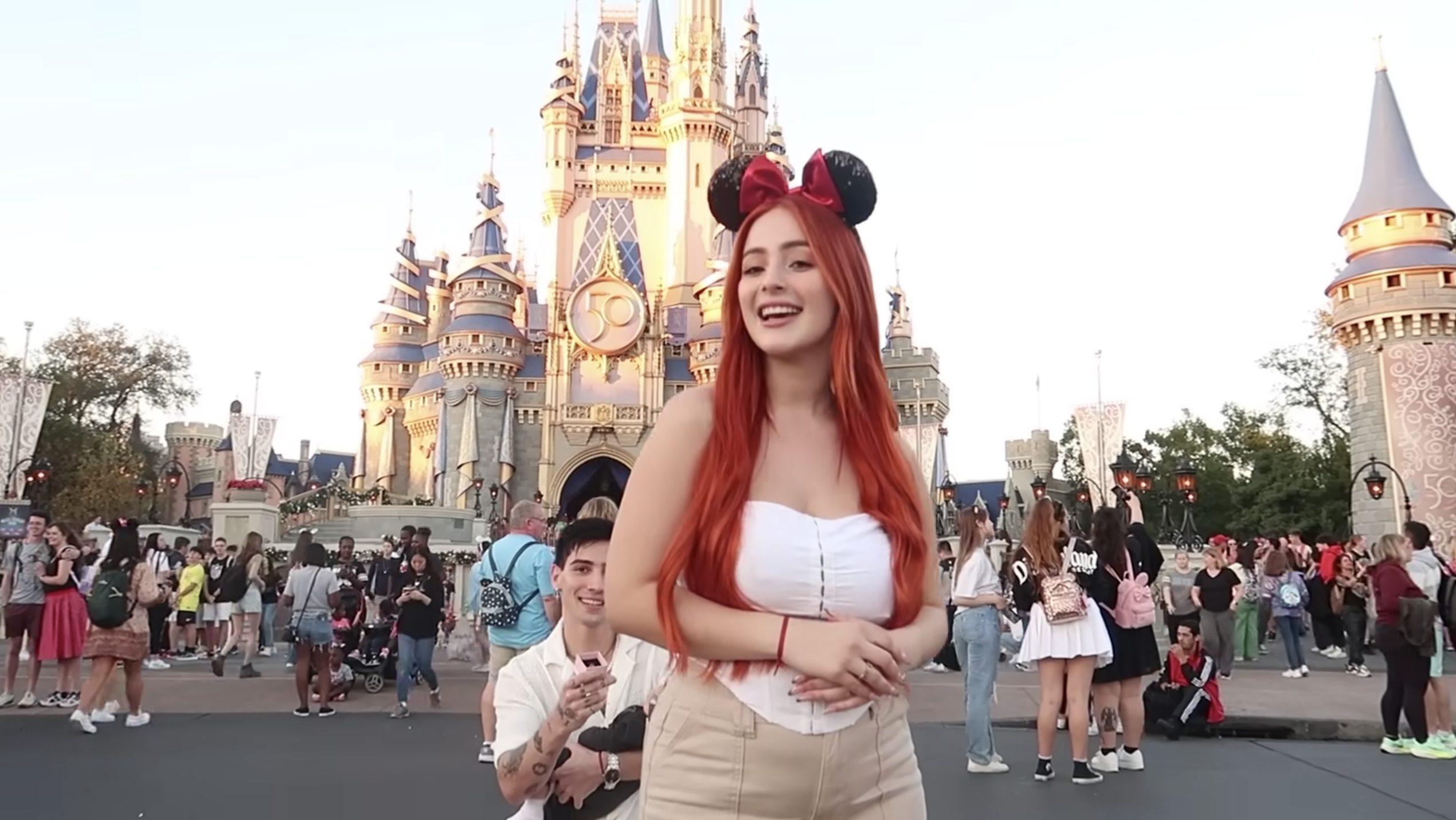 Disney is the place only go with the girl you love the most. While Darry Ring can only be given to one person in a lifetime. If there is anything more romantic than that, it's him putting a Darry Ring on you at Disney.
If you want this time of romance and happiness to be just for the two of you, aim to get there early, or suggest a time before the afternoon parade when the main sidewalks will be clear. You can also wait at Disneyland until most of the guests have left before proposing in front of the castle. Going around to the back of the castle where the crowds are less and where you can also create a romantic and surprise filled Disneyland proposal with the iconic castle as a backdrop as well.
2. Next to Snow White's Wishing Well
The Wishing Well is one of the most iconic and popular Disneyland marriage proposal locations. It is located to the right of Cinderella's Castle, a location that is less crowded and relatively quieter than Main Street USA. If you are afraid of proposing in a crowd, why not bring her to Snow White's Wishing Well to toss a coin and make a wish together.
While she is quietly making a serious wish for your future, quietly come up behind her and get down on one knee, hold up a unique diamond engagement ring and wait for her to turn around. When she finishes wishing, she won't believe the magic Disney has really brought her. This is such a romantic and beautiful scene.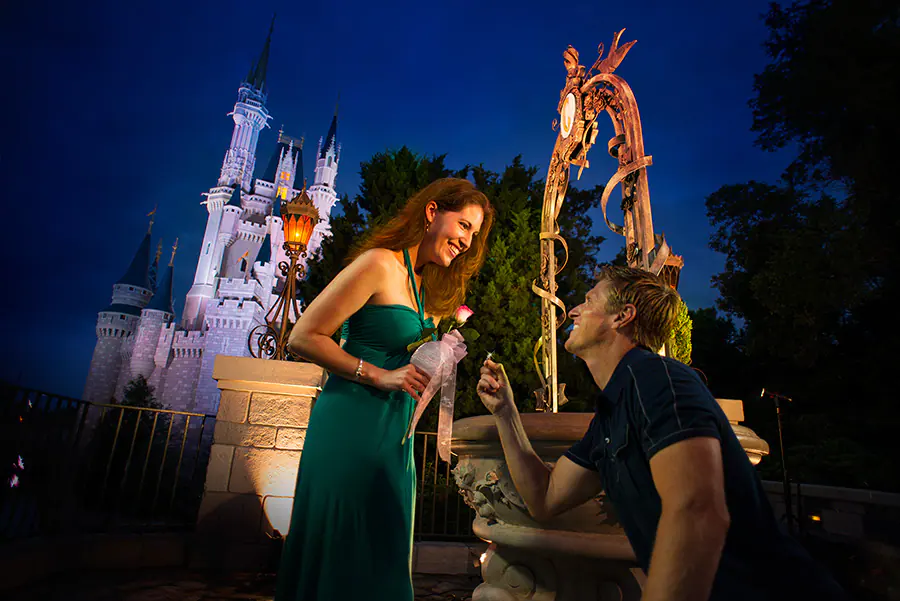 3. During the Disney Fireworks Show
Disney's fireworks show is one of the most unique shows and is where the magic of Disney really happens. Walt Disney World and Disneyland in California have nightly fireworks shows. While she is concentrating on the fireworks show, you can sneak up behind her and propose to her with beautiful fireworks show and the Disney Castle as the backdrop. The crowd next to you will cheer and give you the sincerest blessing.
You can also take her on a cruise to Bay Lake in front of the Magic Kingdom. Halfway through the Disney fireworks show, sneak up behind her and pop the question you've been prepared for so many times. The fireworks in the air and the reflections falling on the water will only add to the romantic atmosphere and make your Disney marriage proposal more magical than you ever imagined.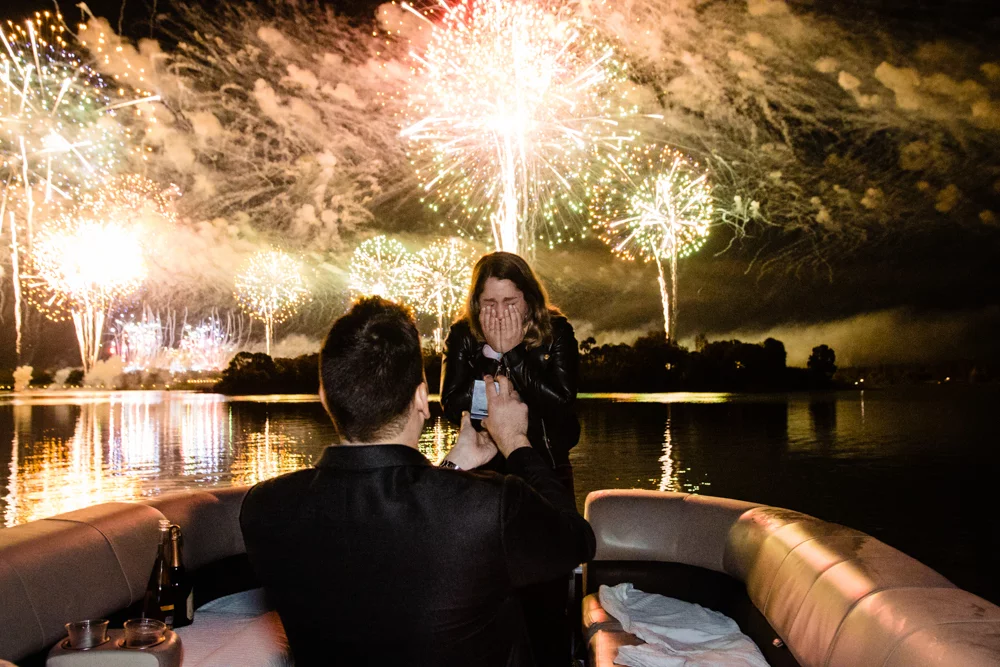 4. In Front of Her Favorite Character
If your girlfriend has a favorite Disney character, there is no better way to get excited and surprised than to have her favorite character witness the proposal. She will be delighted to meet her favorite character.
While she is interacting with her favorite character, quietly get down on one knee behind her and then when she looks back, pop the question that will surprise her so much.
It's a good idea to let the meeting and greeting cast members know your propose plan before you go ahead with your Disney proposal so that you can have the photographer ready to capture your special moment.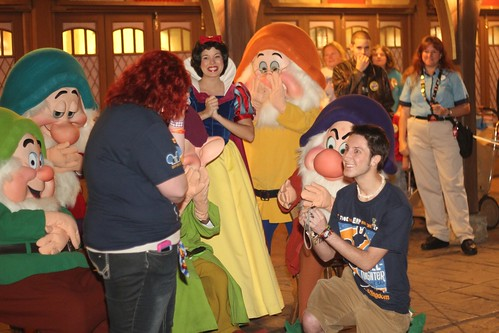 5. At the Dinner Table
If you're inclined to go with the traditional option, why not pop the question while having dinner together. Several of Disneyland's lavish restaurants are perfect for a Disney proposal.
You can make her your queen with a beautiful diamond engagement ring at Cinderella's Royal Table! Or you can put a crown on her head while enjoying a king and queen-like feast at Victoria & Albert's restaurant, and naturally have to ask that question to make her officially your princess.
There will always be fine dining, first-class service and a beautiful backdrop to help you capture the memories.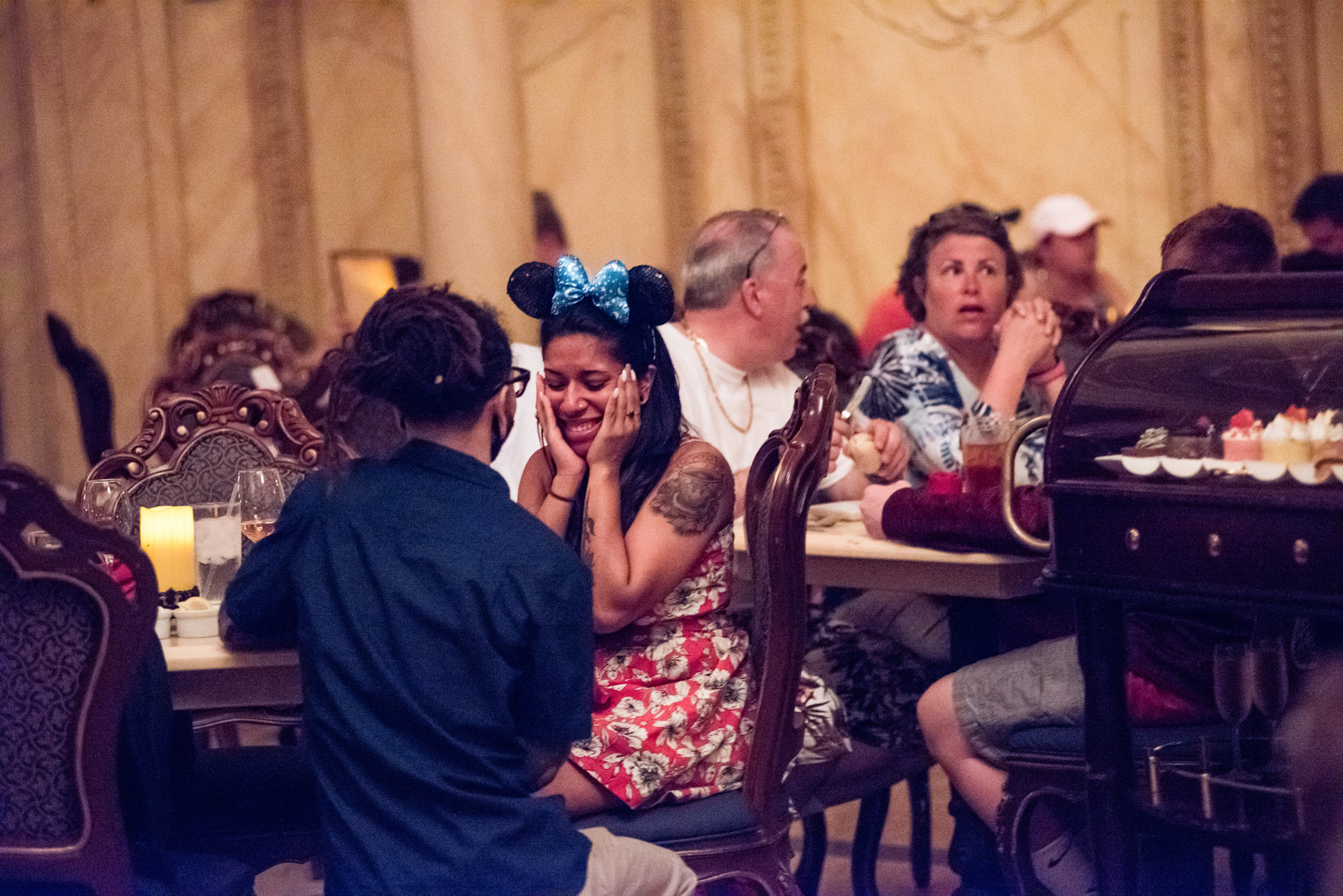 6. At the World Showcase
If you want a taste of the different countries of the world, why not visit World Showcase in EPCOT, a collection of some of the world's most beautiful buildings that are replicas of real monuments from various countries.
Whether it's a beautiful garden in Canada and the romantic Eiffel Tower in France, or a quiet alley in Morocco, you'll always find the perfect place to set the backdrop for your Disneyland proposal. Best of all, with relatively small crowds but beautiful scenery at World Showcase, you'll have plenty of time to carry out your plans and enjoy sweet moments.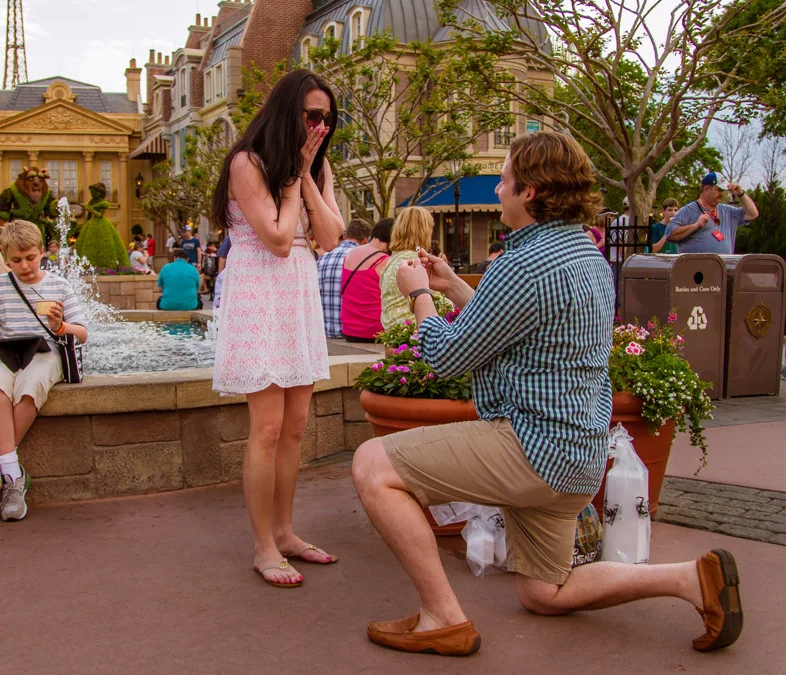 7. In front of the Tree of Life in Animal Kingdom
If you prefer natural scenery and want to feel the endless charm brought by all things natural, why not come to Disney's Animal Kingdom? The Tree of Life is a symbolic feature of the Animal Kingdom, surrounded by lush, leafy scenery.
Take her to the Tree of Life at Disney's Animal Kingdom and tell her that you want to spend the rest of your life with her and that it is she who makes your life complete. A Disney World proposal with the Tree of Life as the backdrop is sure to provide you with movie-quality photo perfection.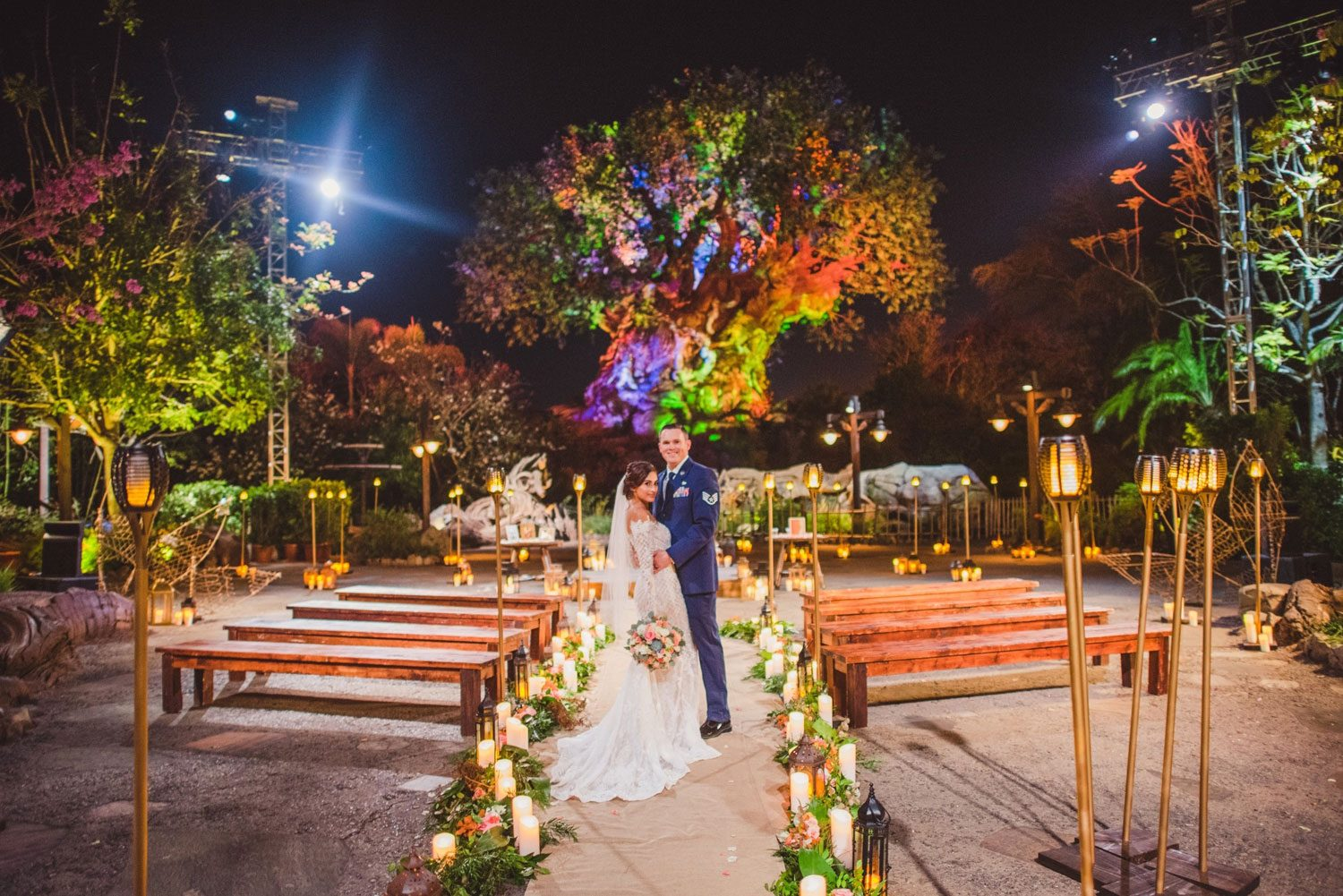 8. Role Play Together
If you both have a favorite Disney character, why not take inspiration from Disney movies and role play together. Bring her into the story of your favorite character, come together in front of your favorite character's iconic building, and become the prince of her!
Getting engaged will be one of the most important moments in your life, and Disney World is the place to create more wonders for you. Refer to some of the above creative Disney proposal ideas to create a fairy-tale romantic proposal for your love. Make your Disney marriage proposal even more significant with the Darry Ring, a high-end engagement ring brand where we redefine engagement rings and true love.
By setting up an ID verification and True Love Agreement signing process, we make it so that only one Darry Ring can be purchased in a lifetime per person, thus making couples who believe in true love more determined to choose each other. Explore more unique Darry Ring engagement rings today and add more magic to your Disney proposal!
※ If you'd like to explore more creative proposal ideas, check out our article An Ultimate Guide on How to Propose to Your Partner.