It is no longer strange or embarrassing for women proposing to men since marriage etiquette has developed in the direction of diversity and equality between men and women. More and more modern women are breaking free from traditional thinking and proposing to their beloved ones. If you are on the same page as us, this guide on how to propose to your boyfriend will be just what you are looking for.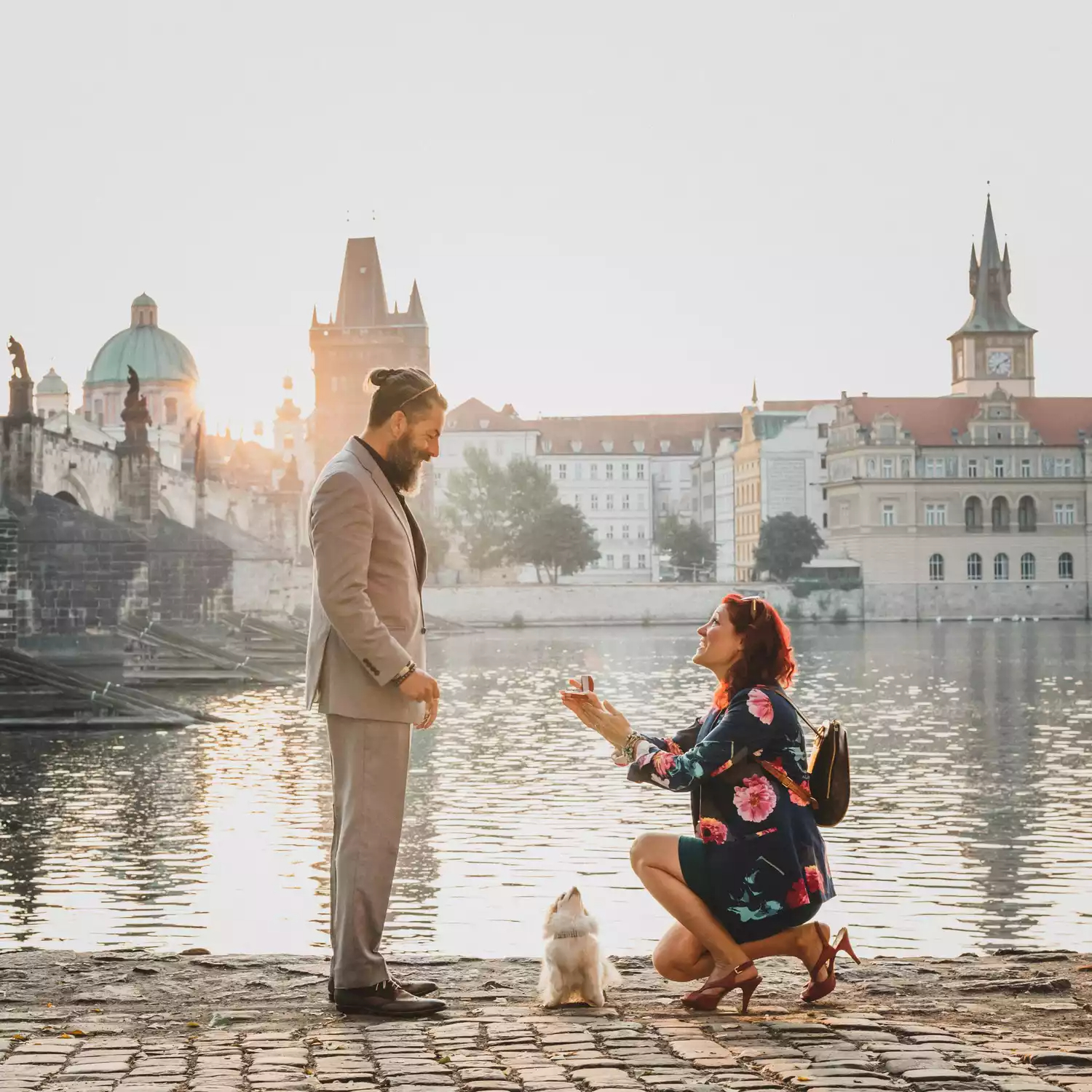 (source from BRIDES)
Can a Woman Propose to a Man?
Women can certainly propose to men. When it comes to marital customs, women now have every right to take the future into their own hands, unlike in the past when men were typically the ones who propose to women because they were given the authority.
In fact, there are records of female making proposals to males throughout history. In Ireland in 461 A.D. there are folk tales circulating that encourage women to propose to men on February 29th of leap years. And in 1288, Queen Margaret of Scotland enacted a law allowing women to propose to men while donning crimson petticoats.
Additionally, there are examples of women proposing to men in modern movies, TV shows, and everyday life. For instance, many ladies were inspired by the scene in the popular TV show Friends where Monica proposed to her boyfriend Chandler. More than that, there are numerous examples of contemporary female celebrities popping the question to their lovers, like Kat Denings, Sarah Snook, Jodie Turner-Smith, Lindey Vonn, etc.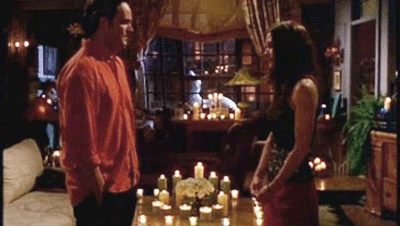 You may be under pressure from family or friends who do not understand and are startled when you make this decision. However, the truth is that women proposing to men are not frightful. According to a survey by Zola, 93% of men will say "yes" when proposed by their girlfriends. So, be bold and ask your boyfriend to marry you if you want to increase your intimacy even more.
How to Propose to Your Boyfriend?
Nobody wants to be perfunctory while proposing because it can be a once-in-a-lifetime experience for anyone. If you feel nervous and helpless during the process, we offer you some of the best ways and ideas on how to propose to your boyfriend to pull off the proposal of your dreams.
1. Clarify his position
Before making plans to propose to boyfriend, try to find out how he feels about your relationship or about marriage and commitment during an after-dinner chat or bedtime conversation. If he shares your expectations of entering into marriage, it would be wise to ask him to marry you; otherwise, it will probably end in failure.
2. Figure out his ideal proposal
Everyone looks forward to a dream proposal, and it is not about gender. Take some time to think back to whether your boyfriend has ever mentioned his ideal marriage proposal. You might also try exchanging ideas with him on the topic of "ideal marriage proposal" to get a little inspiration.
If you are having trouble doing this, try using his hobbies as an entry point. If your boyfriend is a scuba diver, for instance, planning an underwater proposal can be a surprise; and proposing to him at the site of his favorite sports star's championship will also bring extra blessings to your precious love.
Not unique and surprising enough? Check out our blog 20 Marriage Proposal Ideas for the Unforgettable Moment for proposal ideas for at home, beach proposal ideas and outdoor proposal ideas. Whether your boyfriend prefers private proposal ideas or outdoor proposal ideas, you can be inspired by them all.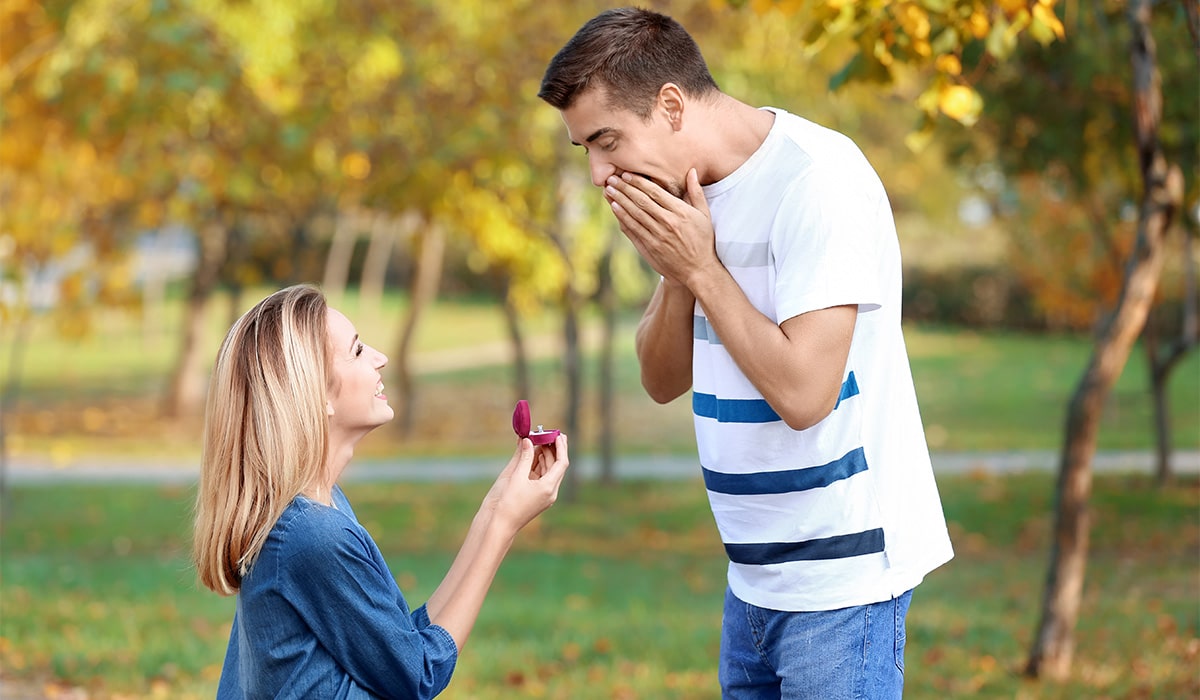 (source from Shutterstock)
3. Choose a meaningful proposal place
When you start planning the proposal, do not forget to choose the right place to make the engagement proposal meaningful. This might be where you two first met or a vacation spot you both wish to visit. A memorable place for the marriage proposal can eventually make your recollections sweet and happy for years to come.
If you are going to propose to boyfriend in the United States, we have provided you with a wonderful guide to the 10 Best Places to Propose in the USA, where you will be inspired to create an unforgettable moment for yourself to cherish for a lifetime.
4. Pick an appropriate date
You need a meaningful date to make the surprise proposal happen at this stage. Think about when you plan to get married. For example, if you want to get married in the fall, try to propose to boyfriend in the spring or earlier, otherwise you may not have enough time to plan the wedding (it will take at least 6 months). Sometimes, engagement proposals are held on anniversaries, birthdays or holidays that also have special significance.
5. Prepare an engagement ring
There are different opinions on whether an diamond engagement ring need to prepare when women proposing to men.
※ Do men wear engagement ring?
Men historically did not wear engagement rings because they gave the rings to women as a symbol of paying a dowry for the woman to marry into. However, due to the development of current wedding customs, more and more men are wearing engagement rings, especially in Sweden, Chile and the United States. It has long been a universally accepted practice for men to wear engagement rings as it represents a more equal relationship or a sign of firm commitment to each other.
We advise that you prepare two engagement rings if you believe that a diamond engagement ring is a necessary and iconic component of proposal etiquette. Make sure your boyfriend has a men's engagement ring on when you pop the question to him. You can wear a women's engagement ring to signify your engagement after the proposal ceremony.
Your boyfriend is the person you choose to spend the rest of your life with when you make the proposal. So why not select an engagement ring brand that completely matches your conception?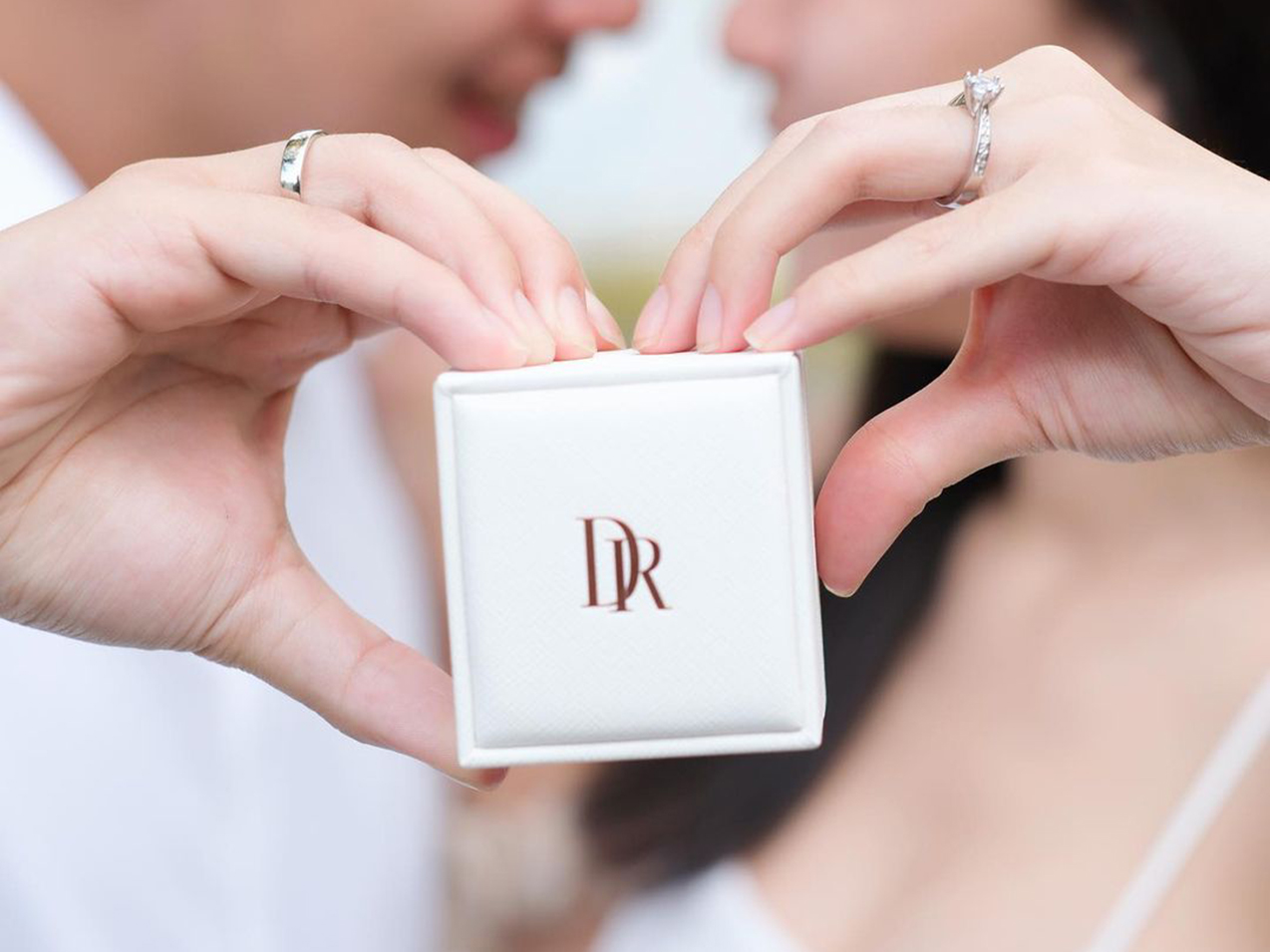 Darry Ring is a luxury engagement ring brand that promotes one true love in a life. Given this, you are allowed to buy only one DR diamond ring with your valid ID card at Darry Ring and it can only be given to one person in your lifetime. Just use a Darry Ring to pop the question and show your devotion and promise to your boyfriend.
※ Getting the right diamond engagement ring is not an easy task, you need to know a lot of information about diamonds and ring setting. Check our article on How to Choose An Engagement Ring to help you buy the unique engagement ring. Have a look at How Much Should You Spend on An Engagement Ring to control your engagement ring cost. Do not forget to learn How to Determine Your Ring Size to get the perfect ring size for him and yourself.
Give your boyfriend a meaningful gift to represent your engagement if you are not obsessed with an engagement ring. In recent years, giving a watch to boyfriend when proposing has become increasingly traditional, as it symbolizes the time you will spend together for the rest of your lives.
6. Prepare and practice your proposal speech
The proposal speech is the most touching part of the entire marriage proposal process because you can let your boyfriend know how you feel about him and how much he means to you. Don't forget to prepare your proposal speech in advance and try to practice it to avoid awkward and embarrassing situations.
※ What to say when proposing?
There are so many things you can say when proposing to boyfriend. Try to start your proposal speech by telling him what you thought of him when you first met. Next show your appreciation for him by telling him the best qualities you admire in him and how he has made your life better. Your sincere reasons for wanting to spend the rest of your life with him and your unrestrained thoughts and expectations for your marriage should be the most important part of your proposal speech. Finally, don not forget to end with "Will you marry me?".
7. Record your engagement proposal
Every moment of the proposal is worth recording because it is the romantic time only for you and your boyfriend. If you are going to share the good news of your engagement on social media, you and your boyfriend need some professional proposal pictures. Invite your friends or family to help you capture every romantic moment of proposing to boyfriend. If you are planning a large and grand marriage proposal, hiring a professional photographer would be a wise choice. Later on, these proposal pictures will serve as a proof of your past pleasant experience.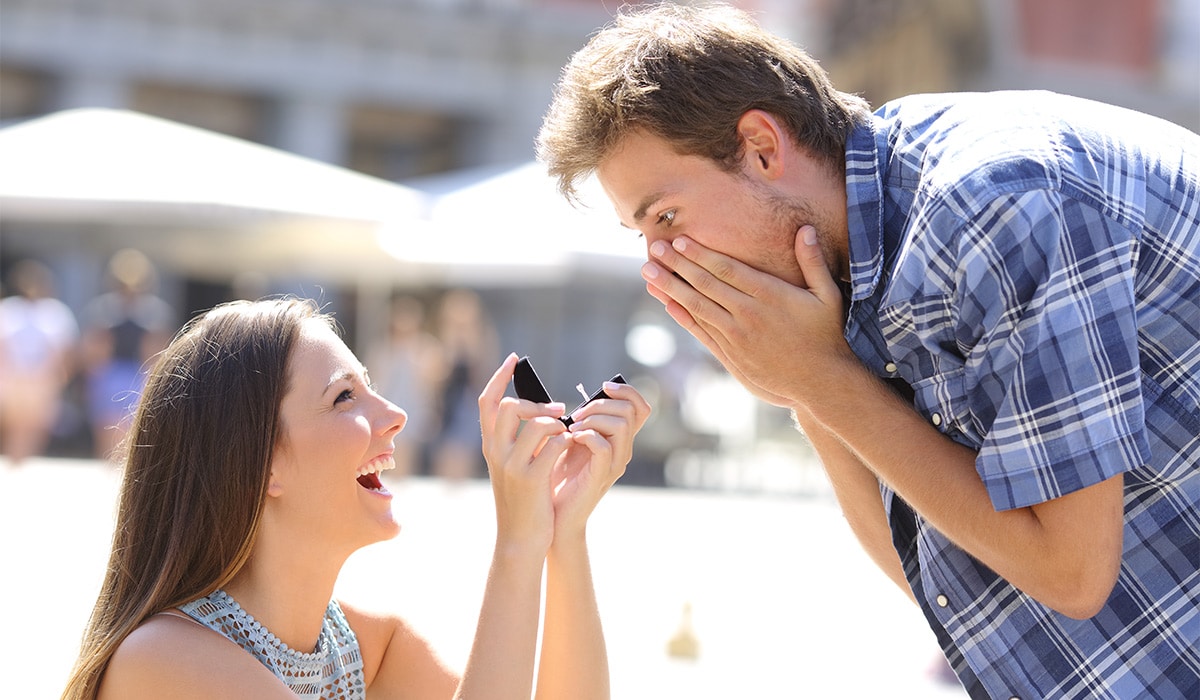 (source from Shutterstock)
More questions about proposing to your boyfriend
1. Do you need to get down on one knee when proposing to your boyfriend?
Proposing on one knee is a traditional marriage ritual that expresses your respect, love and commitment to your partner. For many people, proposing on one knee has a special symbolic meaning. If you tend to follow traditional customs, you can propose to your boyfriend by getting down on one knee.
As for which knee to propose on? The custom dictates that you should kneel on your left knee with your right knee on top and hold the engagement ring box in your left hand so that it will be simple for your right hand to open the ring box and propose to your boyfriend. But if you are a lefty, kneel on your right knee with your left knee on top would be more comfortable.
If you do not want to get down on your knee, try to mark the moment with some intimate poses. For example, when you propose to boyfriend, sit or stand side-by-side with him, hold his hand, look him in the eyes and pop the question firmly.
2. Man wear engagement ring on which finger?
Traditionally, man wear an engagement ring on the fourth finger of the left hand, but in some Eastern cultures and specific European countries, such as Switzerland, Italy, Croatia, Cyprus, the Netherlands, Portugal and Spain, men prefer to wear an engagement ring on the right ring finger.
3. What to wear when proposing to your boyfriend?
If you have planned a perfect proposal and hired a professional photographer to capture the moment. A formal and stylish dress code is a must. But if you decide to propose on one knee, make sure you wear something suitable for kneeling, so avoid tight-fitting clothes or high heels.