Darry Ring is a high-end engagement ring brand that is dedicated to solving the problem of young people today who are afraid of pursuing true love and making a commitment by promoting the brand concept that THE ONLY DIAMOND RING FOR THE ONLY ONE.
This means that when you purchase a diamond engagement ring from Darry Ring, you will be asked to sign a Darry Ring Agreement with your partner. It states that in the presence of Darry Ring, you are certain to spend your life together with your partner and love each other forever. You cannot purchase a new DR diamond ring for anyone else if you have purchased one before.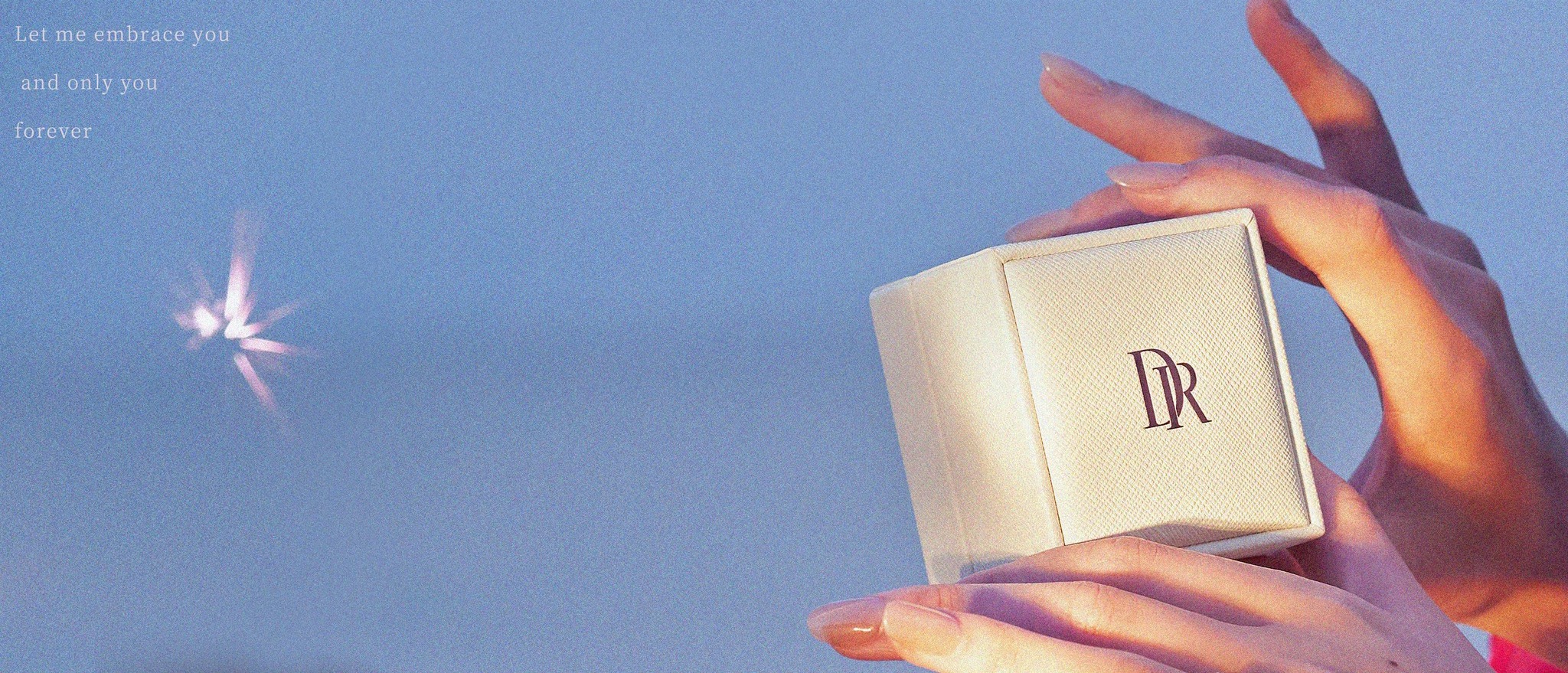 With its unique brand concept, Darry Ring has quickly distinguished itself from other similar ring brands and is sought after by couples from all over the world who believe in true love. DR engagement rings in this case have also quickly become the center of attention and the topic of daily discussion due to its unique design.
If you are browsing the DR engagement ring collection for the first time and are not yet sure how you should make your choice, then you have come to the right place. This complete guide will take you through all of the popular collections of DR engagement rings and show you how to shop for a DR diamond engagement ring.
6 Popular DR Engagement Ring Collections
DR My Heart Collection is the most popular and romantic engagement ring collection in DR engagement rings, signifying that the only one heart in this life belongs to you only. This is because DR My Heart ring collection features a heart cut diamond as the main diamond. The heart cut diamond is a modified version of the brilliant cut diamond, also with 58 perfect facets, allowing the most light to enter the diamond's interior and emitting the diamond's own stunning brilliance.
There are different settings and styles of heart shaped engagement rings available, such as halo engagement ring heart, solitaire engagement ring heart shape, crown engagement ring heart shape, etc. You can find any heart shaped engagement ring from DR My Heart collection to meet your needs and style.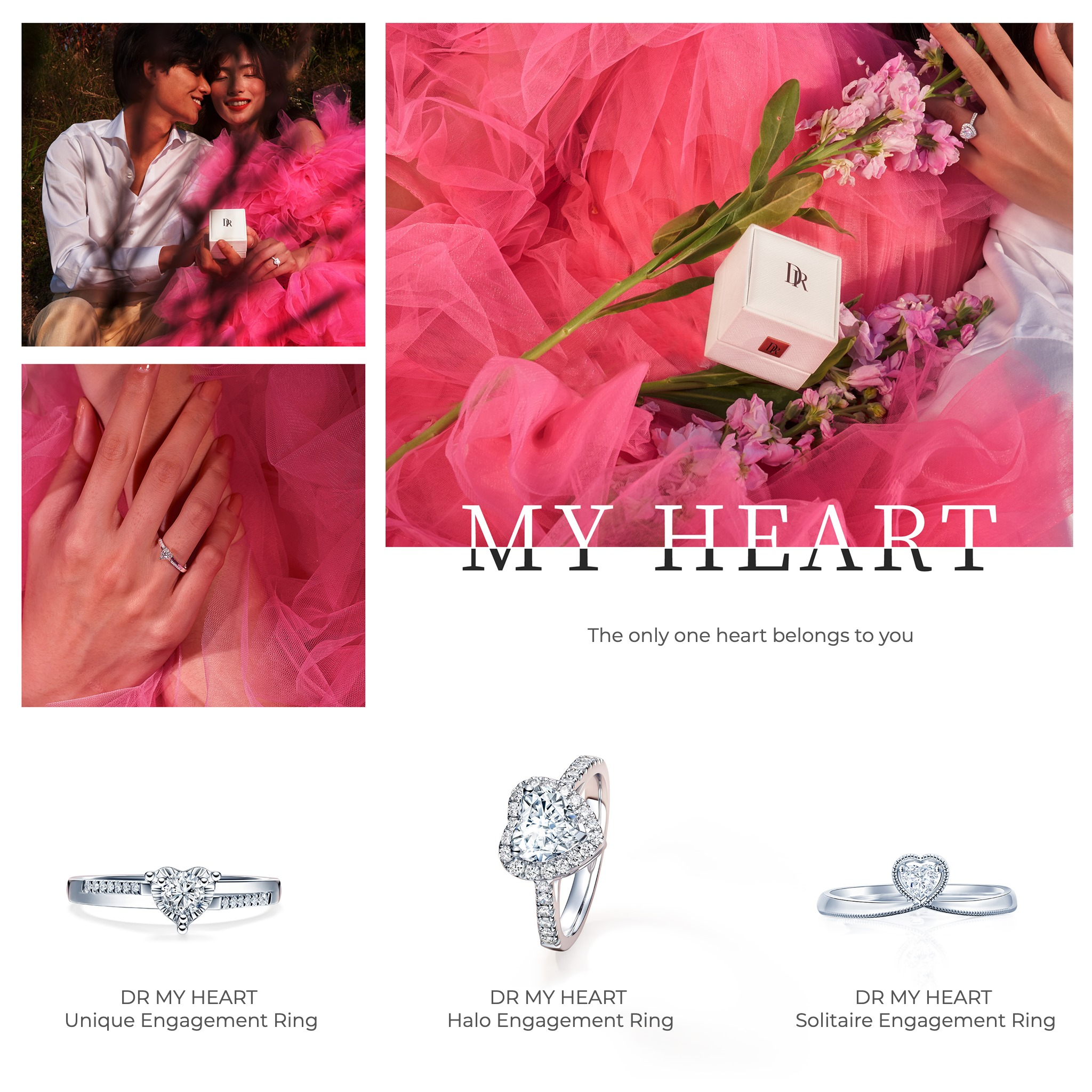 DR Forever Collection is the most popular engagement ring collection in DR engagement rings and, as the name suggests, signifies that our true love is as enduring as the diamond. DR Forever Ring Collection features classic 6 prong setting and 4 prong setting techniques. The 6 prong engagement ring has six prongs that extend upward from the band to support the main stone, while the 4 prong engagement ring has only four claws.
Therefore, a 6 prong engagement ring holds the diamond more securely than a 4 prong engagement ring, but the diamond on a 4 prong engagement ring appears larger than on a 6 prong engagement ring. Whether it's a 6 prong engagement ring or a 4 prong engagement ring, the sophisticated look, high quality DR diamonds and ethical sourcing are all benefits of having these stunning DR Forever engagement rings in your life.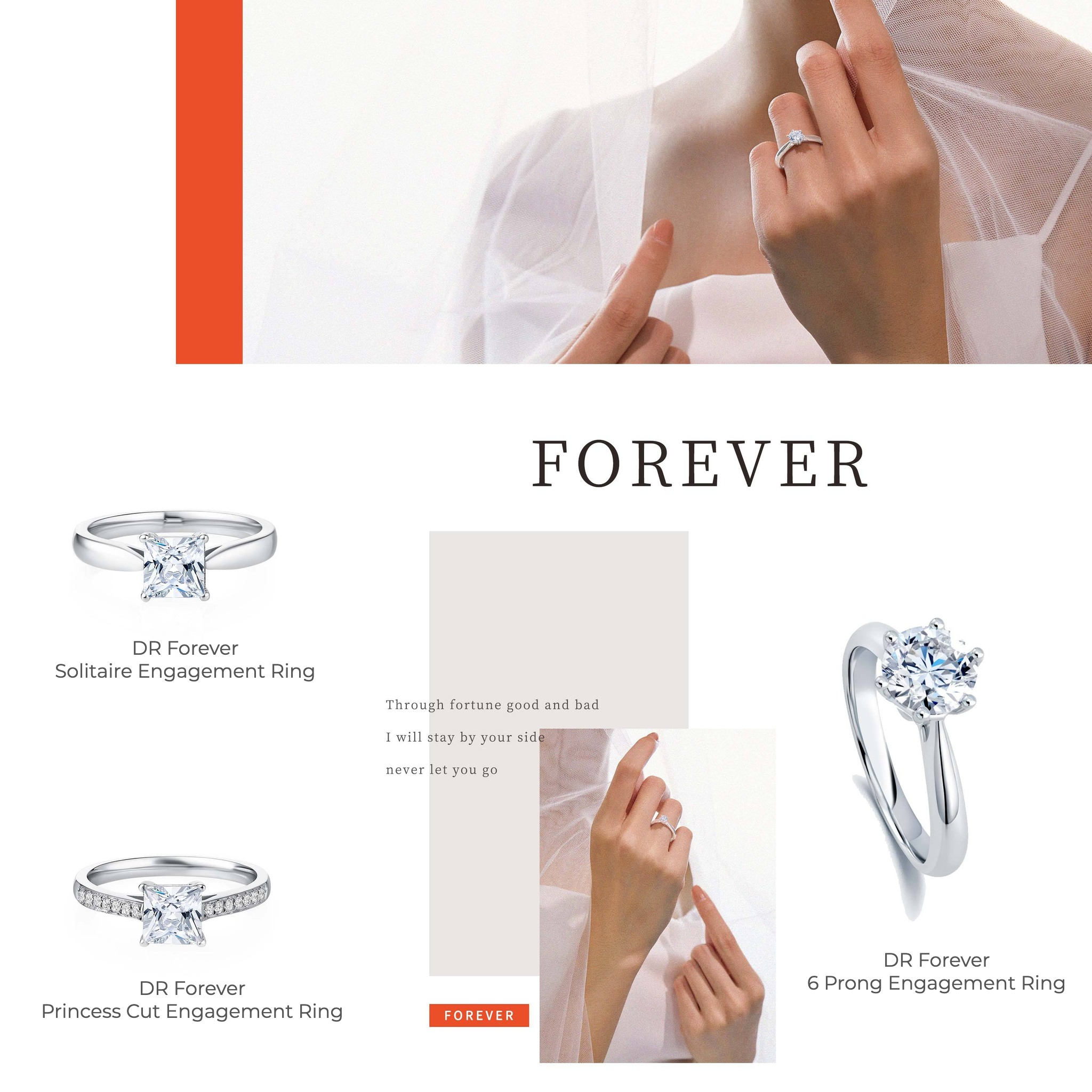 DR Love Line Collection is the most luxury engagement ring collection in DR engagement rings. The engagement rings in the DR Love Line collection are from the hand of Antonio Miccia, a renowned jewelry designer from Italy, and are inspired by the traditional wedding ceremony of hand fasting in Europe.
The designer cleverly designed the four heart-shaped ring holders in the shape of a bouquet with rose-gold loops as a metaphor for ribbons, symbolizing the vision of two people spending their lives together. The accent of the rose gold loops on the white gold ring arm makes the DR Love Line engagement ring a highly acclaimed piece.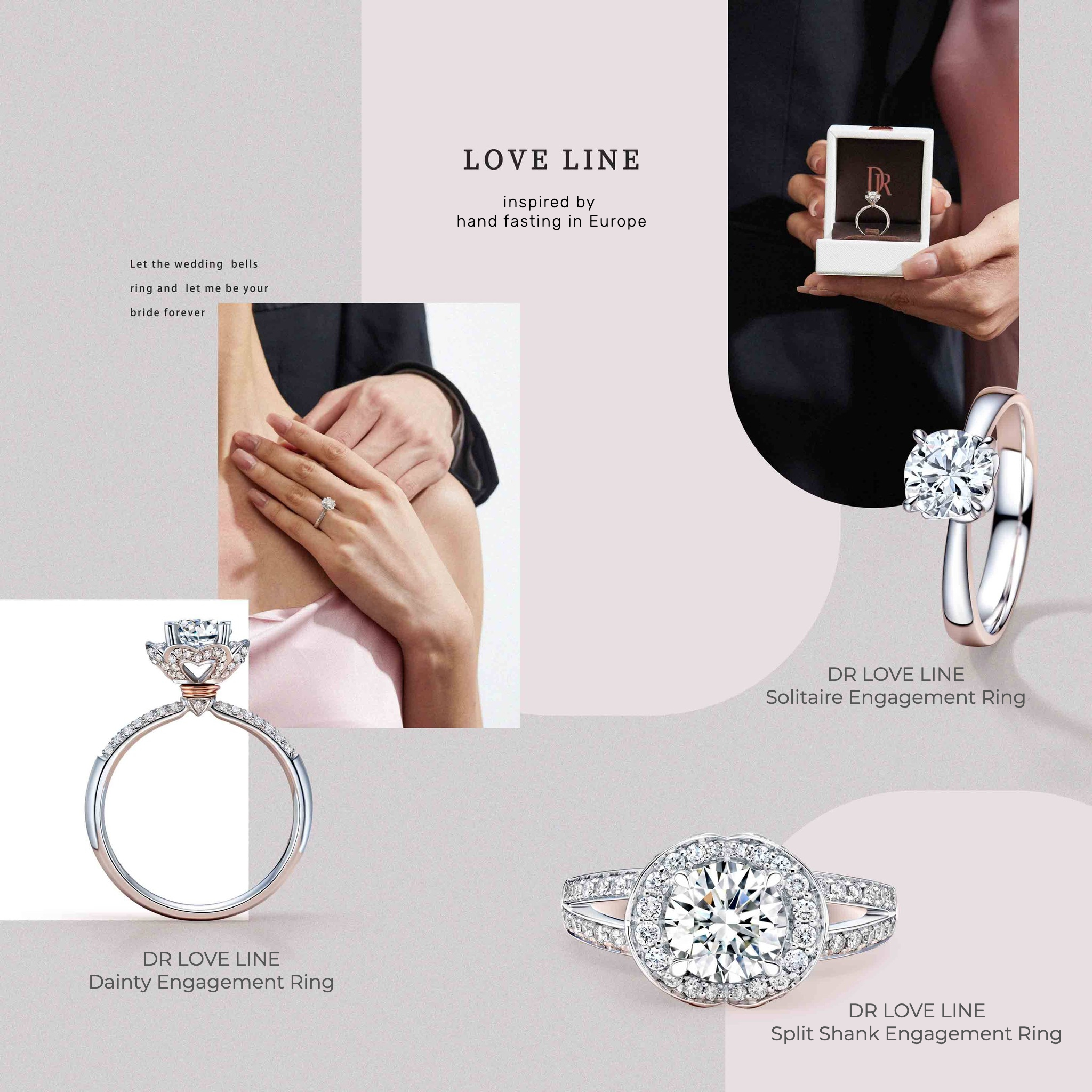 DR True Love Collection features a circle element, inspired by round dance music, signifying the pursuit of a successful marriage and the original intention of staying together for life. The round halo engagement ring and round double halo engagement ring are the signature symbols of the DR True Love ring collection, continuing the gorgeous vintage European style.
Each True Love engagement ring features a halo of tiny diamonds surrounding the main diamond, adding fire and brilliance. DR True Love engagement ring will be a dream ring for elegant brides-to-be seeking true love.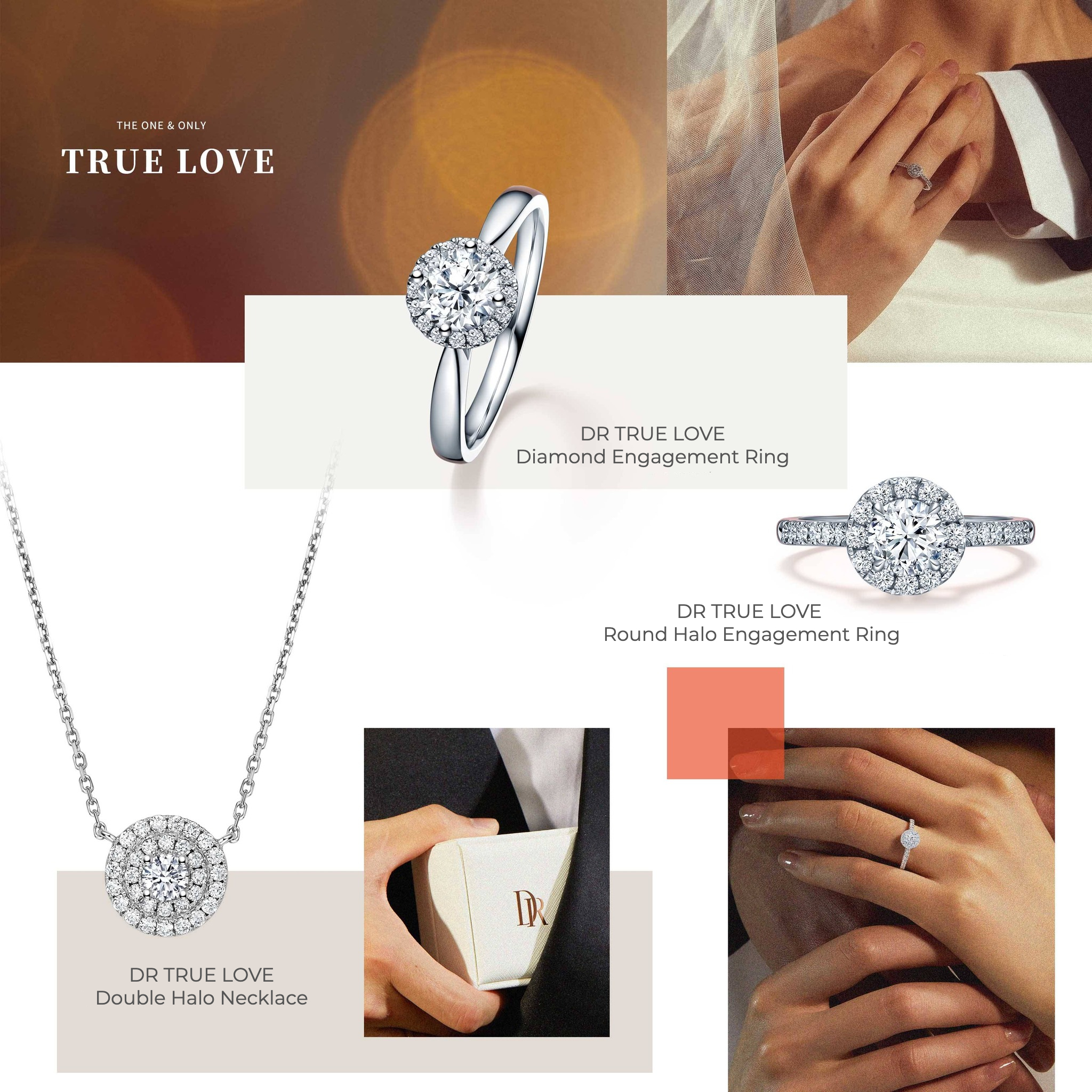 DR Paris Collection is the modern engagement ring collection in DR engagement rings, inspired by the inverted pyramids of the Louvre in Paris. Darry Ring's designers follow a balanced and natural design style, artfully incorporating a stable 52 degree angle (the most stable angle in a pyramid) and a delicate pyramid structure into the diamond ring to illustrate French romance and tenderness.
Therefore, DR Paris ring collection signifies that love is as strong as a pyramid. The triangular elements and princess cut diamonds give the DR Paris engagement ring a modern and elegant look that is sought after by many bold and avant-garde brides-to-be.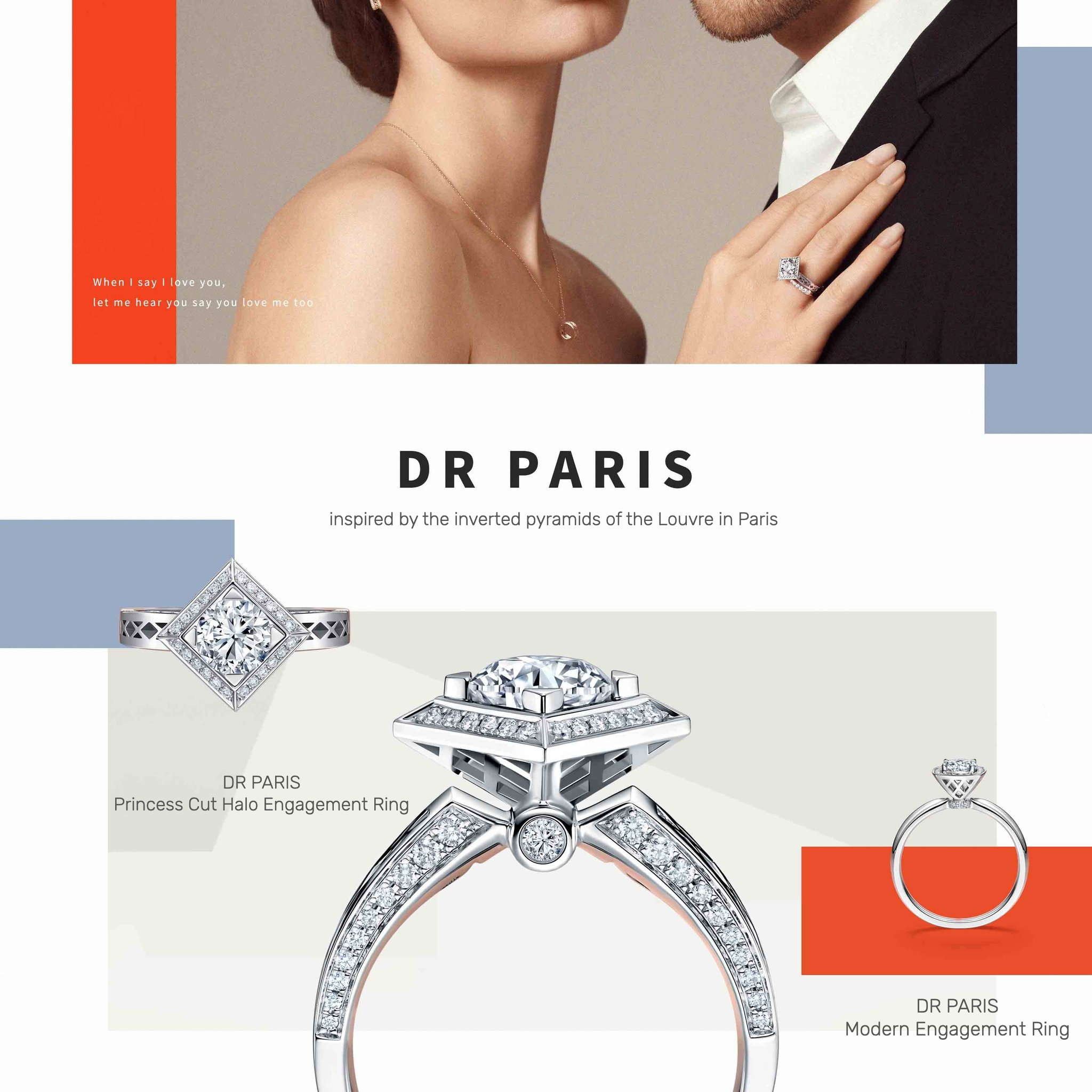 DR Believe Collection is the dainty engagement ring collection in DR engagement rings, as its design is inspired by the unique pure snowflakes. DR Believe ring collection signifies that our love is as pure as a snowflake, and that you will always be unique to me.
You will find all the DR Believe engagement rings have been designed in the shape of a flower, combined with round brilliant diamonds for a stunning sparkle. All the subtle design elements of the DR Believe engagement rings are commendable and unique among all the flower engagement rings.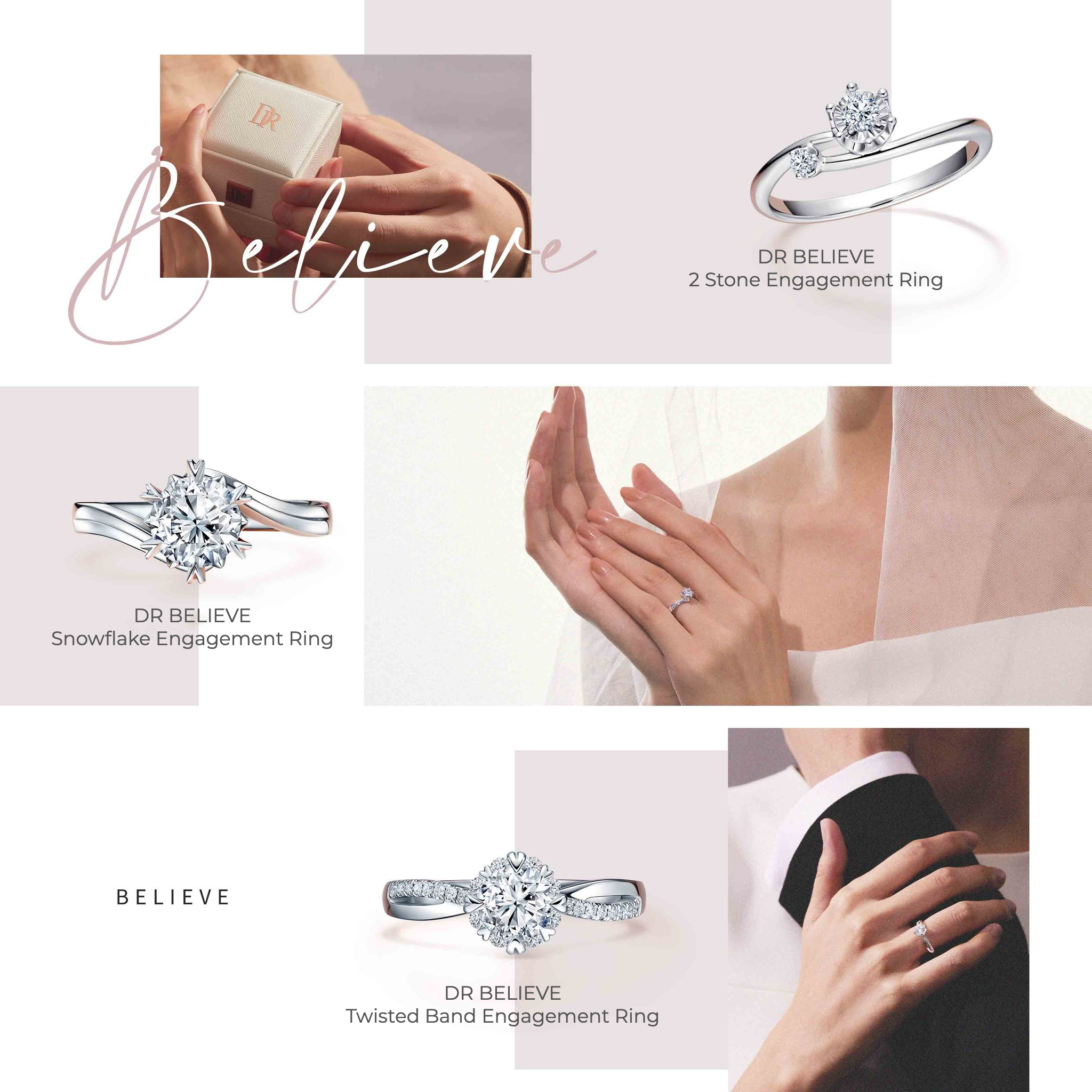 Above is a complete introduction to the popular DR engagement ring collections, from which you can always find a unique engagement ring that suits your style and personality. Now choose the diamond engagement ring of your dreams according to your personality by following the complete buying guide of the DR engagement ring collection!