You are falling madly in love and thinking about your future together. You're even having crazy thoughts of taking your relationship one step closer and upgrading it from boyfriend and girlfriend to fiancé and fiancée. This has to drive you to prepare a proposal that will be remembered for the rest of your life. However, it's not enough to go out and buy an engagement ring, get down on one knee and pop the question. Because, the proposal is a milestone marker in the escalation of your intimacy and the first step in having the wedding of your dreams. After all, no one wants this once-in-a-lifetime moment to be perfunctory.
If you're not sure how to propose, or aren't sure where to start, we've got you covered. This is a complete guide on how to propose to a girl and how to propose to a man, offering the best proposal ideas to help you understand what steps to complete and in what order to complete the nerve-wracking and anticipated proposal.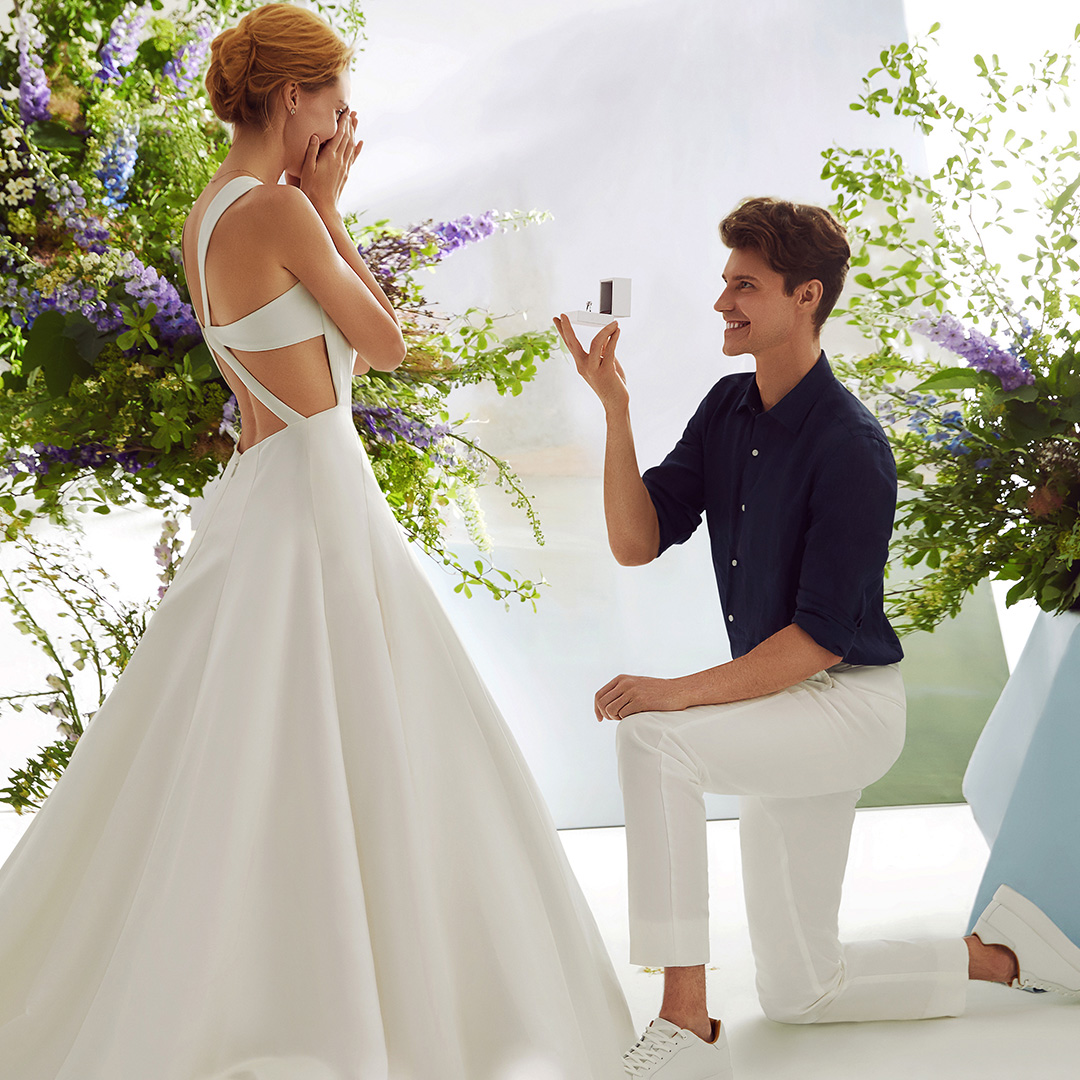 How To Propose to Your Girlfriend (Boyfriend)?
1. Make sure you're on the same page first
Before you start planning a proposal, it's important to make sure you're on the same page in your heads that you both want to upgrade your intimate relationship and step into marriage. You can talk about the future and ask if you also see marriage in the future during after-dinner small talk or bedtime conversations. Don't take it as a serious conversation, because your significant other may already have this idea and also want to have a conversation with you about it.
2. Get his or her parents' blessing
Some may feel that the days of asking parents' permission are somewhat outdated, but your partner may have a very close relationship with her or his parents. By asking his or her parents for permission, you are respecting and understanding her/his family for your partner. In addition, having your parents' blessing will always have a positive impact on your marriage and close relationship.
3. Buy a diamond engagement ring
A diamond engagement ring is a piece of jewelry that your partner will wear every day for the rest of his or her life, and is an essential item that you will use to propose. When buying an engagement ring, you may need to learn about diamonds, such as the 4Cs of diamonds, how far in advance you should reserve a diamond engagement ring, how much you should spend on your engagement ring, how to measure ring size, etc. Learn as much as you can about diamond engagement rings and choose the right one to avoid the embarrassment of not having the right diamond ring when you propose.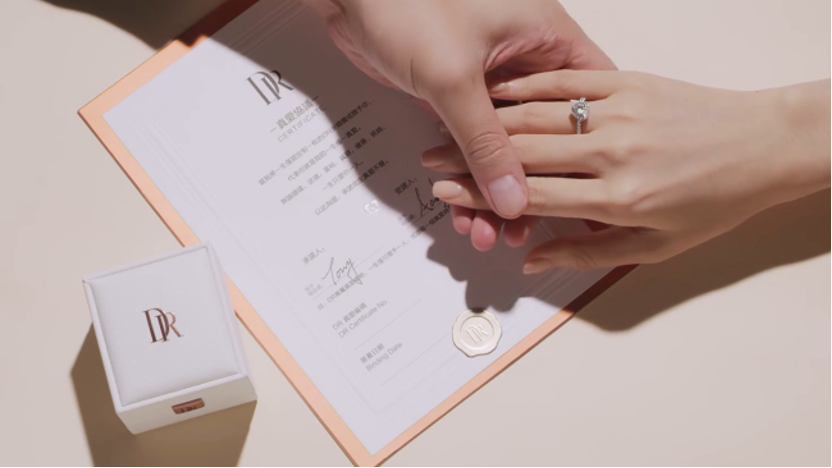 Darry Ring is a luxury ring brand that is dedicated to being the guardian of your true love by conveying the idea that The Only DR for the Only One in a life. Choose from different engagement ring styles at Darry Ring, including romantic heart-shaped engagement rings, classic round solitaire engagement rings, luxury princess cut engagement rings, etc. Darry Ring strictly follows the diamond standards from GIA and the individual needs of users to design the best quality DR diamond rings.
4. Determine the proposal date
The next step after purchasing an engagement ring involves choosing a meaningful date to make the surprise proposal happen. Think of a time of year when she or he would like to get married. If she/he mentions that she/he wants a fall wedding, try proposing in the fall of the previous year or in the spring this year - if you propose a few months before the fall, you may not have enough time to make your unique proposal idea happen.
Sometimes proposals fall on anniversaries, birthdays or holiday dates that have special meaning. When choosing a birthday or holiday date you have to think of the family or friends you will always share your proposal date with later, as birthday or holiday date will probably be happy times to get together with family and friends. If you want to celebrate your engagement date alone, this can make some people feel less objective.
5. Determine the proposal scene: indoor or outdoor
The choice of the place to propose is important because we have seen too many cases where proposals in public have failed. Remember to keep her or his thoughts in mind and find out if she/he prefers to be proposed to in an intimate setting or in a public place. If she/he prefers to be proposed in a private place, then consider romantic places such as famous restaurants with ornate decorations, private theaters, hotels, etc. If she/he wants proposal to be witnessed and blessed by more people, then choose a beach, airport, or amusement park to put your proposal idea. Whether you propose indoors or outdoors, you can give her/him a romantic proposal that is unforgettable with careful planning and decoration.
6. Determine the best way to propose
If your partner is someone who likes privacy and doesn't like to show off, then these simple proposal ideas will hit her right in the heart.
● Hide it in a bouquet: Buy a bouquet of bright red roses ahead of time and hide the diamond engagement ring among the rose petals. Present the rose bouquet to your girlfriend or boyfriend on one knee when she/he is not looking. After the proposal, you can even make a specimen of the roses and press it into a book as a souvenir.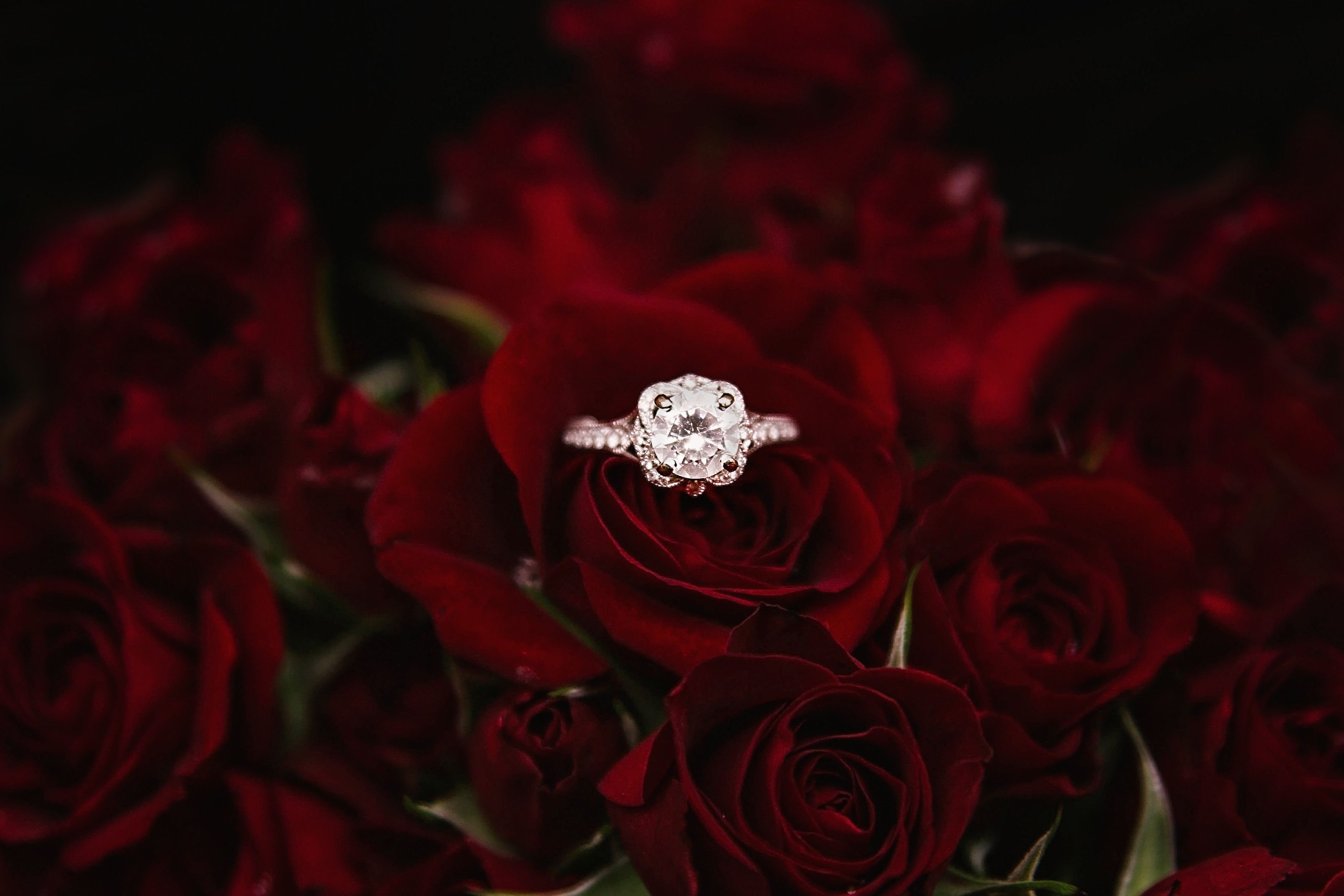 ● Get your pet involved. Attach the diamond engagement ring securely to one of your pet's collars and subtly have your girlfriend or boyfriend check it out. After she/he has found the engagement ring, get down on one knee and propose to your girlfriend or boyfriend.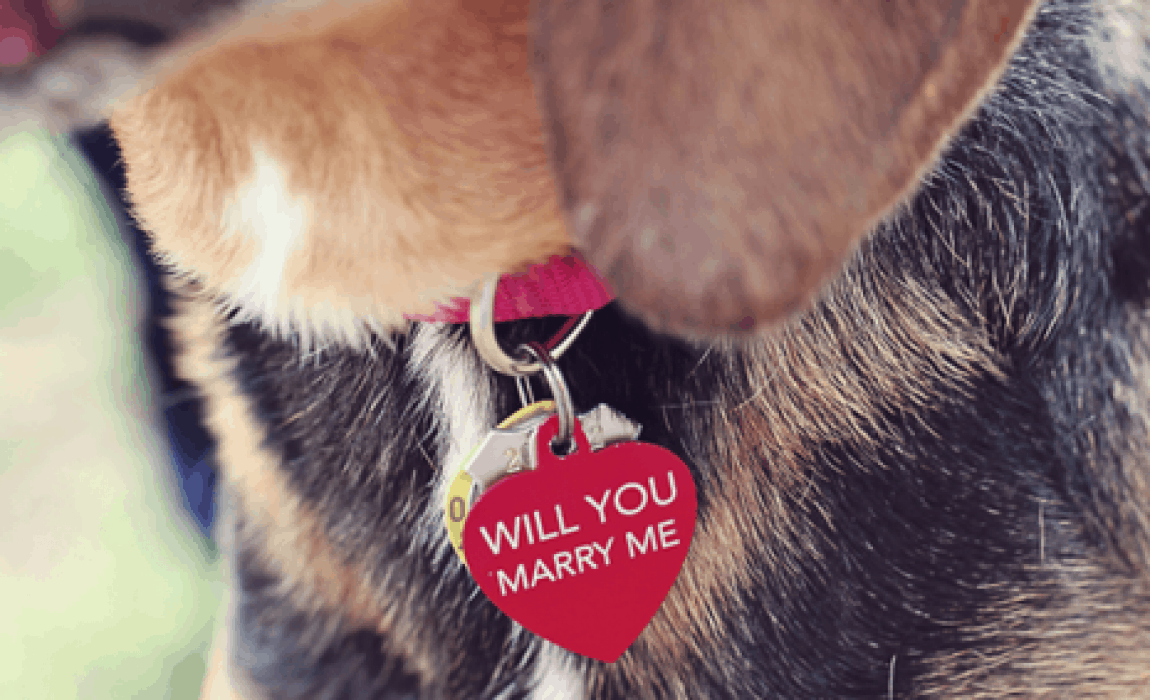 ● On game night: Design a scavenger hunt or get your partner to find the diamond engagement ring by offering a prize to the winner. When she/he finds the diamond engagement ring, get down on one knee and ask your girlfriend or boyfriend to marry you.
● Family Gathering: When you get together with your family or a group of close friends, talk with them about bringing your girlfriend or boyfriend into the decorated room. Invite your family and friends to witness your proposal. Start your romantic speech as she/he enters and get down on one knee to propose to your girlfriend or boyfriend.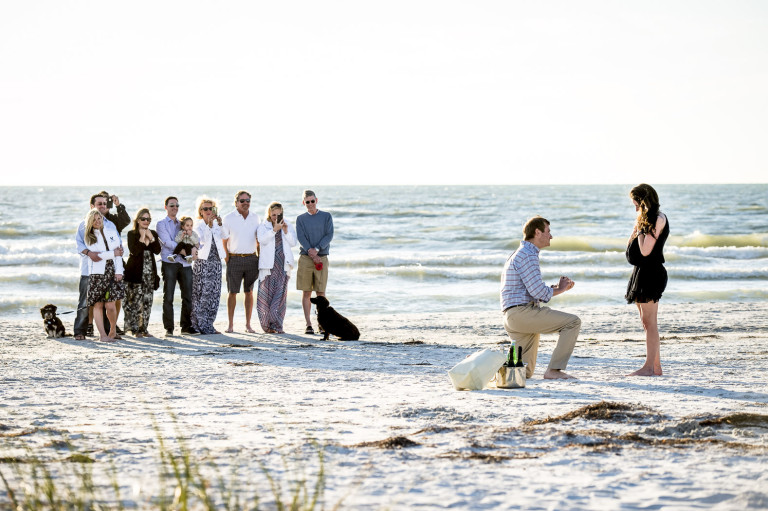 ● Candlelight dinner: Ask the chef to write "Marry Me?" in some sugary sauce on the dessert you share or place a diamond ring in the dessert. When she/he finds the diamond engagement ring, you can get down on one knee and ask her/him to marry you. You can also pop open that little velvety box and present the diamond engagement ring while your partner is preoccupied with what's on the plate.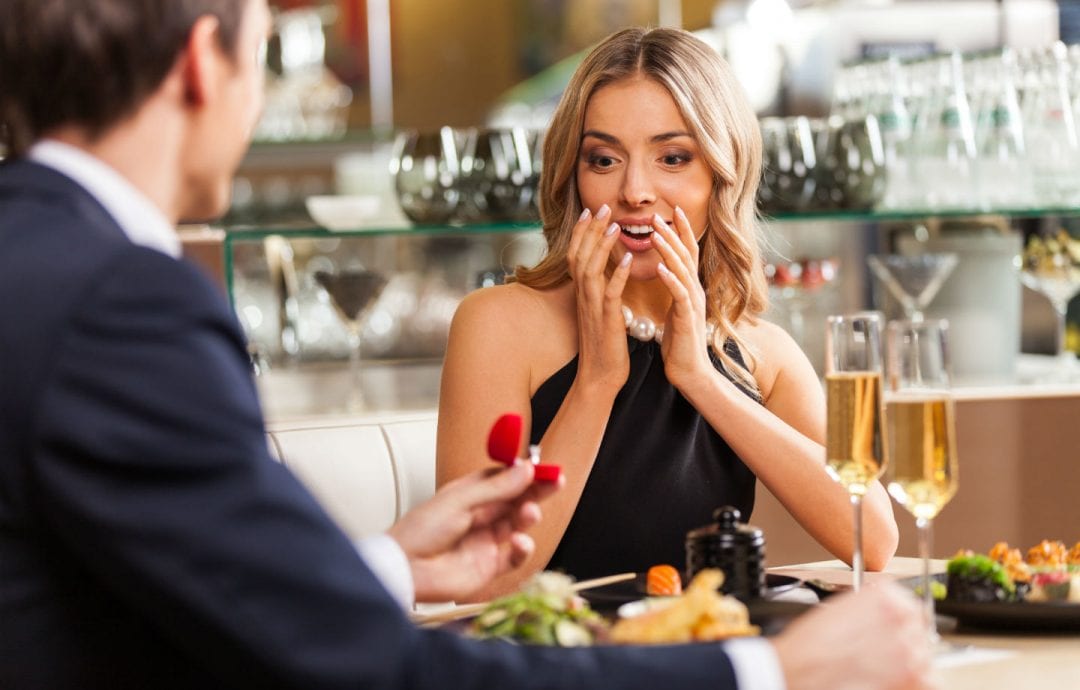 However, if she likes exciting and daring projects and is a willing sharer, some unique proposal ideas and romantic ways to propose will be unforgettable for her.
● Beach proposal ideas: Invite your partner to build a sand castle together and place the engagement ring on the highest tower or hide it in the sand castle when your partner is not looking. For beach loving romantics, decorate a specific spot with romantic flowers, photos, balloons, music, etc. Take your partner for a walk on the beach. When you walk to this specific spot, you can suddenly get down on one knee and propose to your girlfriend or boyfriend.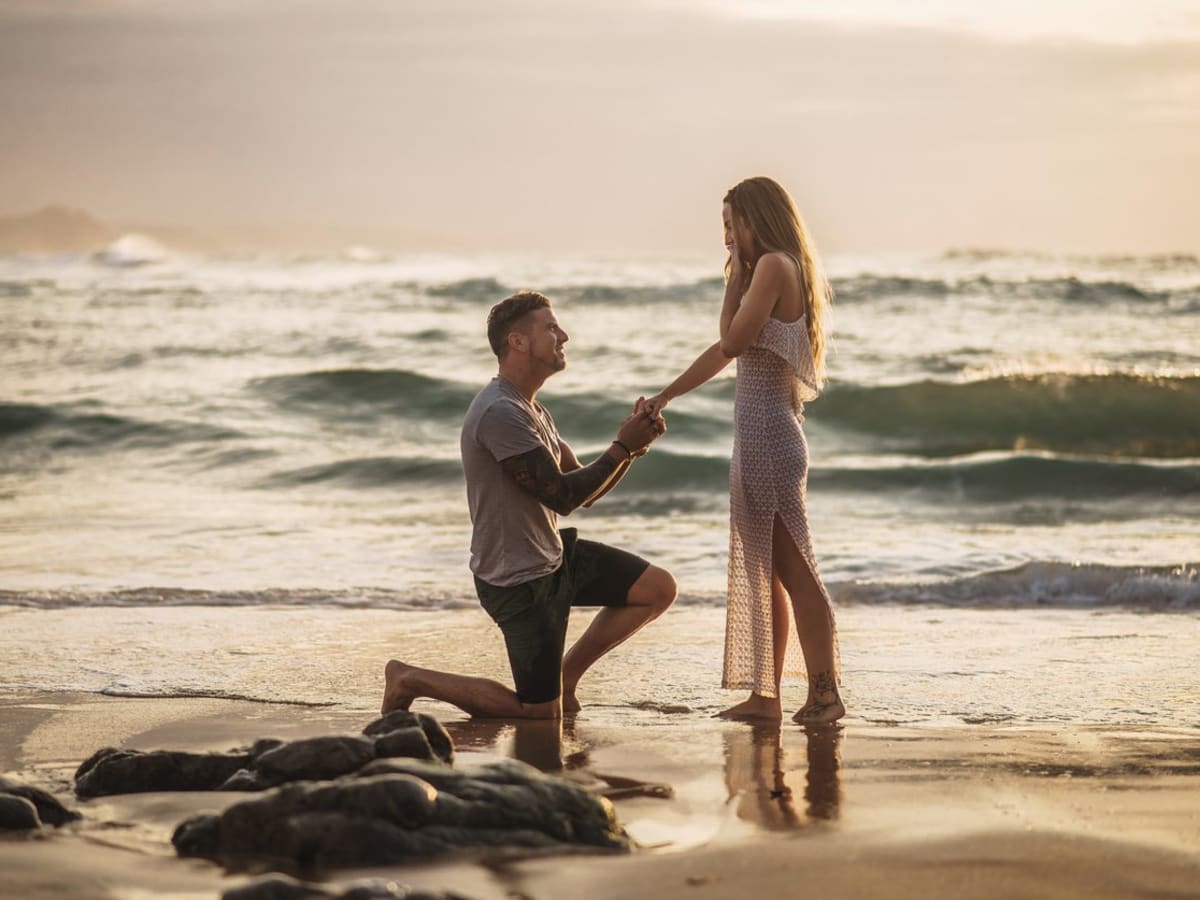 ● Hot air balloon proposal ideas: Take your partner on a hot air balloon ride and as the balloon soars over the horizon at sunset, get down on one knee and propose to your girlfriend or boyfriend under the magical and magnificent scenery.
● Propose at Disney: Take your partner on a trip to Disney to give her a fairy-tale romantic proposal. You can wear a princess gown and a knight's gown respectively and then propose to her under the gorgeous Disney fireworks display. While she is marveling at the gorgeous fireworks, you get down on one knee behind her. She will surely be surprised by your proposal when she turns around.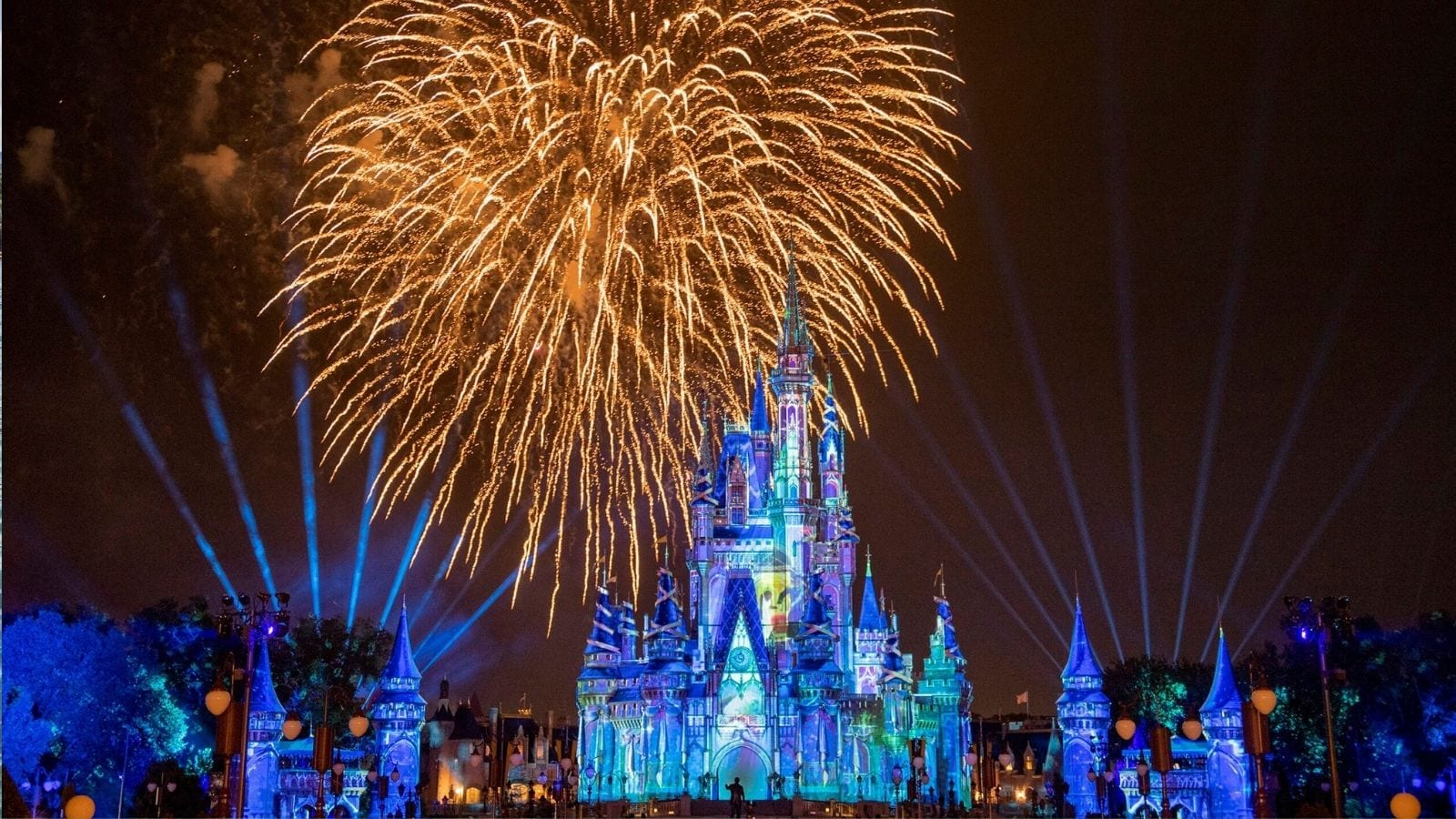 Of course, you can also take inspiration from the things you two like to do together on a daily basis, for example you can complete the proposal on your picnic, camping, fishing, or travel.
7. Prepare and practice your proposal speech
Proposing is a first attempt for many people, but it's worth preparing and rehearsing your proposal speech ahead of time in order to pull it off, which will help you avoid stuttering when the big moment comes. In addition, it will let your girlfriend or boyfriend feel that you are sincere, even though in the end she may only remember "Will you marry me?".
8. Pop the questions
Once you have everything in place, you just need to wait for the proposal date to arrive, take her/him to the proposal site and start your plan. The traditional way to propose is to get down on one knee. If you do decide to get down on one knee, use your left knee as this will allow you to hold the diamond engagement ring in your right hand and place it on her/his left ring finger.
9. Hire a professional photographer to record the moment
Finally, please remember to hire a professional photographer or invite your friends or family members to help you document this unforgettable and loving moment. As an added bonus, you can get some impromptu professional engagement photos to announce your engagement.