Darry Ring is a luxury jewelry brand dedicated to creating fine jewelry and exclusive rings that you can feel the beauty of true love. We collaborate with internationally renowned jewelry designers to craft a wide range of designer engagement rings with distinctive meanings.
Claire-Chine Hardion is the talented international jewelry designer that create one of the beautiful pieces in DR My Heart Collection.
DR My Heart Collection, one of our popular ring collections, is based on the heart-shaped diamond originating from Eros, the god of love. Legend has it that lovers shot by the arrow of Eros would have a heart-shaped-diamond mark.
It was the symbolism of the collection, that the only one heart is solely to you, that moved Claire-Chine to design a heart engagement ring to illustrate our unique brand concept of One True Love in a Lifetime.
About the Jewelry Designer
Claire-Chine Hardion is a freelance designer in jewelry and high jewelry. She studied at the Parisian School BJOP, where she graduated with a Master's degree in Design.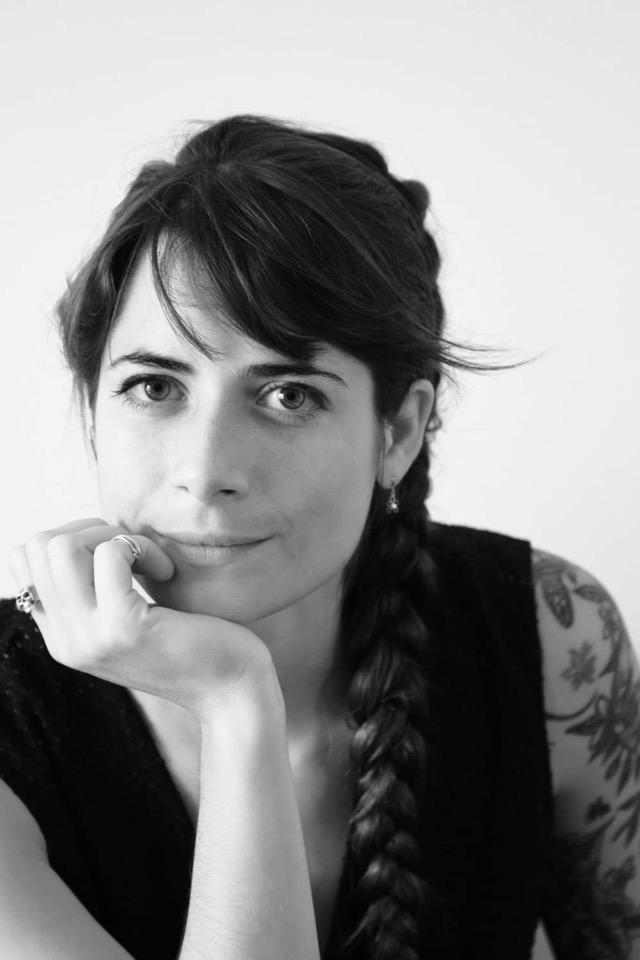 Claire-Chine has worked for notorious Jewelry Houses, in France and abroad. In addition, her works have been exhibited at the Louvre Museum in Paris.
As one of the designers behind Darry Ring My Heart Collection, Claire-Chine is esteemed for her innovative and distinct design sensibilities which resonate well with customers.
About the Designer Engagement Ring
Claire-Chine Hardion hopes to design a unique heart-shaped engagement ring for every pair of lovebirds who believe in true love to witness every happy and special moment.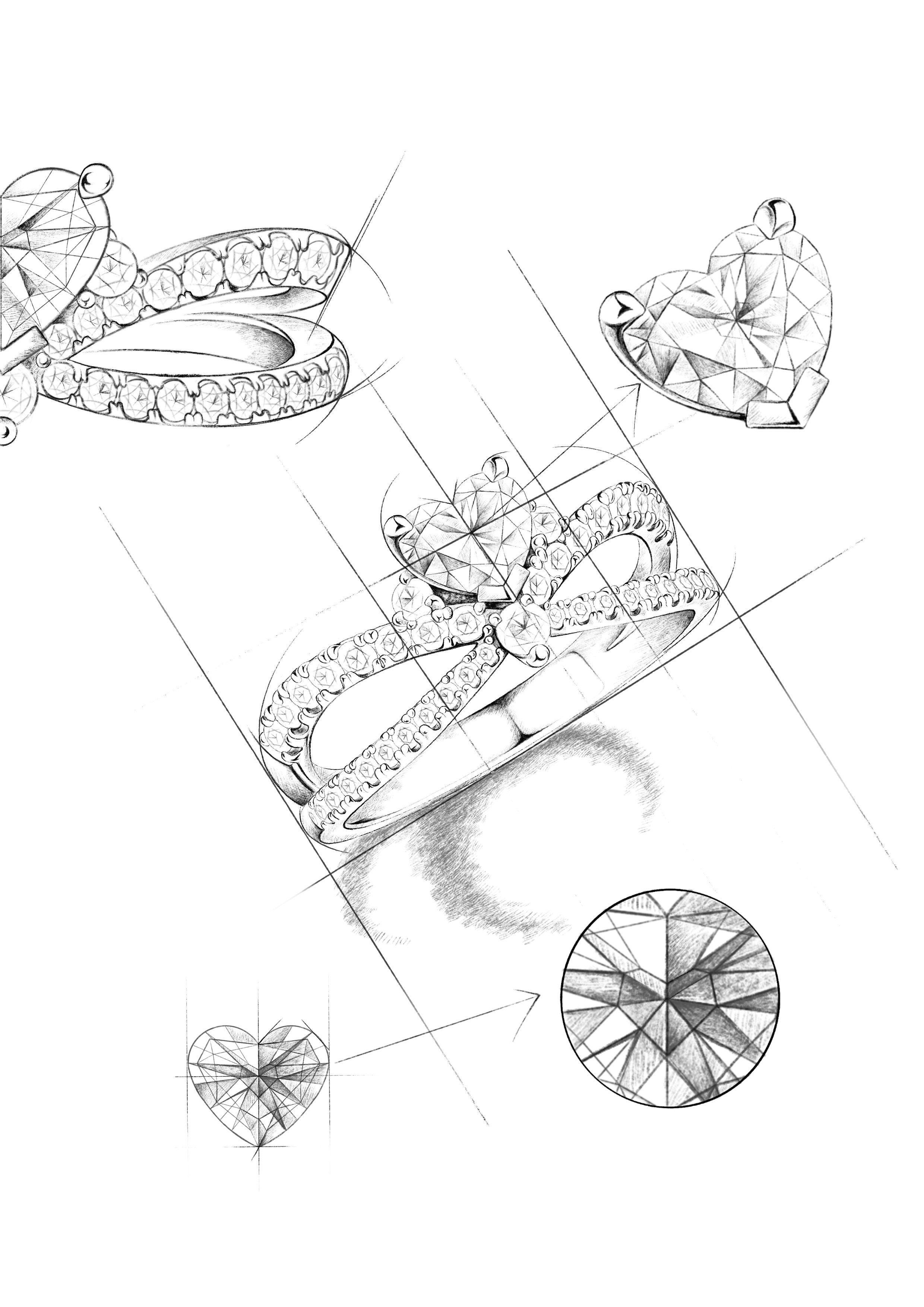 Inspired by that proposal is a way to crown love, Claire-Chine incorporate the element of a crown into her designs. The designer engagement ring features a heart-shaped diamond and a crown made up of the ring band, signifying "I give you my heart, in the name of DR, and crown it with my love."
The split shanks at a 45-degree angle are another highlight of this designer engagement ring and a difficult point of craftsmanship to manufacture, Claire-Chine said. Meanwhile, the two rows of diamonds on the ring bands complement each other to signify the couple's interdependence and mutual support in their future married life.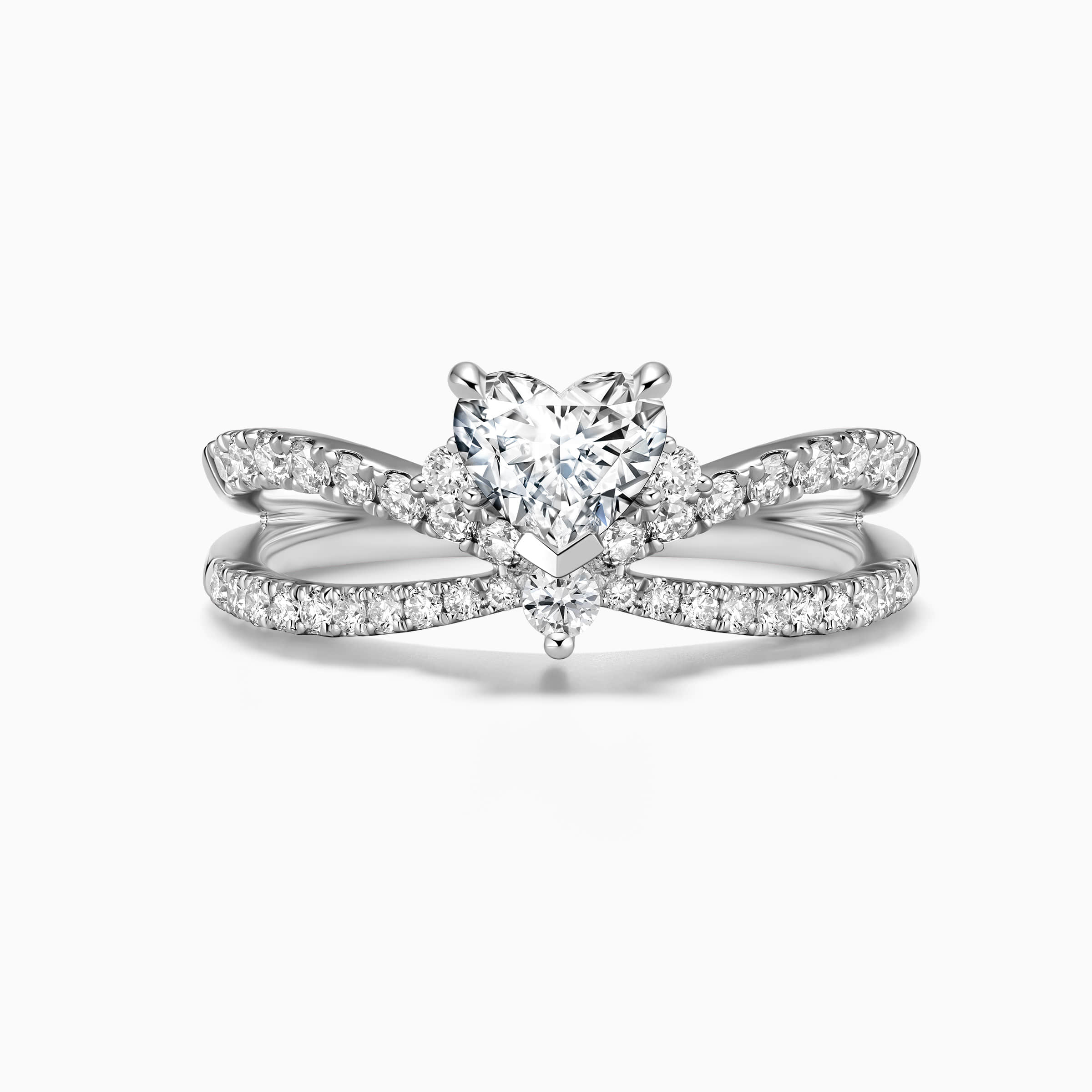 If you're a fan of heart shaped engagement rings then you're sure to fall in love with this artwork from Claire-Chine. From the delicate band with a giant heart diamond to two-row diamond band with sparkle light, this designer engagement ring is perfect for conveying true love commitment because heart cut diamond is a romantic and distinctive diamond cut that symbolizes love and affection.
When your boyfriends put this Darry Ring crown engagement ring on your left ring finger, it not only means you are his daily queen, but also the one true love in his life.
DR My Heart Ring Recommendations
Inspired with the legend of Eros, the god of love, DR My Heart Collection are imbued with incredible romantic significance, which are perfect for you to express your special love.
We highly recommend another 4 designer engagement rings in heart shape from DR MY Heart Collection for your consideration.
1. DR MY HEART Heart Shaped Double Halo Pavé Engagement Ring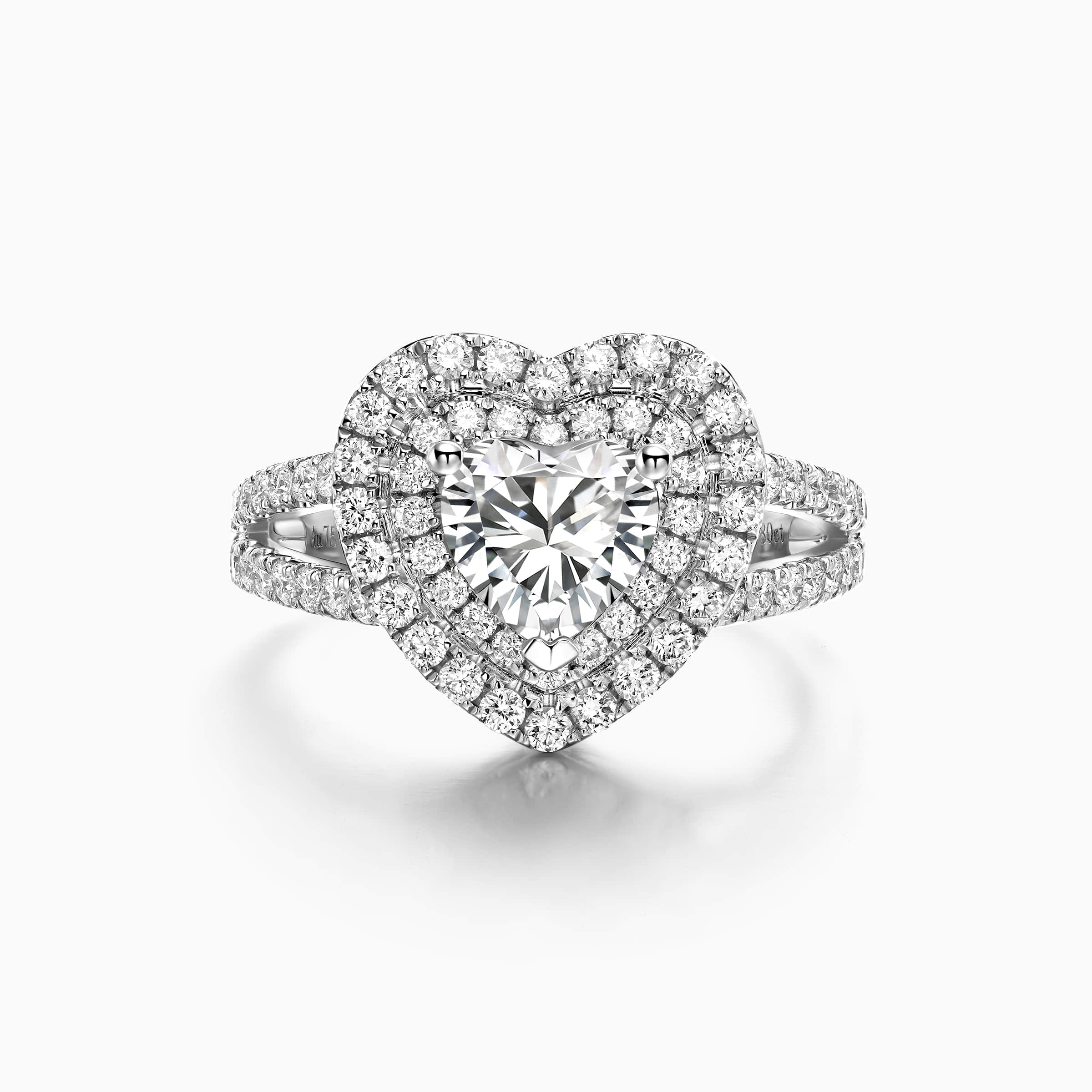 This designer engagement ring is a representation of luxury and class, with 44 small round diamonds in a double halo setting surrounding the large heart-shaped diamond. These two halos are layered to make this DR My Heart engagement ring even more romantic and sparkling. Not only that, but the split shank is also set with small sparkling diamonds in a pavé setting, making you the instant center of attention when you wear it.
2. DR MY HEART Heart Shaped Halo Pavé Engagement Ring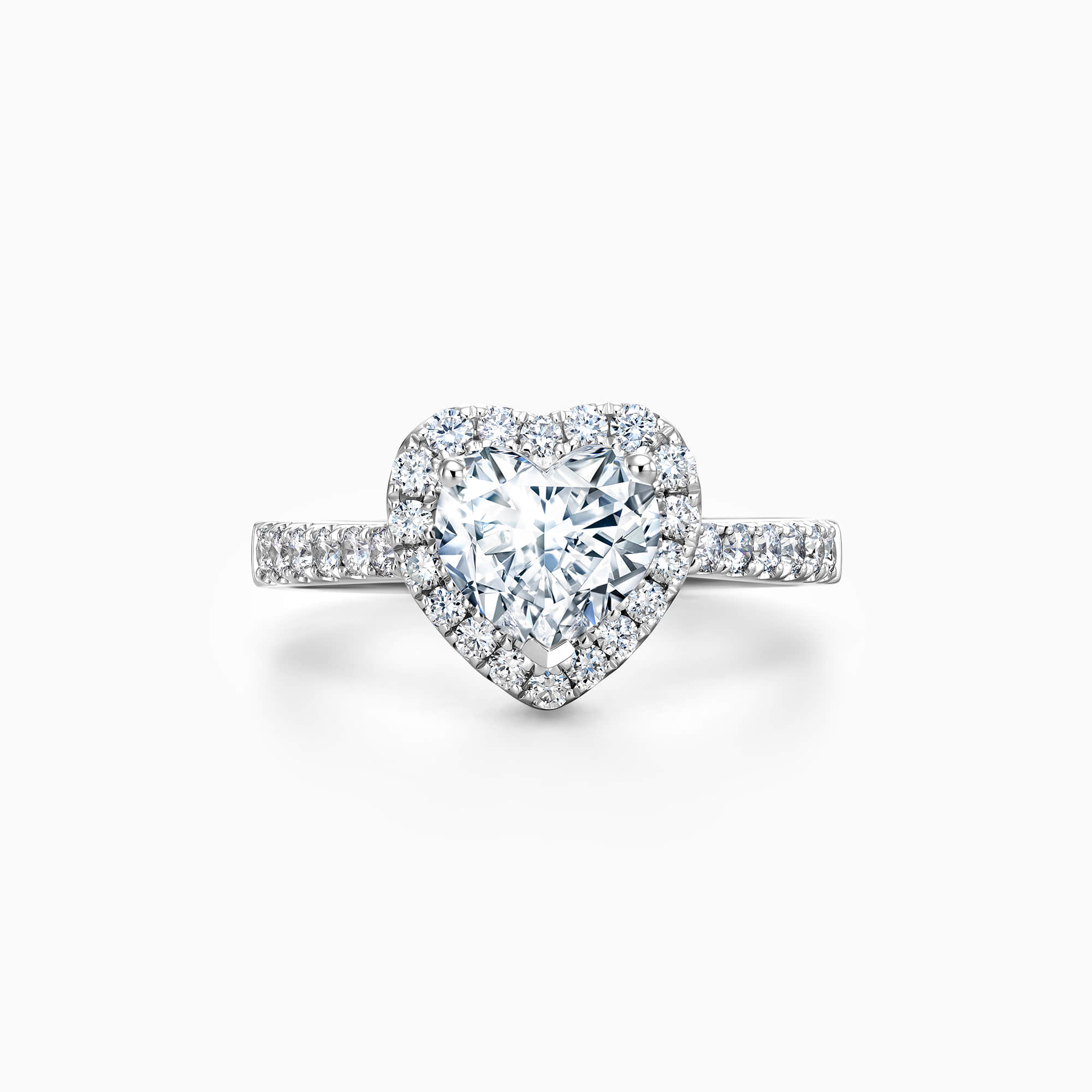 This designer engagement ring is absolutely classic and extravagant. The main stone is a double heart cut diamond that has been upgraded by Darry Ring, which means you can see the heart-shaped outline of the diamond from the front, both inside and outside. Its standard 58 symmetrical facets give the ring a dazzling sparkle and fire. In addition, 18 small round diamonds form a halo around the heart cut diamond, adding to the dazzle of this DR My Heart ring.
3. DR MY HEART Heart Shaped Halo Twisted Engagement Ring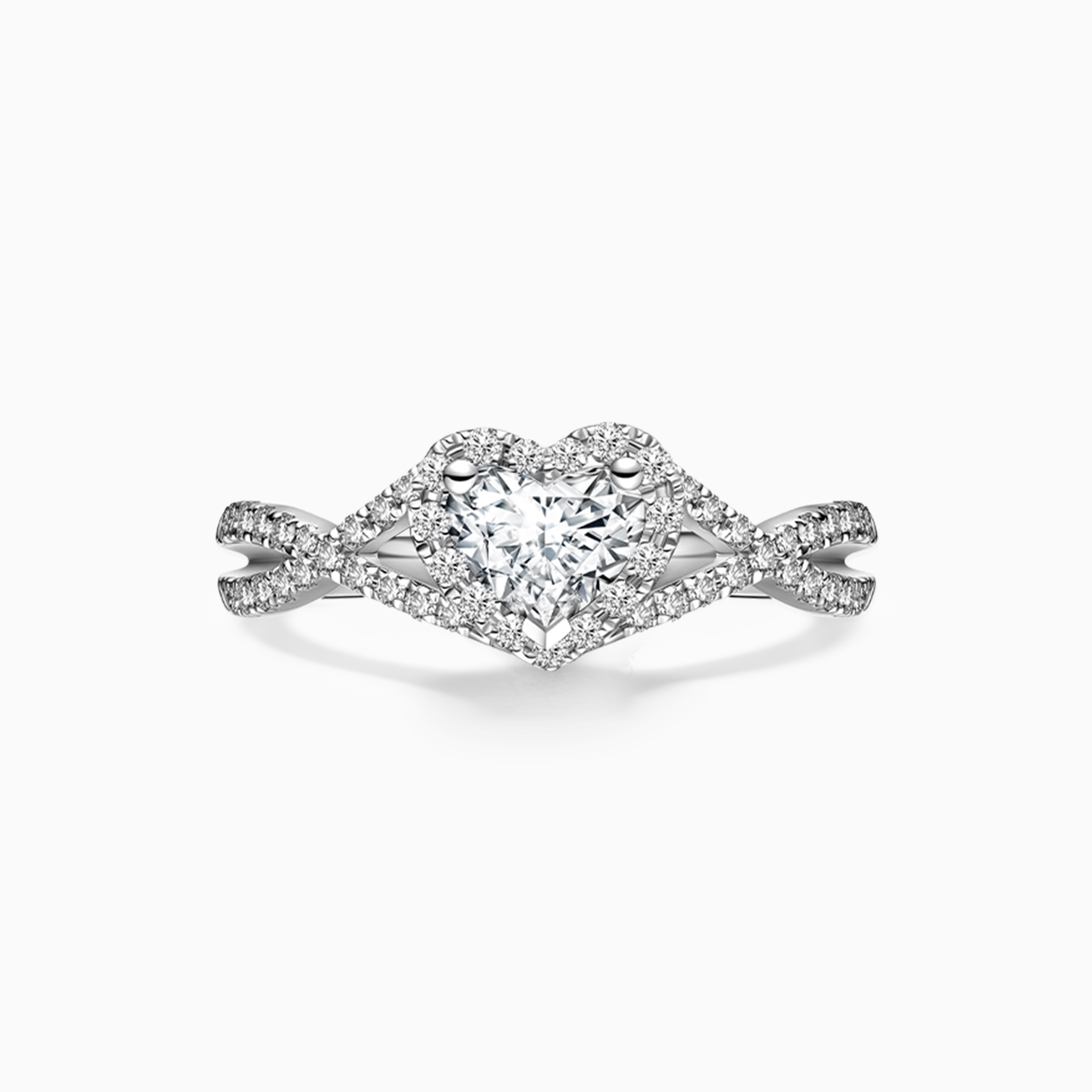 This designer engagement ring has a bold and novel design. The bifurcated ring band intertwine, resembling vines of flowers wrapped around large heart-shaped diamonds to form a double halo setting. It adding elegance and glamour to this DR My Heart engagement ring.
4. DR MY HEART Heart Cut Diamond Crown Engagement Ring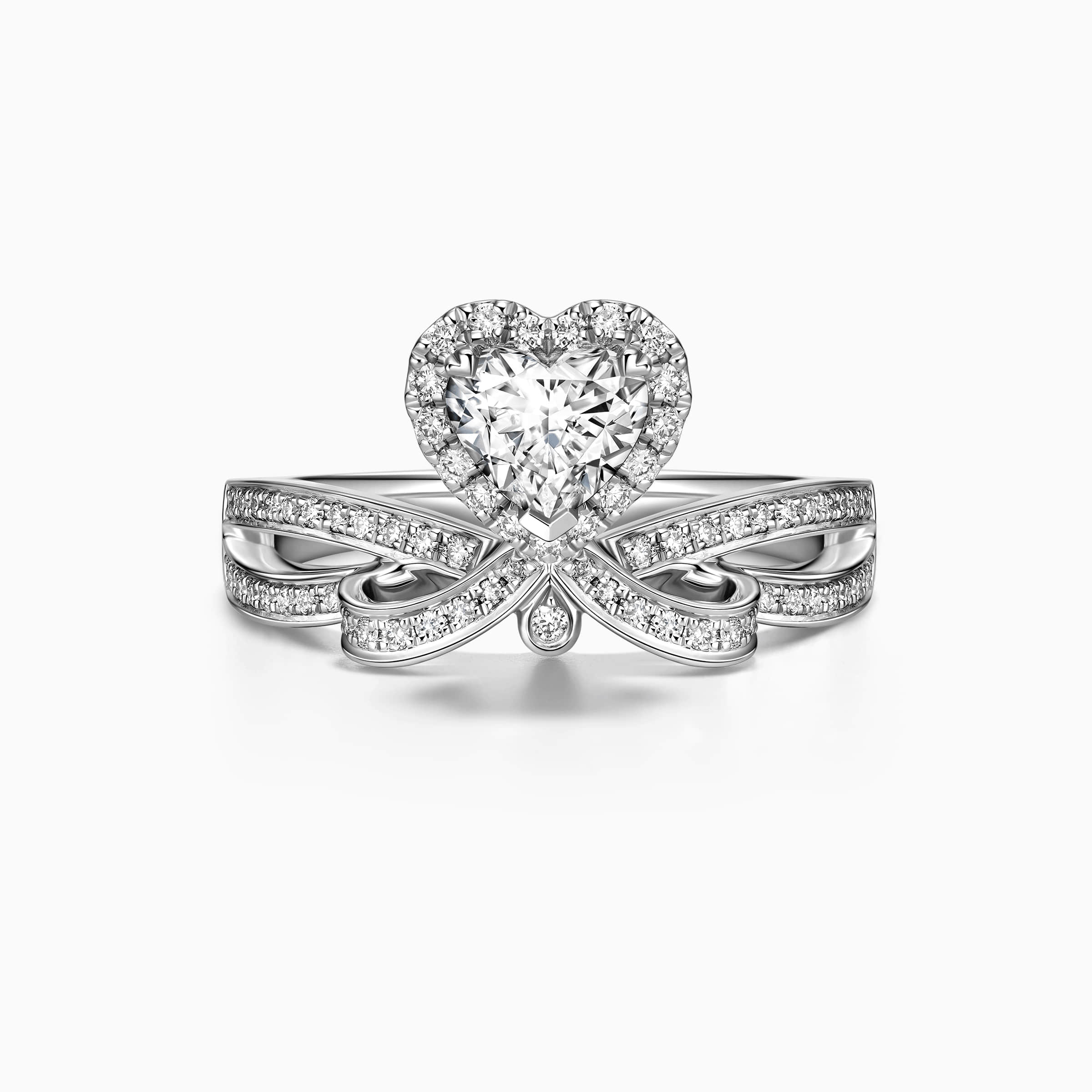 This designer engagement ring is also a great piece that carries on the classic crown design. With heart cut diamond atop the ring band, a halo of 18 pave-set diamonds and countless channel-set diamonds on an interlocking ring band, the DR My Heart ring is gorgeous and unique, revealing the maximum amount of the original fire.
No matter what your personal style or taste may be, Darry Ring designer engagement rings are guaranteed to capture your heart and become cherished pieces in your jewelry collection.
You may also want to take a closer look at the beauty of other heart shaped diamond rings in DR My Heart Collection and discover more designer engagement rings from other collections that you may fall in love with.
Get Inspired from the Related Topic: