When looking for diamond engagement rings, we always concentrate on a variety of factors, such as brand, style, and quality of diamond, which will assist us in making the perfect decision. But have you ever experienced having your identification checked in order to successfully make a purchase when buying a diamond engagement ring?
We're here to talk about Darry Ring ID Verification Ring in relation to it.
What is ID Verification Ring?
ID Verification Ring is usually referred to as Darry Ring, since identity verification is necessary throughout its diamond engagement ring purchase procedure. People making their first diamond engagement ring purchase at Darry Ring will be required to upload a photo ID, which is to uphold the brand rule of One DR Diamond Ring Per Lifetime.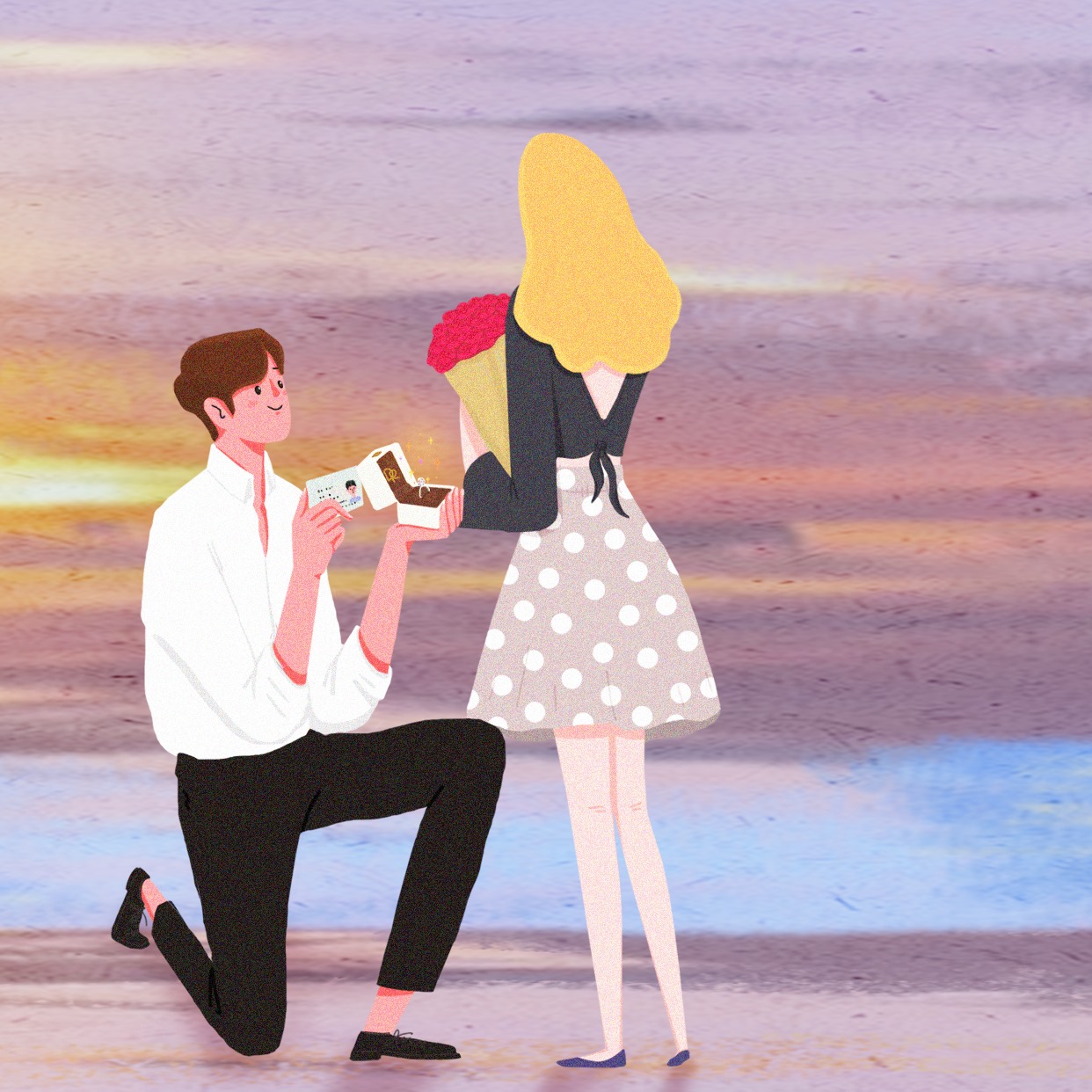 How Does ID Verification Ring Work?
Darry Ring has the opinion that finding true love necessitates thoughtful decision-making. After thoughtful consideration, you should be certain you are the only ones for each other, and treasure each other for as long as possible. For this reason, Darry Ring launches the ID Verification Ring and stipulates that One Can Buy Only One DR Diamond Ring In A Lifetime.
To make the notion of Identity Verification Ring a reality, Darry Ring incorporates the ID verification system, True Love Agreement signature, and true love inquiry system to the diamond engagement ring purchasing process.
- ID Verification
ID verification is one of the key characteristics that distinguishes Darry Ring from other engagement ring brands. The first time you purchase a diamond engagement ring from Darry Ring, the system will ask you to upload a photo of your ID card, as well as a front-facing photo of yourself.
This step is designed to extract your facial features to compare with existing information in our database to determine if you are our first-time buyer. If you have already purchased a diamond engagement ring from Darry Ring once before, then the system will reject your transaction.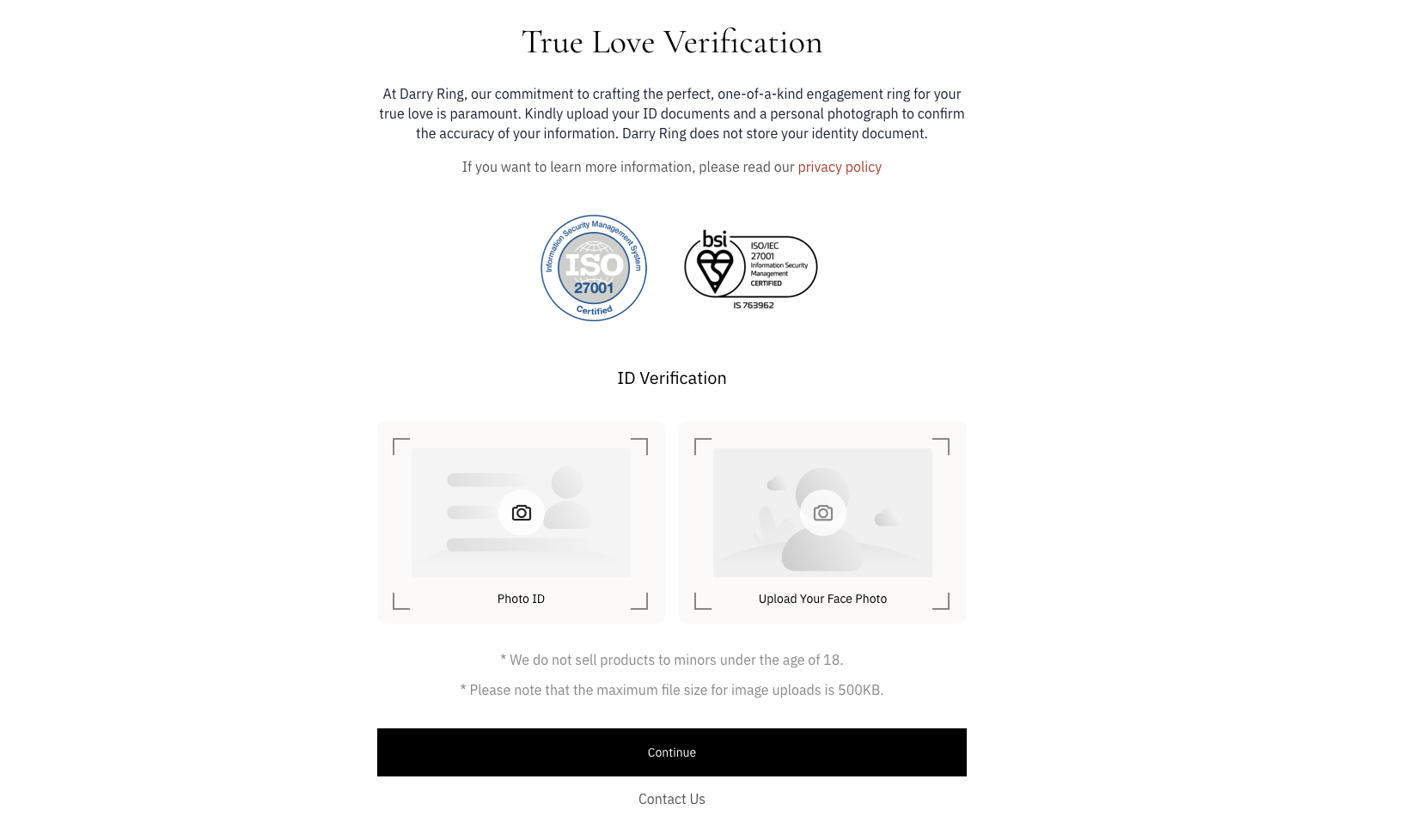 Darry Ring respects your personal privacy and data security, we won't store any your identity document. All your personal info, including the ID document & picture you took, are permanently removed from our server, once the face feature is extracted.
Your face information will be inextricably linked to your purchase history once you have gone through the authentication process set up by Darry Ring. Darry Ring does not offer services to change or remove your purchase history.
- True Love Agreement
You and your partner will be required to sign a True Love Agreement after you have made your payment. The True Love Agreement is a certificate that Darry Ring issues as evidence of your firm decision and commitment to true love for the rest of your life. By signing the True Love Agreement, you and your partner are choosing each other as soulmates for life in the presence of ID Verification Ring.
- True Love Inquiry
Your purchase record with Darry Ring will be preserved in our database for life, regardless of whether you made the purchase online or at a physical store. On the True Love Inquiry System, you can inquire about the associated purchase history and the contents of the True Love Agreement by entering the purchaser's ID number and the registered email used.
Identity verification is used throughout the entire purchase of a DR diamond engagement ring. Each identity verification ring is a testament to true love.
Darry Ring believes that the ID number is unique for an individual, thus buying diamond ring of binding ID card reflects to the uniqueness of your true love and yours alone. Secondly, the uniqueness of DR diamond ring for a lifetime is determined by the signing of True Love Agreement and the permanent preservation of the purchase record.
Highlighting the uniqueness of true love through identity-based ring is not only to guide you to be cautious and thoughtful when making your choice, but also to further our esteemed culture of true love to become a source of motivation for more people.
In contrast to other diamond brands, Darry Ring employs a priceless ID Verification Ring to support each woman's loving expectations and aspirations for marriage. Darry Ring also gives each woman a sense of security about the future, by way of a special ceremony in which both parties sign a True Love Agreement --- that cannot be changed for the rest of their lives. In addition to being a diamond ring, the identity verification ring spreads the brand's culture of the permanence of true love all over the world.