Do you believe in One & Only? We believe it, now and always. DR collaborates with Madame Figaro, and launch the event: Finding 100 Diamond Wedding Couples. True love never grows old, and you will see what true love looks like. Join us for the event, we need your support!
Event Rules:
From Jan 1st, 2023 to Mar 31st, 2023, we will select 100 diamond wedding couples around the world. Each couple will be rewarded with a pair of DR Soulmate Interdependence Wedding Rings valued at $1370 USD.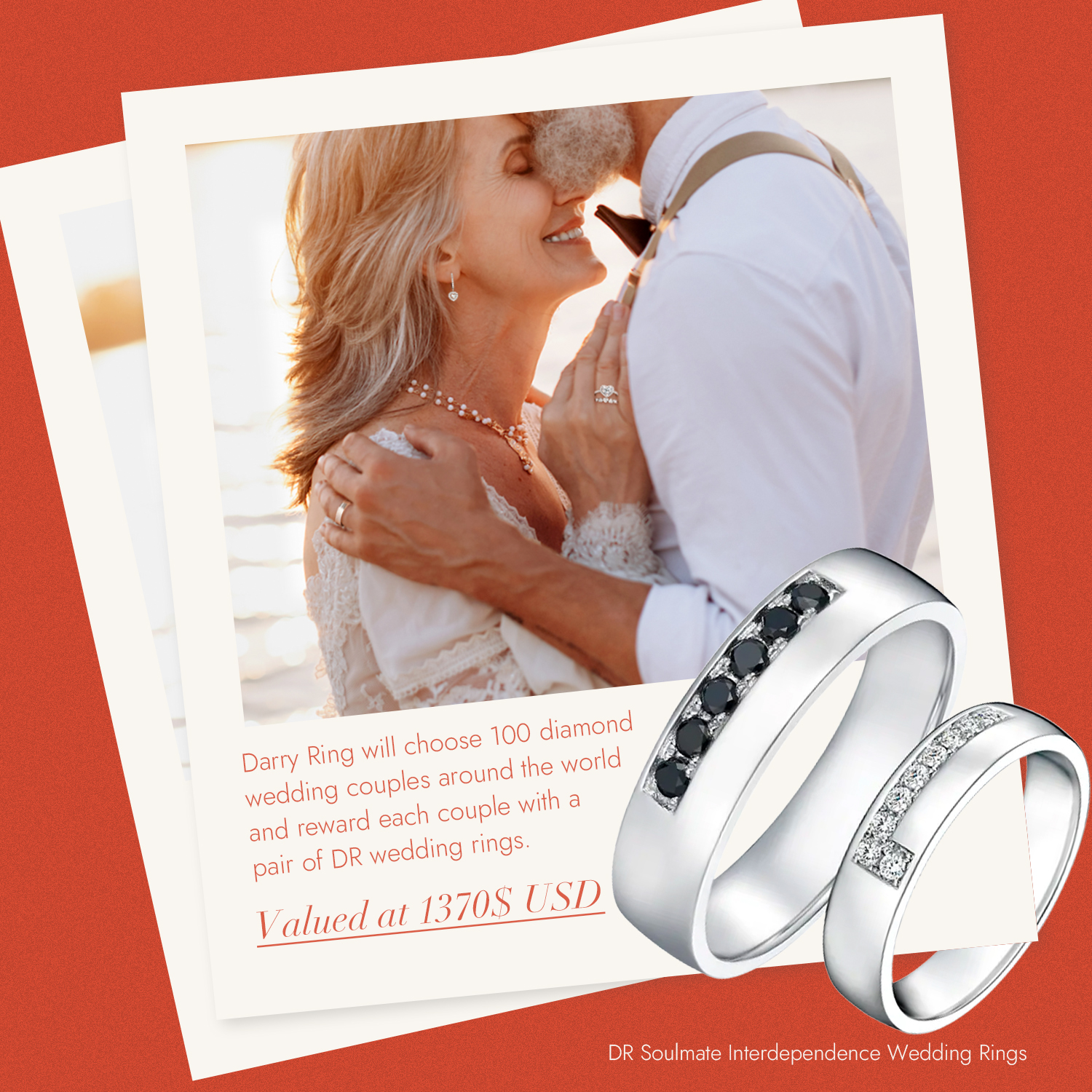 DR will appoint the people who successfully select candidates to become [100 diamond wedding couples] as the [Global True Love Witness Officer] , and provide a specially customized DR True Love Witness Officer Medal.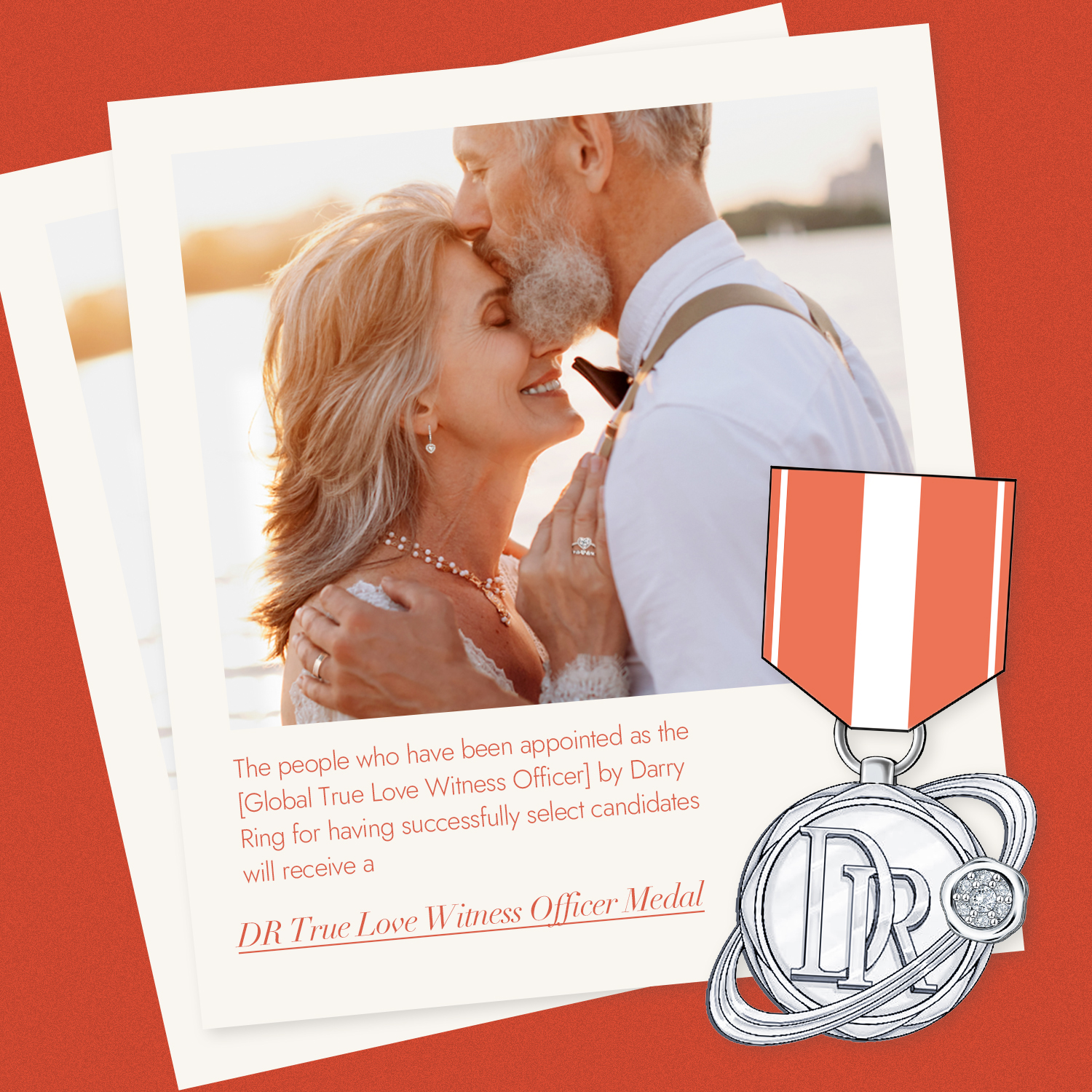 Event Period:
Event registration period: Jan 1st, 2023 - Mar 31st, 2023 (UTM+8)

Event selection period: Apr 1st, 2023 - Apr 9th, 2023 (UTM+8)

Event result publicity time: Apr 10th, 2023 (UTM+8)
Selection Rules:
During the period of event, all eligible submissions will be evaluated by a panel of judges using the following criteria:
● Married 60 years and above
● Possess a valid marriage certificate issued by the government agency of the country which you belong in.
● Your magnificent love story
How to Enter:
From Jan 1st, 2023 to Mar 31st, 2023, send following information to the email: diamondwedding@darryring.com to submit.
The information of true love couple you recommend:
Name (male) :
Name (female) :
Their love story (within 200 words, including details of marriage age and love story):
Their photo (in jpg, png, pdf format with a minimum resolution of 300 pixels):
Your information:
Name:
Phone number:
Email address:
Your relationship with true love couple(myself/friend/family/neighbour):
After successful submission, if you meet the registration requirements of DR and your love experience conforms to DR's brand concept [one&only love], DR will get in touch with you according to the information you filled in. Please double-check that the email address you enter is correct and functional before submitting it.
Registration Rules:
The contents you upload and submit to DR shall meet the following requirements:
I. Do not describe any unsafe, immoral, obscene or other inappropriate behaviors or contents;
II. Do not defame or infringe upon the rights of any person or entity in any form, including but not limited to intellectual property rights and privacy rights;

DR reserves the right to delete any content that violates the above commitment.
Authorization:
I. For better sharing and publicity of your contents, thereby higher communicative value and influence, you agree to grant DR and its affiliates, controlling and successor companies a perpetual, global, free and non-exclusive right (including but not limited to the right of reproduction, translation, compilation, information network transmission and adaptation) to sub-license (through multiple layers) the contents you upload publish or transmit through this event (including but not limited to texts, images, audio, videos as well as other forms of contents and all components including sound, visual design and dialogues) without any prior notice. The use of the above rights includes but is not limited to the current or other websites, applications, products or terminal devices. For the avoidance of doubt, you understand and agree that the rights granted above include the right and license to use, reproduce and display your personal image, portrait, name or materials that you own or are licensed to use and embed in the contents.
II. Unless otherwise prohibited by relevant laws, participation in this event or receipt or use of the reward/prize from DR will further constitute your consent to the use of your personal image, portrait, name or materials in perpetuity without further consent or notice or any payment to you.
Privacy statement:
I. DR protects the privacy of every user. We promise not to disclose or provide your personal privacy information to any third party, except for the following circumstances:

(1) Your expressed authorization has been obtained in advance;
(2) The disclosure of your personal information is in accordance with relevant laws and regulations;
(3) The disclosure of your personal information is in accordance with the requirements of relevant government authorities;
(4) You personal information is disclosed to safeguard the interests of the public;
(5) Your personal information is disclosed to safeguard the legitimate rights and interests of DR. Your participation in this event indicates that you agree to let DR collects and uses the personal information you submit, all of which is bound by the privacy policies of DR available on: https://us.darryring.com/help/privacy-policy
Notices:
I. You expressly agree that all risks (including but not limited to infringement by or against third parties) arising from your participation in this event shall be solely borne by you; all consequences arising from your use of the services of DR and your participation in this event shall solely be borne by you and DR shall not assume any responsibility. Under no circumstances will DR be liable to you for any indirect or punitive damages arising out of your participation or inability to participate in this event or any materials or contents provided for this event.
II. You will be responsible for your actions during your participation in this event and shall defend and indemnify DR against any claims, liabilities, damages, losses and expenses, including reasonable attorney fees and costs arisen from any matter related to the following items:
(a) your participation in this event;
(b) your violation of this term, or any representation, promise or agreement mentioned in this term, or any provision of any applicable law or regulation;
(c) your violation of the rights of any third party, including any intellectual property or trade secrets, other property or privacy rights; or (d) any dispute or matter between you and any third party.
III.These rules and their related disputes shall be governed and interpreted by the laws of the People's Republic of China without regard to the principle of conflict of law. Any conflict or dispute arisen from any provision of these rules or the rules themselves that cannot be settled through friendly consultation shall be submitted to the Shenzhen Court of International Arbitration (SCIA) for arbitration in accordance with its arbitration rules effective at the time of application.