Darry Ring, a high-end jewelry brand that celebrates true love, has given the diamond engagement ring a special meaning of lifetime commitment with the unique brand rule. It is the unique brand rule that has quickly attracted couples from around the world who believe in true love and makes Darry Ring stand out from the rest since the inception. So, what is Darry Ring meaning and what is the significance of Darry Ring?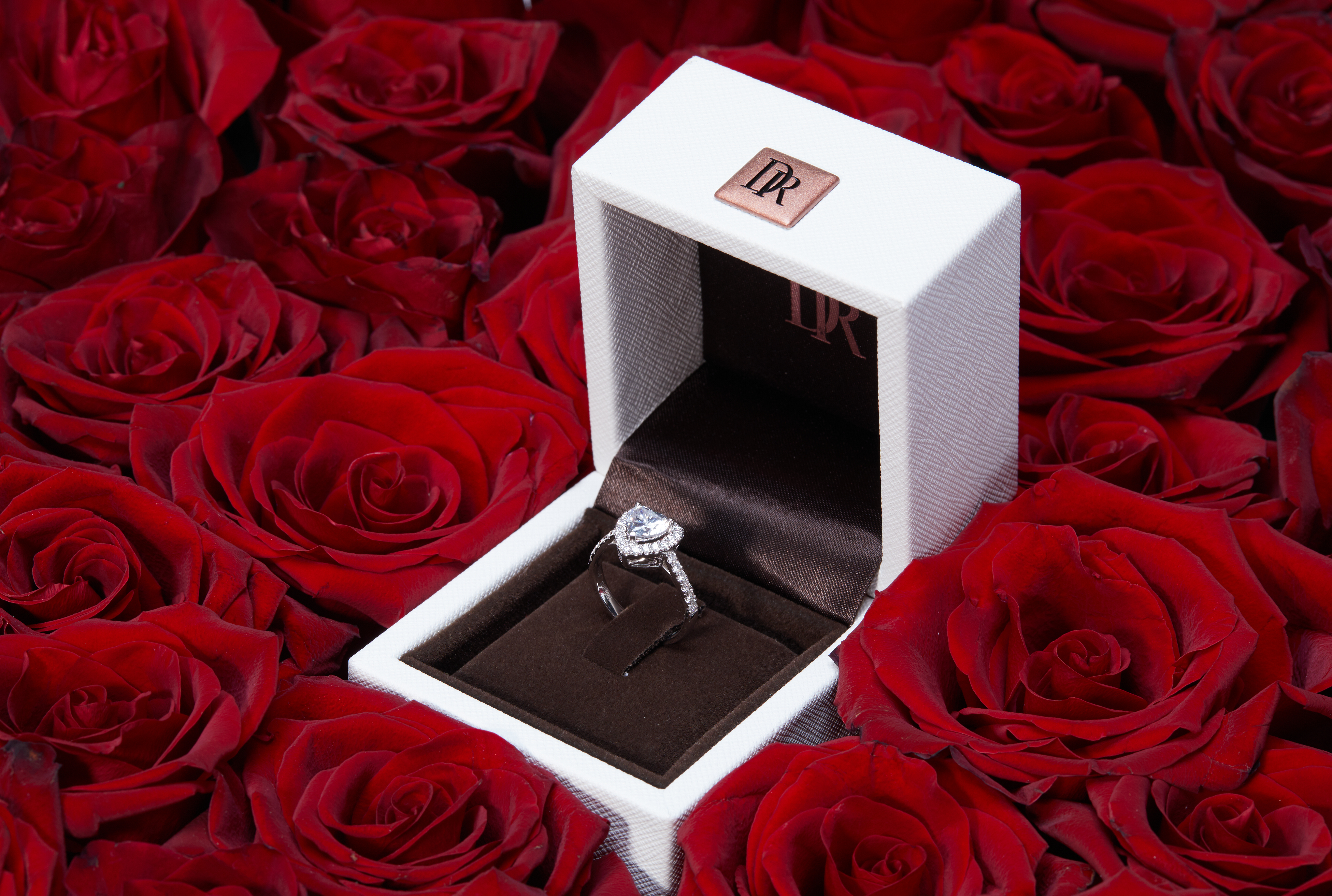 What is Darry Ring?
Darry Ring (also known as DR) is a luxury engagement ring brand from China, founded with a unique brand rule that one can purchase only one DR diamond ring with ID card in a life. This is the original Darry Ring meaning and is revered as the most romantic practice in the world.
Despite the decreasing marriage rate being experienced today, the distinctive DR ring meaning has made us come to the attention of a great number of young consumers around the world who believe in true love since the inception in 2010. Darry Ring has even been chosen to be the preferred witness of their love.
As our brand culture increasingly known for people, Darry Ring started to set up a number of local Darry Ring stores for offline true love experience. This includes the Darry Ring Paris store in the romantic Carrousel du Louvre. Moreover, online purchase for DR engagement rings and wedding rings worldwide has been officially opened.

How Does Commitment to True Love Come into Practice in Darry Ring?
In order to ensure that the commitment to true love for a lifetime is true, we introduce the concept of ID verification ring by stipulating that one DR diamond ring for one person in a lifetime.
ID verification refers that Darry Ring requires you to provide unique and valid identification information, including a ID card and positive face photo, when you make your initial purchase of a DR engagement ring. Darry Ring does not store your identity document but collect your face feature to compare with the existing information in the database.
If we confirm that you are our first-time buyer, you will move on to the payment process and the signing of the Darry Ring Agreement. Otherwise, you will be denied the purchase. This process is known as true love verification. Darry Ring respects the privacy of our users; therefore, all your personal info, including the ID document & picture you took, are permanently removed from our serve once the relevant information is extracted.

Since a DR diamond ring is given to only one person for a lifetime, Darry Ring provides you with 15 days to consider this solemn vow. But the Darry Ring Agreement, once signed, cannot be changed or deleted, as it signifies the beginning of your lifelong commitment to true love.
To let you experience more magic of true love, those who have purchased a DR diamond engagement ring are eligible to purchase other DR jewelry, including diamond earrings, necklaces, bracelets, etc. as a continuation of your romantic true love.
What is Darry Ring Agreement?
The Darry Ring Agreement refers to an Agreement of True Love that couples will be asked to sign when they first purchase a DR diamond ring.
On the True Love Agreement, there will be a solemn vow stating that for richer or poorer, in health or in sickness, each other will be the true love of each other's lives. If both parties agree to the content on the True Love Agreement, you have to sign your respective names together on the Darry Ring Agreement as well as the effective date.
Once the you sign the Agreement, it indicates that you firmly choose each other as the one true love in a life and promise to love each other for the rest of the life. At the same time, the Darry Ring Agreement also serves as a proof of your first purchase from Darry Ring and is valid forever.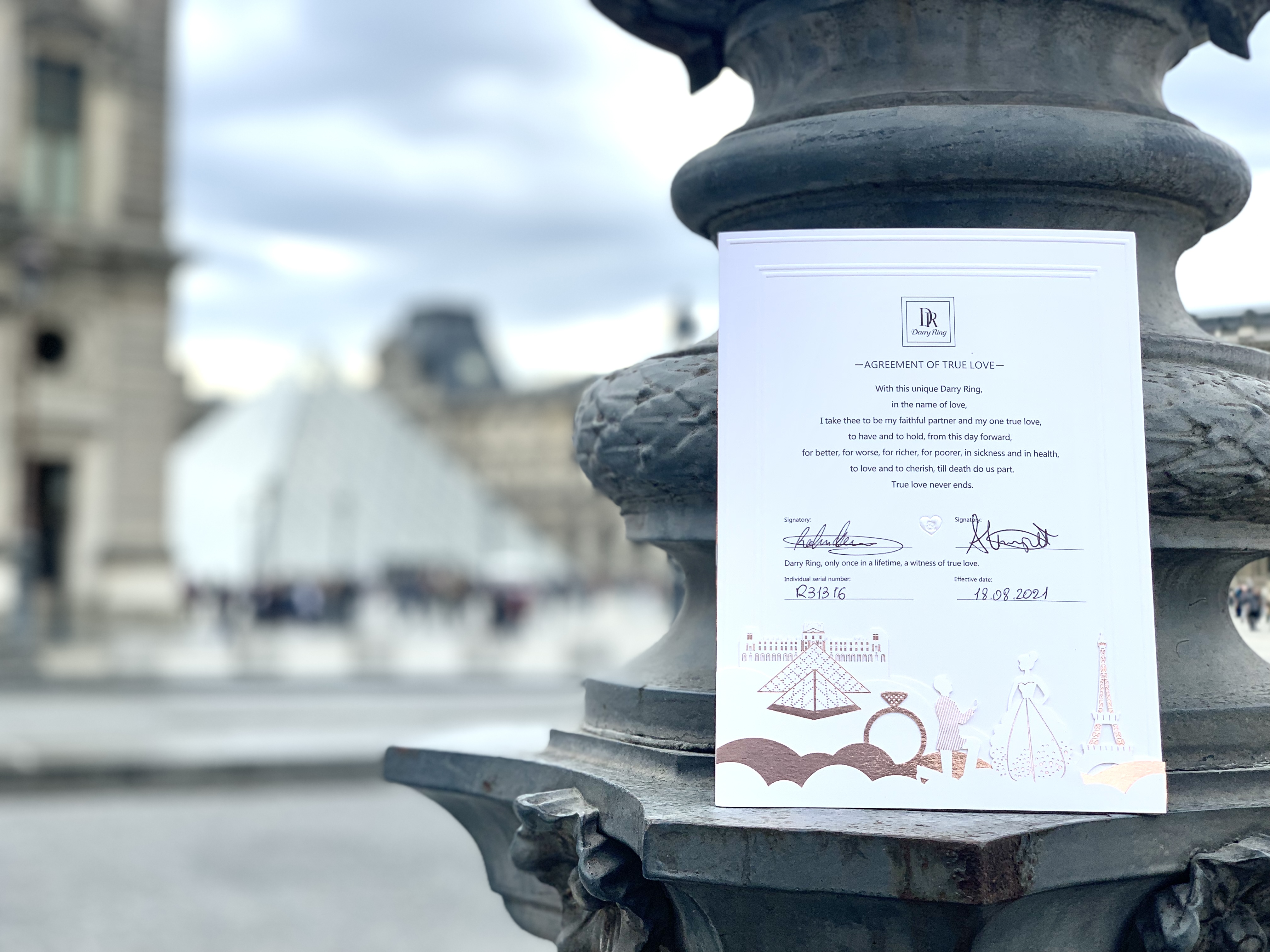 What is the Significance of Darry Ring?
The launch of ID verification ring is to emphasize "The One and Only", the other Darry Ring meaning that we want to express and insist on. Because it symbolizes one's lifelong commitment to the one true love.
In this impetuous era, faithful love is about to become a legend. But no matter how times change, we still yearn for true love in the deep of our hearts for a lifetime. By limiting one person for only one DR diamond ring in the lifetime is to encourages everyone to be brave enough to pursue true love. It also shows the world the brand image full of romantic love and sincerity.
Since the inception of Darry Ring brand, DR has been committed to spreading and witnessing the global story of true love and spreading the belief of true love to all corners of the world. Darry Ring hopes to make love better through our own power being a supporter and apostle of true love, so that people who believe in true love can find their soulmate. This is the original intention of the creation of DR diamond ring.
Darry Ring has always believed that love should be a commitment to trust, loyalty and responsibility. We want to provide you with the only opportunity to live out your commitment to the only true love of your life, and make it precious and worth remembering.
Currently, there are over 400 Darry Ring stores worldwide, covering Paris, Hong Kong and about 110 cities in mainland China. In the future, more and more Darry Ring stores will be open in a growing speed to provide more opportunities for consumers practice commitment of true love.
If you have any questions about Darry Ring meaning, please feel free to contact us. We are committed to providing exclusive customization services for each customer.